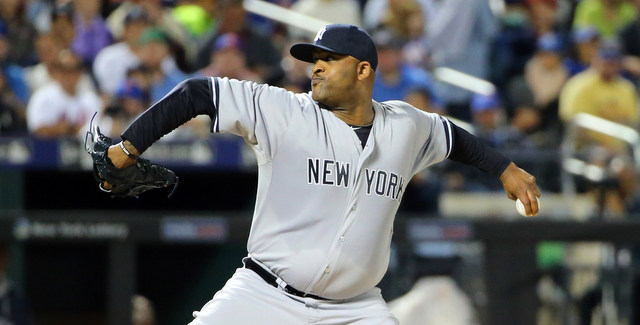 There were times earlier this season when you couldn't help but wonder how CC Sabathia would ever get another out. He struggled not only in the first half of this season, but dating back to the start of the 2013 season. All those innings and an arthritic landing knee were starting to catch up to Sabathia in his mid-30s. Father Time, as they say, is undefeated.
Sabathia's knee gave out last month, and you knew it was bad when he removed himself from the game without even lobbying to stay in or attempting a test pitch. This is a guy who pitched the Yankees to a division title with a bone spur in his elbow in 2012. He suffered a Grade II hamstring strain in September 2013 and finished the start. I can't imagine how much knee pain he's dealt with over the years. Sabathia's performance has declined. His toughness? Never. He's a warrior.
The knee injury was potentially season-ending — both Joe Girardi and Brian Cashman admitted as much after the big lefty went for tests — but Sabathia never though about it that way. "No matter what, I was coming back. For sure," he said to reporters following Sunday's win over the Mets. As poorly as he'd pitched earlier this season, the Yankees needed Sabathia back too. Nathan Eovaldi landed on the DL and Ivan Nova pitched his way out of the rotation. They needed someone to help. Anyone.
That someone, as it turns out, is Sabathia. Since returning from the DL, Sabathia has allowed two earned runs in 17.1 innings across three starts, holding opponents to a .190/.292/.254 batting line. Three starts is three starts, we know better than to make too much out of that, but those three starts count. They're in the bank. They helped the Yankees win games and improve their spot in the standings. Those three starts have had a real, tangible benefit.
The arthritic knee is severe enough that Sabathia admitted he will one day need knee replacement surgery — "Eventually, but that's the price you pay," he said to Barry Bloom — and right now he's managing the condition with a new, clunkier knee brace. Before he was wearing more of a sleeve during his starts. Now it's an actual brace that prevents (or limits, at least) bone-on-bone contact each time he throws a pitch.
"I think I needed the rest," said Sabathia to Chad Jennings following Sunday's game when asked about the knee injury and the new brace. "Obviously the brace has been helping. Just a few adjustments we made in the rehab, and I've been feeling pretty good, so hopefully I can keep that up … I don't have to worry about every pitch. Or this pitch, if I'm trying to go in, if that's going to hurt. I can just go out and throw my game and not have to worry about it."
Sabathia pitched well in the handful of starts prior to his knee injury — he actually has a 2.56 ERA (3.69 FIP) in his last seven starts and 38.2 innings — though he admitted he stopped trying to protect the knee and decided to air it out before getting hurt. It worked for a while, his fastball velocity jumped a tick …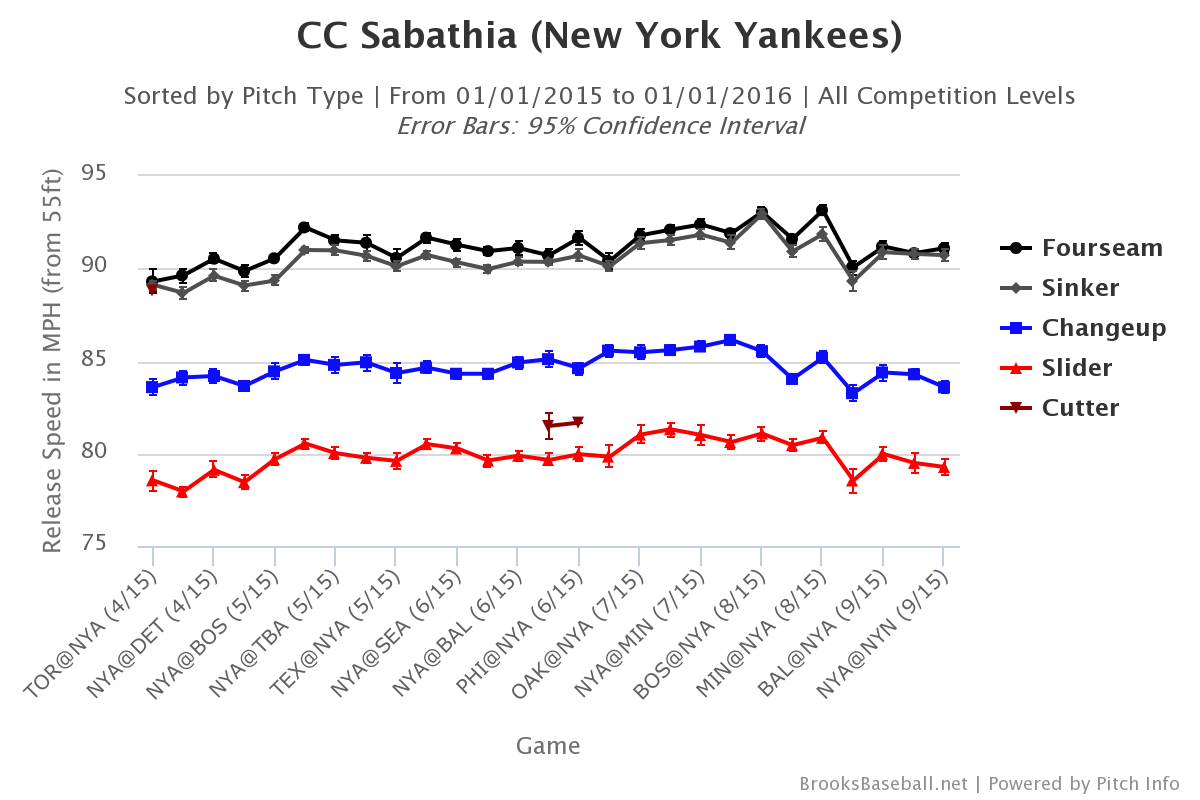 … but eventually the knee acted up. I don't know if Sabathia is airing it out with the new knee brace now — if he is, it isn't showing up in his velocity, just look at the graph — but I've always felt location was his biggest issue the last few years, not raw velocity. Oh sure, there's a big difference between 93-95 and 88-91, but whenever Sabathia got burned, it was because he missed his spot and left a pitch out over the plate.
With a 93-95 mph fastball, you can get away with some of those mistakes over the plate. That's the advantage of velocity. More margin for error. That isn't the case with 88-91 mph though, and Sabathia was paying for it dearly whenever he made a mistake. Since coming off the DL, those mistakes have been more infrequent. Here are Sabathia's pitch locations in his last three starts (via Baseball Savant):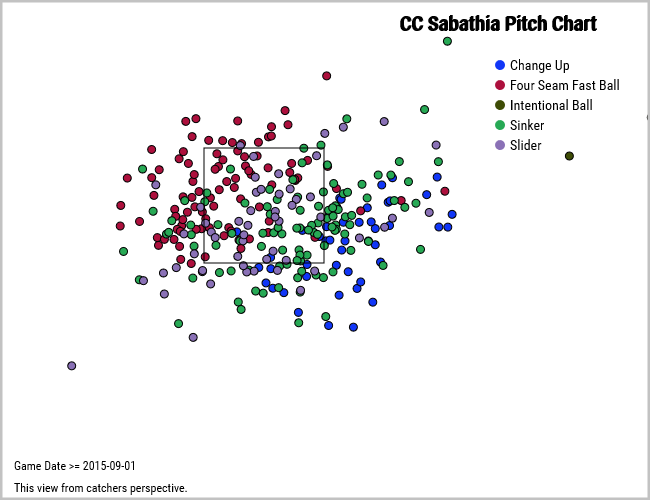 The fastballs are bunched on the edges of the strike zone with much fewer in the middle of the zone. (Interestingly, it appears Sabathia uses his four-seamer to the gloveside and sinker to the armside.) At this stage of his career, that's where Sabathia needs to live. On the edges of the zone. New knee brace or not, he really doesn't have the raw velocity to pitch over the plate anymore.
If the new knee brace is allowing Sabathia to pitch pain-free (or even with reduced pain) and better maintain his mechanics, his recent performance might actually be sustainable and not a blip. (Alec Dopp wrote more about this yesterday.) He's probably not a true talent sub-3.00 ERA guy — he wasn't that in his prime, after all — but he could be better than what he was earlier this season. Even league average Sabathia would be huge at this point. That would be a major upgrade over what he'd been doing since the start of 2013.
Regardless of whether the new knee brace has led to tangible improvement or this is all just a dumb luck hot streak, Sabathia has stepped up of late and is now helping the Yankees get to the postseason. He's the right man to help the rotation too. Sabathia's a Grade-A competitor who cares so deeply about his teammates — "I think if anybody knows me, it hurts me more to let the team down than for myself," he said to Wally Matthews — and has been through the late-season wars before. He knows what it takes to be ace, to bear the responsibility of being The Man. CC is the right man to give the staff a lift.
"I've always said that he's important to us," said Girardi to Jennings. "Because he's been through this, and he's a competitor. I've said, I didn't think we were going to get him back, when he left that game. I really didn't. But he did, and he's important to us."