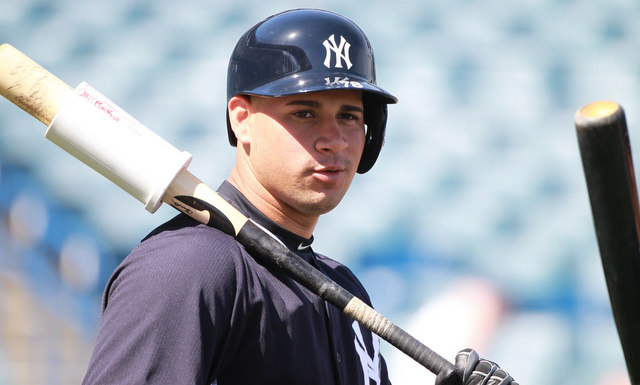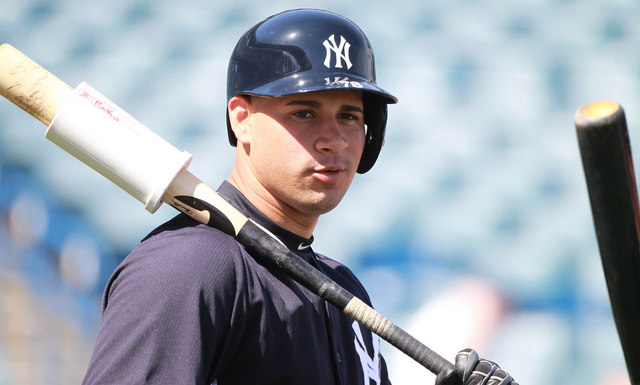 Earlier today, the bulk of the 2015 Arizona Fall League rosters were announced. This year the Yankees are sending C Gary Sanchez, 3B Eric Jagielo, SS Tyler Wade, OF Dustin Fowler, LHP Chaz Hebert, and LHP Tyler Webb to the AzFL. Josh Norris says they still have two more pitching spots available, if they choose. They don't have to send anyone else.
Sanchez and Jagielo are the headliners. I had them as New York's No. 3 and No. 8 prospects in my most recent rankings, respectively. They're both hurt right now — Sanchez pulled a hamstring last week while Jagielo has been out since mid-June following knee surgery — and will be making up for lost time in the desert. The fact both are on the roster is an indication the team expects them to be healthy.
Jagielo, 23, was scheduled to play in the AzFL last year before being hit in the face by a pitch in Instructional League. He hit .284/.347/.495 (140 wRC+) with nine home runs in 58 games for Double-A Trenton this season before the knee acted up. The 22-year-old Sanchez put up a .274/.330/.485 (134 wRC+) line with 18 homers in 93 games split between Double-A and Triple-A this summer.
I ranked Wade as the team's No. 11 prospect a few weeks ago, so he's not too far behind Sanchez and Jagielo. Wade, 20, has hit .258/.322/.332 (100 wRC+) in 119 games this year, doing most of the damage with High-A Tampa (117 wRC+ in 98 games) before struggling at Double-A (17 wRC+ in 21 games). The 20-year-old Fowler owns a .302/.339/.403 (117 wRC+) line with five homers in 118 games between Low-A and High-A this year.
Like Sanchez and Wade, the 25-year-old Webb is on the rehab trail after pitching to a 2.84 ERA (3.23 FIP) in 38 innings for Triple-A Scranton. He hasn't pitched since late-June and I'm not sure why. Some kind of injury. Couldn't have been too bad if the Yankees expect him to pitch in the AzFL. Hebert, 22, has had a breakout year, posting a 2.58 ERA (3.05 FIP) in 129 innings at three levels in 2015. Fowler, Webb, and Hebert did not make my most recent top 30 prospects list.
One of those last two pitching spots could go to LHP Jacob Lindgren, who's been out since mid-June after having bone spurs removed from his elbow. He is currently on a throwing program but has not yet thrown off a mound, so he might not be ready in time for the AzFL season. The 22-year-old southpaw had a 1.23 ERA (1.88 FIP) in 22 Triple-A innings this season before throwing seven big league innings and getting hurt. The AzFL seems like a good opportunity to make up for some lost innings if healthy.
The other spot could go to LHP Ian Clarkin, I suppose, but that seems very unlikely. Clarkin, the team's No. 7 prospect, has not pitched at all this season due to a lingering elbow problem. He is currently on a throwing program and has apparently been throwing off a mound recently. That said, the AzFL is an extreme hitter's league, so most teams do not send their top pitching prospects. The Yankees might not want Clarkin pitching in such a rough environment after missing the season.
There's no sense in adding Lindgren or Clarkin to the AzFL rosters before they complete their throwing programs, so we'll just have to wait and see what happens with those last two spots. This season Yankees farmhands will play for the Surprise Saguaros alongside Royals, Brewers, Cardinals, and Rangers prospects. Here's the full roster. The 32-game AzFL season begins October 13th and runs through November 19th. The Championship Game is scheduled for November 21st.