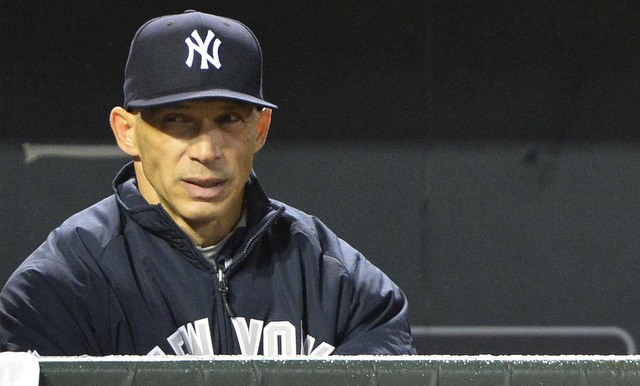 Roughly two months ago the Yankees led the AL East by seven games. Amazingly, they are playing Game 162 today hoping to secure home field advantage in the wildcard game. Things went downhill in a hurry in the second half, and while they've clinching a postseason berth, they still don't know where they're playing Tuesday. That is kinda silly.
As a result, Joe Girardi can not rest his regulars on the final day of the regular season. Or, rather, he chose not to rest his regulars in an attempt to clinch home field advantage. The two half-lineups during yesterday's doubleheader didn't get the job done, so now everyone has to play today. Fitting, really. Girardi and the Yankees went to great lengths to rest everyone this year so they'd be ready for a game like this. Hope they're up for it. Here's the Orioles' lineup and here is the Yankees' lineup:
CF Jacoby Ellsbury
LF Brett Gardner
DH Alex Rodriguez
RF Carlos Beltran
C Brian McCann
1B Greg Bird
3B Chase Headley
2B Dustin Ackley
SS Didi Gregorius
RHP Michael Pineda
It is still cloudy in Baltimore but there is no rain in the forecast, so that's good. The final game of the season will be played without interruption today. First pitch is scheduled for 3:05pm ET and can be seen on YES. Enjoy.
Postseason Scenarios: The Yankees still don't know who or where they're playing Tuesday. A win or an Astros loss today clinches home field advantage for the Yankees. That's the easy part. James Smyth put together a handy spreadsheet explaining all the different wildcard scenarios: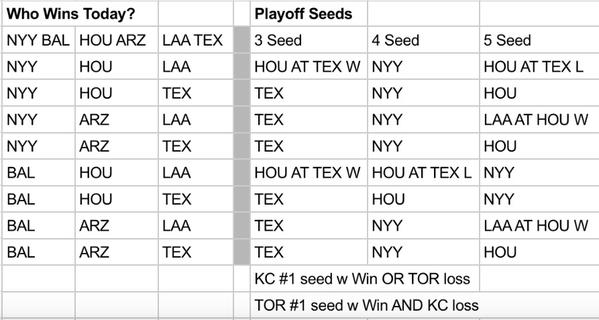 Every game starts at the same time today except for the Cardinals-Braves doubleheader. Why they're making them play a meaningless doubleheader on the final day of the season, I'll never understand.