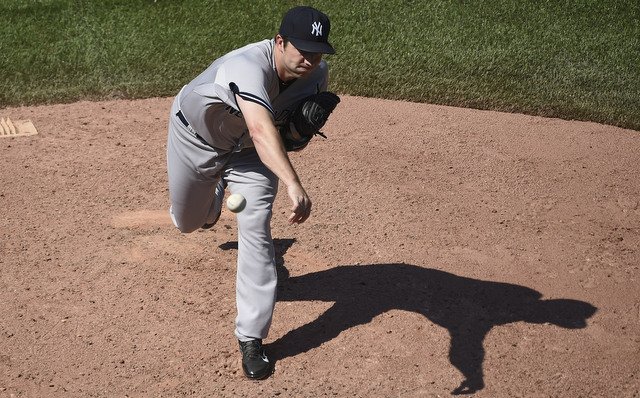 It's easy to forget Adam Warren received his first extended big league opportunity because of Phil Hughes. Hughes suffered a minor back injury late in Spring Training two years ago, forcing David Phelps into the rotation. That freed up the long man spot and opened the door for Warren to be on the 2013 Opening Day roster.
Since making that Opening Day roster two years ago, Warren has worn all sorts of hats for the Yankees. He's been a spot starter, a long man, a middle reliever, a setup man … Warren did a little of everything for the Yankees the last two seasons. And, once again, Warren did a little of everything for the Yankees in 2015. He was one of the most valuable pitchers on the staff.
An Opportunity in Spring
Warren came to Spring Training stretched out as a starter, but, even with Phelps traded to the Marlins, there was no obvious rotation spot available. CC Sabathia, Masahiro Tanaka, Michael Pineda, and Nathan Eovaldi were locked into the top four spots, and depth signing Chris Capuano had a leg up on the fifth spot after pitching admirably down the stretch last season.
Then, on March 11th, Capuano took a misstep covering first base and suffered a Grade II quad strain. He was going to start the season on the DL, opening a rotation spot for Warren. Well, the Yankees tried to pass it off as a competition between Warren and Esmil Rogers, but c'mon. Warren allowed five runs in 16.2 innings across five Grapefruit League starts. He looked like Adam Warren. Uneventful spring, really.
Reliever or Starter?
Warren opened the season as the fifth starter and the first few times out, he looked very much like a reliever masquerading as a starter. He struggled after turning the lineup over and he wasn't efficient at all. Warren threw 31 innings in his first six starts — that's fewer than five innings plus one out per start — with 13 walks and 16 strikeouts. Only once in those six starts did he have more strikeouts than walks. (Really.)
It's hard to believe there was a time we were waiting for Capuano to return to Warren could shift back to the bullpen, but it happened. Unfortunately Masahiro Tanaka landed on the DL with a forearm injury, so Capuano took his spot, not Warren's. That actually worked out well. Warren settled in as a starter in May, allowing three runs in seven innings against the Rays on May 13th. It was his seventh start of the season and the first time he completed six innings of work, nevermind seven.
From that point on, Warren was arguably the most reliable pitcher in the rotation. Tanaka was hurt, Sabathia was struggling, Eovaldi still hadn't figured out the splitter, Pineda was have a tough time after the 16-strikeout game, and Capuano was Capuano. Warren had a 2.96 ERA (4.10 FIP) in eight starts and 51.2 innings from May 13th through June 25th. His best start came on May 26th against the Royals. He held them to one run on two hits in 6.1 innings.
Through June 25th, Warren owned a 3.59 ERA (4.17 FIP) in 14 starts and 82.2 innings. April was rough, but eventually he settled into a groove and pitched very well for about six weeks there. Considering he was the team's sixth starter coming into the season, things were working out pretty damn well.
Back to the Bullpen
Tanaka returned from his forearm injury on June 3rd and Ivan Nova returned from Tommy John surgery on June 24th, so suddenly the Yankees had six starters for five spots. (Capuano had been demoted to the bullpen.) The Yankees decided to stick with Nova and send Warren back to the bullpen, where he was so effective from 2013-14. At the time of the demotion, Warren had the lowest ERA among the club's starters.
"I took it about as well as you can take it," said Warren to reporters after the demotion. "I was a little frustrated at first because I want to be a starter. They sat down and talked to me about it and I understood where they were coming from, I told them I'm not going to be unhappy out of the bullpen. I enjoyed being out of the bullpen the last couple of years. I'm not upset by any means. For me it's just getting back to a bullpen routine. You knew the six-man rotation was not going to last, just playing the numbers game I felt this was going to happen sometime."
Girardi took advantage of Warren being stretched out by asking him to throw 2+ innings in five of his first eleven bullpen appearances. Of course, Warren was also pitching in low-leverage situations more often than not for some reason. At one point from late-June into early-July, he entered six consecutive games in these situations:
sixth inning down four
seventh inning up 14
sixth inning up ten
sixth inning down two
sixth inning down four
seventh inning down two
Not a whole lot of important innings there. The Yankees had a great end-game trio in Andrew Miller, Dellin Betances, and Justin Wilson, but those couldn't pitch every day, and for some reason Warren wasn't being used to pick up the slack. I dunno, it was weird.
By time July and August rolled around, Warren had settled back into a true one-inning relief role. He threw 32.2 innings across 25 appearances after being sent back to the bullpen, pitching to a 2.51 ERA (2.76 FIP). Both his strikeout (26.6%) and walk (6.2%) rates were significant better than they had been as a starter earlier in the season (16.0 K% and 7.7 B%). Warren was excellent. That was no surprise though. He was excellent out of the bullpen from 2013-14.
Whatever You Need, Skip
The Yankees ran into some rotation trouble at the end of the season. Eovaldi had to be shut down with elbow inflammation and Tanaka pulled a hamstring, so they had no choice but the use Warren as a starter. He made three starts with a limited pitch count in mid-September, allowing six runs in 13.1 innings.
The bullpen was full of extra arms thanks to expanded rosters, but the Yankees still needed someone to go out and soak up some innings as a starter. Warren again did that. On October 1st, the Yankees needed something else from Warren. The bullpen was taxed and they needed someone to bridge the gap between Sabathia and Betances, the day's designated closer.
With the Yankees looking to clinch their first postseason berth in two seasons, Warren came out of the bullpen against the Red Sox and held them to one hit and one walk in three scoreless innings. He took the ball from Sabathia and gave it directly to Betances.
The final month of the 2015 season was the Adam Warren Experience in a nutshell. He dominated as a short reliever in early-September, filled in for a few starts in the middle of September, then gave the Yankees a big long relief outing in early-October. Warren is a bullpen jack of all trades. He's the closest thing the Yankees have had to Ramiro Mendoza since Ramiro Mendoza.
That three-inning outing against the Red Sox was Warren's final appearance of the 2015 season. He was on the wildcard game roster and was presumably the next man out of the bullpen had the game gone to extra innings. Warren closed out the season with a 3.29 ERA (3.59 FIP) in a career high 131.1 innings across 17 starts and 26 relief appearances. Both bWAR (2.7) and fWAR (2.2) say he was one of the four most valuable Yankees pitchers in 2015.
"Every good club that I've been on has seemed to have a guy like Adam Warren that is able to do so many different things for you as a pitcher," said Girardi at the end of the season. "His value has been as big as any pitcher that we have in that room … He's invaluable."
Looking Ahead to 2016
After three seasons of doing whatever the Yankees needed, Warren will finally earn something more than the league minimum in 2016. He's arbitration-eligible for the first time this offseason and is projected for a $1.5M salary next year. Barring a surprise trade, Warren will again come to Spring Training as a starter next season. What will be his role during the regular season? A little of everything seems like a safe bet once again.