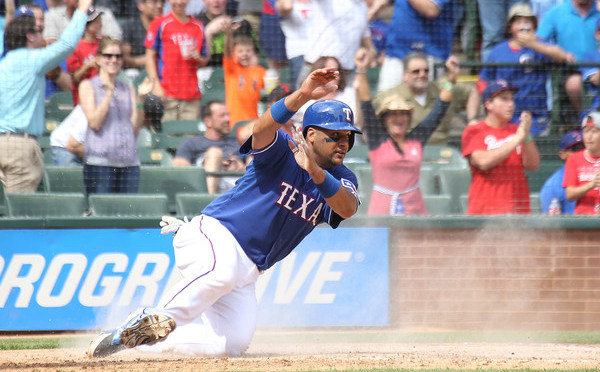 According to Chris Cotillo, the Yankees have signed catcher Carlos Corporan to a minor league contract. I assume he received an invitation to big league Spring Training. Corporan joins Eddy Rodriguez and Sebastian Valle as upper level backstops the Yankees have signed to minor league deals this winter.
Corporan, 32, is a career .218/.280/.342 (69 wRC+) hitter in 232 big league games with the Brewers, Astros, and Rangers. Like most catchers the Yankees have acquired in recent years, Corporan is a pitch-framing extraordinaire and has a reputation for being a strong defender behind the dish. That's his thing. He's a classic defense first backup.
In all likelihood Corporan will compete with Gary Sanchez and Austin Romine for the backup catcher's job in Spring Training, and that could go in any direction. Sanchez seems like the favorite, but sending him down for a few weeks to work on his defense would be entirely justifiable, plus another 35 days or so in the minors delays his free agency by a year.
Romine is out of options and has been outrighted before, meaning if he doesn't make the team, he'll have to go through waivers and can elect free agency if he clears. I imagine he would do that and look for a better opportunity. I know I would. Realistically, the only way Romine stays with the Yankees beyond Opening Day is by making the team or getting hurt and landing on the DL.
It's possible Sanchez could be the backup with Corporan in Triple-A. Or Corporan could be the backup with Sanchez in Triple-A. Or Romine could be the backup with Sanchez and Corporan in Triple-A. Lots of possibilities here. The Yankees have been emphasizing youth over the last 15 months, so I think Sanchez will get the backup job. Corporan is just insurance in case things don't go as planned.