The following is a guest post from reader Julian Bussells.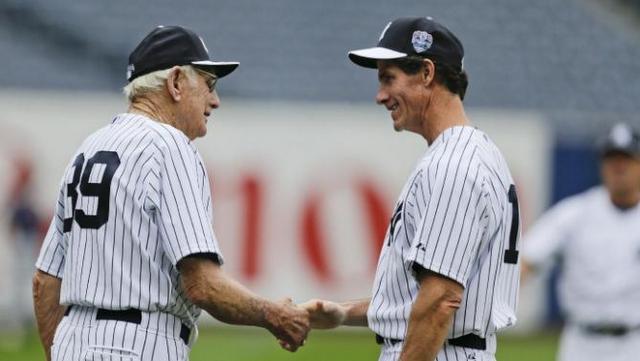 It can be difficult being a MLB swingman, having to keep switching between the rotation and bullpen and not having a set job. Those types of players don't normally see the spotlight, but I want to cover a certain Yankees pitcher from the 1960's because he grew up where my family is from and is even good friends with my grandparents. The pitcher I want to talk about in this article is Jim Coates.
Coates, also nicknamed "The Mummy", was born in Farnham, Virginia and grew up in Lively, Virginia, which is where my grandparents have lived for a long time and where my father grew up. Signed by the Yankees in 1951, Coates spent seven years in the minors before finally getting called up to the show in 1956. After pitching in two games in September of 1956, Coates was sent back to the minors where he would spend the next two seasons pitching for the Yankees AAA team in Richmond and recovering from a fractured elbow injury.
In 1959, Coates was brought back up and did pretty well for himself as he went on to pitch to a 6-1 record with a 2.87 ERA in 37 games (four starts) and 100.1 innings. Coates even converted three saves in the process. Coates' best season may have been 1960, when he pitched to a 13-3 record with 4.28 ERA in 35 games (18 starts) and 149.1 innings. While also being the Yankees' Opening Day starter in 1960, Coates was named to the American League All-Star team where he allowed no runs on two hits in two innings pitched, facing all-time great hitters such as Willie Mays, Hank Aaron, and Ernie Banks.
Coates was lucky enough to go to three straight Fall Classics with the Yankees, winning it all in 1961 and 1962. Across those three World Series appearances, Coates pitched in thirteen innings across six games. In April 1963, Coates' tenure with the Yankees came to an end as he was traded to the Washington Senators for pitcher Steve Hamilton. Coates never got settled in the nation's capital and was shipped off to Cincinnati that July for Don Blasingame. After pitching nine games for the Reds in 1963 and spending the whole 1964 season in the minor leagues, Coates got traded to the California Angels and went on to pitch for them from 1965 to 1967 to round out his career.
After a nine year career, Coates finished with a 43-22 record, a 4.00 ERA, 396 strikeouts, and 17 saves over 247 games (46 starts) and 683.1 innings pitched. During five seasons with the Yankees, Coates pitched to a 37-15 record and a 3.84 ERA in 167 games.
Still living in Lively, Coates actually made an appearance at the 2015 Yankees Old Timers Day, marking it his first appearance at the historic event. Coates even had a book published in 2009 titled Always a Yankee which I am lucky enough to have personally signed. Unfortunately, Coates has been really sick for a while now and I just want to personally send out my best wishes to him and his family. Even though Jim Coates will never have his number retired or have a plaque hanging in Monument Park, he played a big part in two World Series championship teams and played alongside many Yankee greats, which in my book are the most rewarding things a baseball player could ask for.