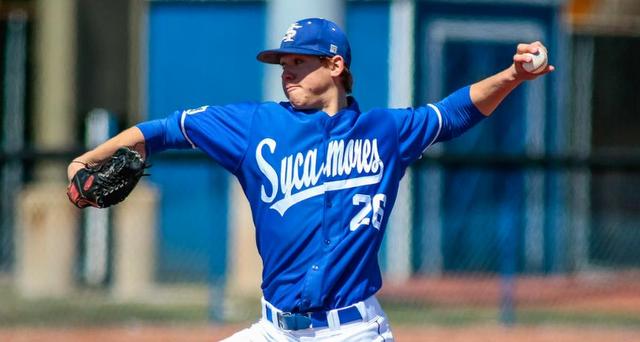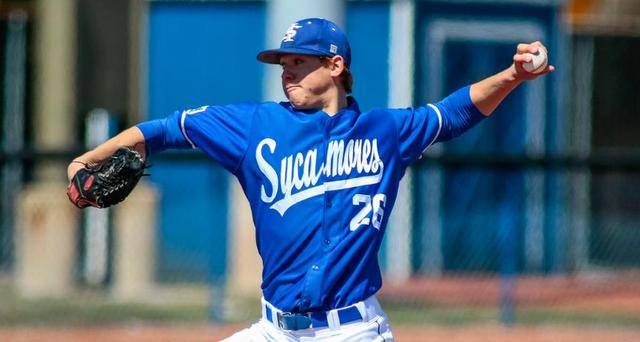 Jeff Degano | LHP
Background
Degano grew up in Surrey, a Vancouver suburb just north of the Canada-U.S. border. He was part of the Canadian team in the 2005 Little League World Series, and wound up taking a loss in pool play. (Canada was eliminated later in the tournament.) Degano attended Fraser Heights High School and was not much of a pro prospect at the time, so he went unselected in the 2010 draft.
Degano headed to Marshalltown Community College in Iowa, pitching to a 3.80 ERA with 98 strikeouts in 71 innings across 16 starts in two seasons. Although he was draft-eligible following both the 2011 and 2012 seasons at Marshalltown, Degano still wasn't much of a pro prospect, so he went undrafted both times. He instead transferred to Indiana State for his junior year.
In his first season with the Sycamores, Degano made three starts and allowed eleven runs (eight earned) on 15 hits and seven walks in 8.2 innings. He struck out only four. Yeesh. Degano was not healthy though — he blew out his elbow early in the 2013 season and underwent Tommy John surgery. He made just those three starts in 2013 and did not pitch at all in 2014 either.
Degano returned to the mound last spring and was one of the best college starters in the county. He threw 99 innings across 15 starts as a redshirt junior, pitching to a 2.36 ERA with 126 strikeouts (eighth most in Division I) and 28 walks. Degano got better and better as he got further away from elbow surgery and finished the spring very strong.
Baseball America (subs. req'd) ranked Degano as the third best prospect in Indiana and the 83rd best prospect in the 2015 draft class overall. The Yankees selected Degano in the second round (57th overall) and signed him to a $650,000 bonus fairly quickly. Slot was $1.07M. The draft pool savings were redirected towards later round picks.
Pro Debut
The Yankees eased Degano into pro ball following Tommy John surgery and his big spring workload at Indiana State. He made six tune-up appearances (10.2 innings) with the Rookie Gulf Coast League Yankees before jumping to Short Season Staten Island, where he had a 2.77 ERA (3.13 FIP) in 13 innings. Degano spent most of his time piggybacking with first rounder James Kaprielian — Kaprielian would start, go two or three innings, then Degano would come out of the bullpen and throw two or three innings. After throwing 122.2 total innings in his first year back from elbow reconstruction, the Yankees sent Degano home after the minor league season. He didn't participate in Instructional League.
Scouting Report
Listed at 6-foot-4 and 215 lbs., Degano turned 23 in October and is older than your typical college draftee because the Tommy John surgery delayed things by two years. He only made the three starts in 2013 — his junior and would-be draft year — before missing the entire 2014 season as well.
Anyway, Degano works with a low-90s fastball that sat closer to 92-94 mph later in the spring, as he got further away from elbow surgery. He has two versions of a slurvy breaking ball — the pitch sits anywhere in the 77-82 mph range and Degano can give it big break like a curveball or sweepy break like a slider. Here's some video from last May, a few weeks before the draft.
Degano's third pitch is a low-80s changeup that needs a lot of work. He didn't need it to dominate in college and all the time missed to injury meant he couldn't work on the pitch. The development of that changeup will determine whether Degano can remain in the rotation or have to settle for a bullpen role long-term.
Once he shook off the rust following surgery, Degano threw more strikes and was better able to pound the zone. He has good control right now but must work on his command, namely painting the corners and keeping his fastball at the knees. Degano is a left-hander with the stuff to miss bats and a big workhorse frame, so it's no surprise he was drafted as high as he was despite his age and injury history.
2016 Outlook
The Yankees are going to keep Degano in the rotation and hope he improves his changeup so he can remain a starter long-term. I'm not sure whether he'll open the season with Low-A Charleston or High-A Tampa though. The Yankees might be tempted to start Degano at the higher level given his age, but after losing 2013-14 to injury, the lower level might be more appropriate at this point of his development. We'll see. Either way, Degano will pitch in full season ball this coming season.
My Take
The injury history sucks, but Degano is a southpaw with good stuff and a big frame, so I'm a fan. His age doesn't bother me much, to be honest. Yeah, it would be better if he was 20 or 21, but they don't check IDs on the mound. If you can get outs, you can get outs. It doesn't matter how old you are. Even if Degano doesn't improve his changeup, I think he has the tools to be a very successful lefty reliever, and I don't mean a lefty specialist either. The Yankees took Degano in part to save draft pool space — he had limited leverage after the injury, hence the well-below-slot bonus — but he's a legitimate prospect with impact potential.