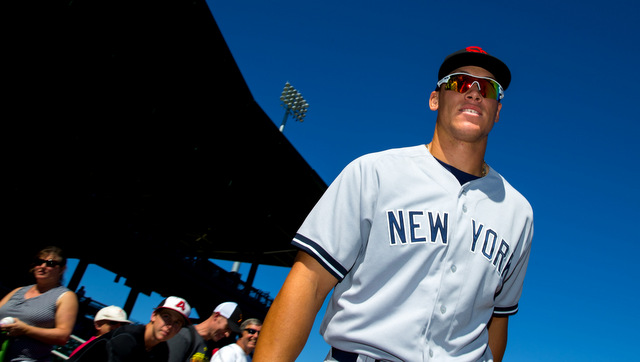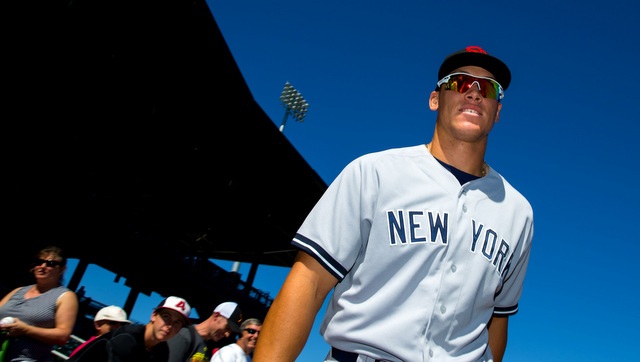 Yesterday Keith Law posted his annual farm system rankings, and earlier today he followed up with his top 100 prospects for the 2016 season (subs. req'd). Dodgers SS Corey Seager predictably claims the top spot. He is the consensus No. 1 prospect in baseball this spring. Twins OF Byron Buxton and Nationals RHP Lucas Giolito round out the top three.
The Yankees landed four players on Law's 2016 top 100 list: OF Aaron Judge (No. 36), SS Jorge Mateo (No. 55), C Gary Sanchez (No. 57), and RHP James Kaprielian (No. 87). Law seems to be the high man on Kaprielian. He hasn't shown up on any other top 100 lists this spring. The other three guys are pretty clearly top 100 caliber. Reminder: RHP Luis Severino and 1B Greg Bird are no longer prospect eligible. Too much big league playing time in 2015.
"(Judge) has 70 raw power that hasn't shown up in games because his swing is relatively short and he hits more line drives than big flies … Learning to cover the outside corner — or lay off pitches just off of it — while maintaining (his) plate coverage inside is the main challenge for Judge if he wants to become an impact bat in the majors," said the write-up. Law adds Judge has "30-homer power and should make enough hard contact to keep his average up even if he still punches out 150 times a year."
As for Mateo, Law writes "shortstop prospects with his skill set — glove, speed, contact — tend to fare pretty well even if they never learn to hit with any authority, giving Mateo a high floor as long as he makes some small adjustments to help him on routine plays." I'm not a fan of the term high floor but I get what Law is saying. Mateo, even though he's a 20-year-old in Single-A, is a good bet to contribute at the MLB level in some capacity because he can impact the game in so many different ways.
The scouting report on Sanchez is as exciting as any you'll see in the top 100. "(He) could easily get to .290/.330/.500 with his power and contact," wrote Law. "That hitter, as a mediocre catcher who can still nail one out of three runners, is a borderline MVP candidate, and if Sanchez wants to get there, he can." Sanchez has that kind of ability, but up until last year with work ethic and approach to the game were questionable. He matured big time in 2015. Hopefully that continues going forward.
"Kaprielian will sit 93-95 mph as a starter with a wipeout slider, showing above-average control but still-developing (that is, it's not yet average) fastball command. He gets on top of the ball well to get good downhill plane on the fastball and to keep his changeup low in the zone. He's very aggressive, attacking hitters with strikes, and working to both sides of the plate," wrote Law on Kaprielian. Grandmaster Kap has been invited to Spring Training, which indicates the Yankees want to move him up the ladder fast.
Seeing the Yankees with four top 100 prospects is pretty cool, especially since two of them (Judge and Sanchez) are at Triple-A and knocking on the door of the big leagues. Sanchez could be on the Opening Day roster, in fact. Kaprielian may move quickly too. Heck, even Mateo could see MLB time this coming season. He's Rule 5 Draft eligible next offseason and the Yankees could bring him up early to serve as their September pinch-runner. That'd be neat.