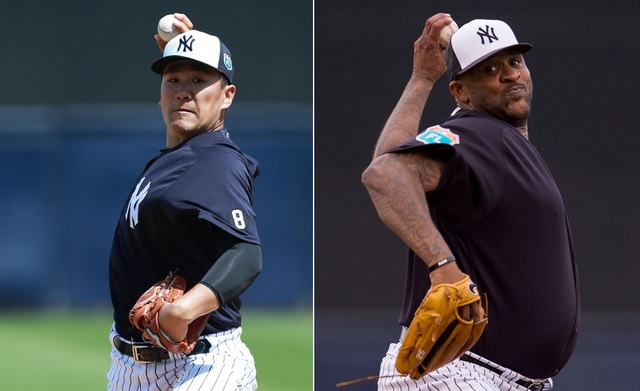 If you believe everything the Yankees have been saying about their rotation, today is the single most important day of Spring Training. CC Sabathia and Masahiro Tanaka are starting a pair of split squad games. The former is trying to win a rotation spot, the latter is trying to show enough to earn the Opening Day start. That's what the Yankees say, anyway. Consider me skeptical.
Both of today's games will be televised, meaning we'll get to watch two games at the same time. That's always a treat. Sabathia and most of the regulars will be at home in Tampa to play the Pirates, who made the trip down from Bradenton. The other half of the team — Tanaka and a bunch of minor leaguers, basically — will be on the other side of the causeway playing the Phillies in Clearwater. Here is the Pirates' lineup and here is the Yankees' lineup for the home game:
CF Jacoby Ellsbury
LF Brett Gardner
DH Alex Rodriguez
1B Mark Teixeira
RF Carlos Beltran
3B Chase Headley
2B Starlin Castro
SS Didi Gregorius
C Austin Romine
LHP CC Sabathia
Available Pitchers: RHP Nick Goody, RHP Branden Pinder, RHP Johnny Barbato, RHP Vinnie Pestano, and RHP Jonathan Holder are all available, but I'm not sure who's actually going to pitch. Today would be back-to-back days for Goody and Barbato.
Available Position Players: C Gary Sanchez, 1B Billy Fleming, 2B Jonathan Diaz, SS Tyler Wade, 3B Vicente Conde, LF Trey Amburgey, CF Jake Skole, RF Juan Silva, and DH Dan Fiorito will be the second string off the bench.
Sabathia is the most important storyline to watch in the home game. He had a good start last time out — I can't believe we're so focused on Spring Training performance, good grief — but the few before that were rough. Ivan Nova's tough start last time out all but clinched the last rotation spot for Sabathia, though you still want to see the big man pitch well today, in his last start before the regular season. This start is important enough that Joe Girardi stayed behind to watch. Now here is the Phillies' lineup and the Yankees' lineup for the road game:
CF Aaron Hicks
SS Ronald Torreyes
C Brian McCann
DH Carlos Corporan
1B Dustin Ackley
2B Pete Kozma
RF Cesar Puello
3B Miguel Andujar
LF Ben Gamel
RHP Masahiro Tanaka
Available Pitchers: RHP Anthony Swarzak and RH Kirby Yates are also scheduled to pitch. LHP Caleb Frare, RHP Gio Gallegos, RHP Connor Mullee, LHP Caleb Smith, LHP Matt Tracy, and RHP Matt Wotherspoon are up from minor league camp and on the trip as well.
Available Position Players: C Eddy Rodriguez, C Francisco Diaz, 1B/OF Tyler Austin, IF Cito Culver, IF Jose Rosario, OF Dustin Fowler, OF Michael O'Neill, and OF Mark Payton are on the bench. Not sure who is scheduled to play though.
Again, the starting pitcher is the key here. Tanaka has not pitched well the last few times out and the Yankees have put some pressure on him to increase his intensity. It's kinda funny the Yankees go to such great lengths to rest Tanaka and keep him healthy, but now they're worried about his intensity during Grapefruit League games. Pitching coach Larry Rothschild will be on the road with Tanaka, and will surely report what he sees back to Girardi and the front office.
Both of today's games will begin around 1pm ET, and the weather in Tampa and Clearwater is basically the same. It's cloudy and cool, and the internet tells me there will be on and off rain all afternoon. (The chance of rain is higher in Tampa than Clearwater.) Hopefully nothing forces a delay or cancellation. The home game will be on YES and MLB.tv. The road game will be MLB Network and MLB.tv. There is no MLB Network blackout in the Tri-State Area for this one. Enjoy the games.
Update (1:28pm ET): The game is Tampa is underway, but the game in Clearwater is in a rain delay. The Phillies say the game is scheduled to begin at 1:40pm ET.