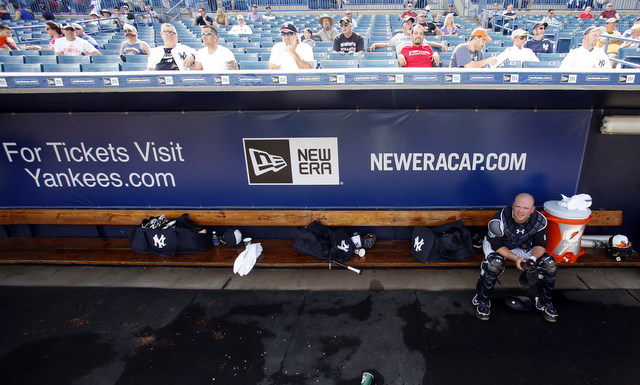 Four days after taking a foul tip to the knee, Brian McCann returns to action this afternoon and will indeed squat behind the plate. He's not easing back into things as the DH. This seems like one of those injuries McCann would have played through during the regular season, but because it's Spring Training, the Yankees gave him a few days. No reason to push it.
On other news, Masahiro Tanaka is on the mound this afternoon, making his third start of Grapefruit League play. I imagine he's scheduled for something like four innings and 60 pitches. Tanaka has two more spring starts after this one and he remains on track to start Opening Day. All good news so far. Here is the Pirates' lineup and here is the Yankees' lineup:
SS Starlin Castro
RF Carlos Beltran
C Brian McCann
3B Chase Headley
1B Dustin Ackley
2B Rob Refsnyder
LF Chris Denorfia
DH Carlos Corporan
CF Slade Heathcott
RHP Masahiro Tanaka
Available Pitchers: RHP Luis Severino, according to Chad Jennings. With Tanaka going four innings and Severino presumably ready to go five innings, those two might be the only pitchers the Yankees use this afternoon.
Available Position Players: Not sure, sorry. None of the reporters in Florida have tweeted out photos of the lineup card the last few days, so we're in the dark. Surprises are fun anyway. It's like Christmas morning.
It's a nice Florida spring afternoon in Bradenton, meaning sunny, temperatures in the 80s, and just enough humidity to make fans stick to their seats. There is no YES broadcast or live MLB Network broadcast of today's game. If you're in the Pirates' home market, you can watch on ROOT Sports. Otherwise your only option is MLB.tv. MLB Network will show the game on tape delay at 6am ET tomorrow morning. Yeesh. I love baseball, but I'm not waking up that early to watch it. Enjoy the game.