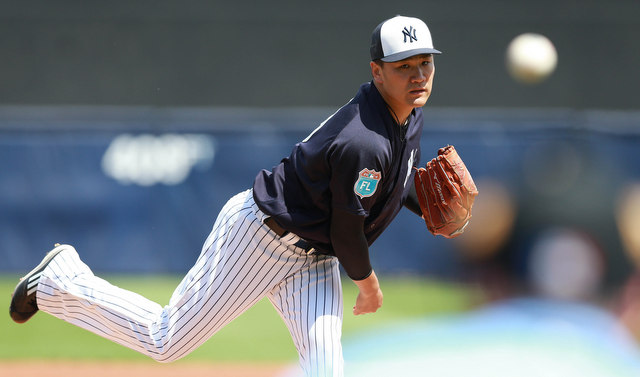 Masahiro Tanaka is making the fourth of his five Grapefruit League starts this afternoon. He says he's been struggling with fastball command this spring, which makes sense. He's coming off surgery to remove a bone spur from his elbow and command is usually the last thing to come back following elbow surgery. Tanaka has two starts to iron it out.
In other news, Austin Romine is starting behind the plate, which is pretty notable. Romine caught Nathan Eovaldi in a minor league game yesterday and he's catching Tanaka today. He's also batting higher in the lineup than Gary Sanchez. I'm not saying Romine's definitely getting the backup catcher's job, but there are more and more signs pointing in that direction with each passing week.
The Yankees made the long cross-state trip to Viera to play the Nationals this evening. As you can imagine, they didn't bring many regulars. They're not going to send guys on long bus trips this late in camp if at all possible. Here is the Nationals' lineup and here is the Yankees' lineup:
LF Brett Gardner
CF Aaron Hicks
2B Dustin Ackley
C Austin Romine
1B Chris Parmelee
DH Gary Sanchez
3B Rob Refsnyder
RF Chris Denorfia
SS Ronald Torreyes
RHP Masahiro Tanaka
Available Pitchers: RHP Johnny Barbato, RHP Luis Cessa, RHP Nick Goody, LHP Tyler Olson, RHP Nick Rumbelow, RHP Anthony Swarzak, LHP Tyler Webb, and RHP Matt Wotherspoon are all on the trip according to Chad Jennings. I'm not sure who is scheduled to pitch after Tanaka though.
Available Position Players: C Carlos Corporan, C Francisco Diaz, IF Deibinson Romero, IF Pete Kozma, IF Tyler Wade, IF Donovan Solano, IF Jose Rosario, OF Cesar Puello, OF Juan Silva, and OF Lane Adams are all on the trip, says Jennings. No idea who's going to come off the bench to play.
Today's game will begin just after 5pm ET and the internet tells me it is mostly sunny with temperatures in the mid-70s in Viera. There is no YES Network broadcast of today's game, but you will be able to watch live on MLB Network and MLB.tv. There is no blackout for either, so yes, you watch on MLB Network in New York. And also MASN if you live in the Nats' home market. Enjoy the game, ladies and germs.