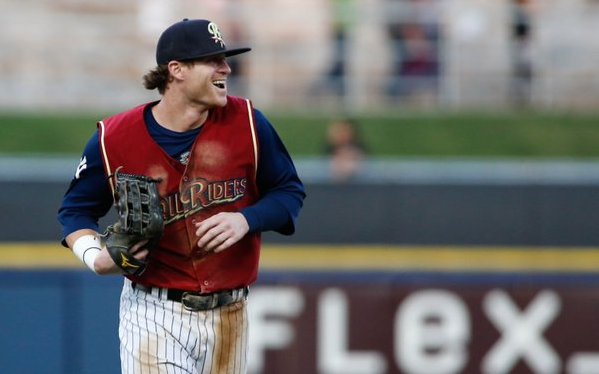 After spending four seasons as an interesting but under-tooled prospect, outfielder Ben Gamel broke out in a big way last year, hitting .300/.358/.472 (138 wRC+) in 129 Triple-A games. It was his first try at the Triple-A level. Gamel led the farm system in hits (150), triples (14), and extra-base hits (52). That earned him a spot on the 40-man roster after the season.
Gamel, 24 in May, did all of that after hitting .261/.308/.340 (80 wRC+) in 131 Double-A games in 2014. The Yankees selected him in the tenth round of the 2010 draft and his innate hitting ability kept him on the prospect radar — Keith Law called Gamel a sleeper prospect way back in 2012 — but at some point the production had to come, and it finally did last year.
That production came after Gamel and hitting coach Marcus Thames did some tinkering, reports Chad Jennings. Thames was Gamel's hitting coach with Double-A Trenton in 2014 and Triple-A Scranton in 2015, and they changed some things during the 2014-15 offseason. From Jennings:
What changed last year? Gamel said it's pretty easy to pinpoint. He and hitting coach Marcus Thames decided to add a leg kick, which made it easier to get his hands in the right spot.

"Last offseason, Marcus and I decided we were going to try this," Gamel said. "That's what I worked on all last offseason, and I came into spring training last year and was like, it feels good. He liked where I was at and just rolled with it, more than anything. Getting my timing, getting my game reps with it, things like that. It worked out."
Leg kicks are obviously very common, and they come in all shapes and sizes. Some players have big leg kicks (Matt Holliday jumps to mind), some have small leg kicks (Albert Pujols), and some are in between. Every player is different and every leg kick is different, but at the end of the day, all leg kicks are timing mechanisms.
Minor league video below the Triple-A level can be tough to find, so here's the best clip I can find of Gamel at Double-A in 2014, before the leg kick (video link):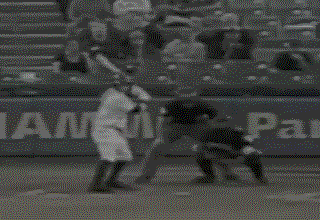 Not great, but the clip does the job. Gamel has no leg kick there at all. It's almost more of a toe tap than a leg kick. His stride is basically non-existent. Some hitters can hit like that. (Pujols did in his prime.) Gamel managed to get to Double-A with no leg kick, but that level gave him trouble, and no MLB club felt he was worth a Rule 5 Draft pick selection in December 2014.
According to Gamel, he and Thames added the leg kick during the 2014-15 offseason, so he was using it in Spring Training last season. The video confirms that. Here he is in Spring Training a year ago (video link):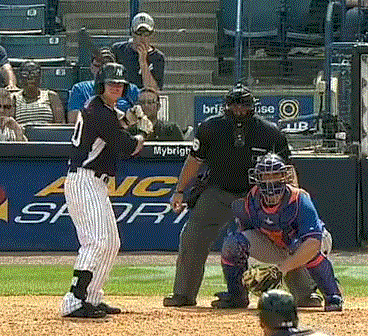 That's an ugly swing and a miss against a left-handed breaking ball (hey, it happens), but the point is the leg kick is there. Gamel went from no leg kick in 2014 to a pretty generic looking leg kick in 2015. He still has that leg kick too. I'm not making another GIF, but here's video of Gamel and his leg kick this spring. After the season he had in 2015, why wouldn't Gamel stick with it? He had a ton of success and the leg kick provides a tangible reason for his breakout.
Gamel is about to enter year two with his leg kick. Aaron Judge, the Yankees' top prospect, is about to enter year one with his. We noticed he added a leg kick in the very first Grapefruit League game this spring, and Judge says it's designed to "help with my timing." Hitting coach Alan Cockrell and minor league hitting coordinator James Rowson were behind that adjustment, not Thames. Judge and Thames only spent a half-season together in Triple-A last year. Gamel and Thames were together for two straight years.
In Judge's case, he's working to improve one very specific flaw in his game, and that's combating soft stuff away. Triple-A pitchers picked him apart by getting him to reach last year. Gamel has had success in the past — he hit .306/.342/.394 (104 wRC+) as a 20-year-old in Low-A in 2012 — but he had a hard time finding his way from 2013-14. He needed more of an overhaul. What he was doing wasn't working at all. Judge has had success everywhere but Triple-A and only needs to fine tune.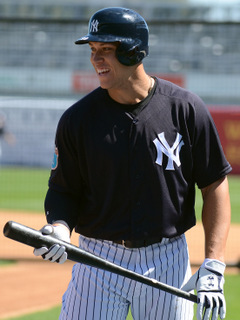 Gamel took to the new leg kick instantly last year — he went 18-for-43 (.409) with six walks and five strikeouts in his first 12 games in 2015 — and that's pretty much the best case scenario. He added the leg kick and it instantly clicked. Not all adjustments happen that way. It's not uncommon for players to struggle initially as they implement new mechanics, either at the plate, in the field, or on the mound. The Yankees hope Judge can avoid those initial issues.
Judge and Gamel are both Triple-A outfielders, though they have different long-term outlooks. Judge is the top prospect, the guy the Yankees hope will anchor their lineup for years to come. Gamel is more of a role player. It would be awesome if he became more than that, the Yankees would happily take it, but they'd also be pretty thrilled if he became a the left-handed half of a platoon. That's a great outcome for a tenth round pick.
Baseball is a game of never-ending adjustments. Last year Gamel had to make some sort of adjustment to avoid becoming an afterthought and having his career stall out. This year Judge is looking to correct a flaw in his game so he can be the best player he can be at the next level. Both players wound up incorporating leg kicks, and with any luck, Judge will have the same instant success with his new leg kick as Gamel did a year ago.