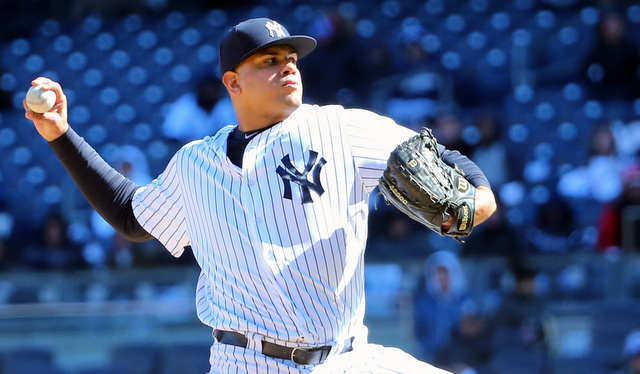 According to George King, the Yankees renewed Dellin Betances' contract at the league minimum this offseason after he rejected their initial offer. The team was more or less free to pay Betances whatever they want because he has fewer than three years of service time. Here's more from King:
According to Betances, the Yankees offered him a contract for $540,000 this year. Betances said he didn't sign it, on the advice of his representative, Jim Murray. He knew if he didn't ink the contract, the Yankees could renew him at any number. And that's what the club did: Betances is making $507,500 this season, which is what he made a year ago.
Betances and his agent turned down the raise on principle. He'll still be well-paid this season — by normal people standards, not baseball player standards — and they've now let the Yankees know they weren't happy with their initial offer. Both Jacob deGrom and Brad Boxberger rejected raises this past offseason as well, and both had their contracts renewed. Gerrit Cole complained about his small raise before begrudgingly accepting the offer.
Players with fewer than three years of service time have basically no negotiating leverage. Teams are free to pay them whatever they want, though most clubs have some sort of sliding scale based on service time and other accomplishments (awards, All-Star Games, etc.) to keep things fair and simple. A few years back Mike Trout was the highest paid player with fewer than three years of service time in history. He made $1M.
While I understand there may be concern the contract renewal will create bad blood between Betances and the Yankees, I don't think that's the case. It's a business. This is the system that was collectively bargained. The Yankees had every right to new renew his contract the same way Betances had the right to reject an offer. Dellin's a pro. He's still going to go out and do his job.
Next offseason Betances will be eligible for salary arbitration for the first time, so he's got a substantial raise coming his way. Jonathan Papelbon holds the record for first time arbitration-eligible relievers at $6.25M, but he was a closer, and saves pay big in arbitration. I don't know what the record is for first time non-closers, but I imagine Dellin is in position to break it, especially if he goes to his third All-Star Game this summer.
Betances will not qualify for free agency until after the 2019 season, when he'll be nearing his 32nd birthday. The Yankees have him for the rest of this year plus three more seasons, so he's not going anywhere anytime soon. In all likelihood the team will get the best years of Dellin's career before he hits the open market. What happens then? That's something to worry about in 2019.