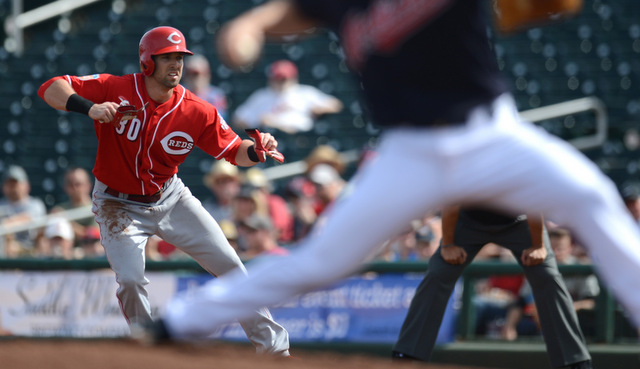 Earlier today the Reds returned Rule 5 Draft pick and outfielder Jake Cave to the Yankees, the team announced. New York's other Rule 5 Draft loss, lefty Evan Rutckyj, was returned by the Braves last month. So the Yankees got both their players back and picked up an extra $50,000 in the process. Not bad.
Cave, 23, hit .255/.349/.364 in Spring Training with the Reds this year. He started very well, going 8-for-23 (.347) in his first nine Cactus League games, before crashing and going 6-for-32 (.188) the rest of the way. I thought Cave had a pretty good chance to make the Reds anyway given their dearth of outfielders, but I guess not.
Last season Cave hit .276/.337/.356 (102 wRC+) with 25 doubles, two homers, and 17 steals in 134 games at mostly Double-A Trenton, but also some at Triple-A Scranton. The Yankees say they've assigned Cave to the Thunder. He's already cleared waivers and all that, so he is no longer on the 40-man roster.
The Yankees have both Ben Gamel and Slade Heathcott at Triple-A Scranton, plus Mason Williams is on his way back from shoulder surgery, so their left-handed hitting outfielder depth chart is pretty stacked. It's going to be tough — but not impossible — for Cave to break through and have an impact for the Yankees.