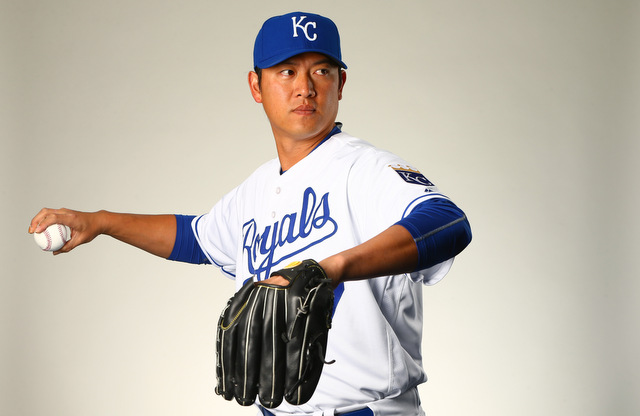 Welcome to the year 2016, where the Yankees are in last place and the Royals are the defending World Series champions. The baseball world is a strange place these days. The Royals are in the Bronx this week for a four-game series. This is their only visit to Yankee Stadium this season.
What Have They Done Lately?
Things have not gone too well for Kansas City lately. After starting the season 8-2, the Royals have gone 7-13 in their last 20 games. They're 3-9 in their last 12 games after losing two of three to the Indians over the weekend. The Royals are 15-15 with a -13 run differential overall this season. They're six back of the White Sox in the AL Central.
Offense & Defense
Believe it or not, there is an AL team that has struggled to score runs even more than the Yankees this season. That team is the Royals. They are averaging 3.40 runs per game while the Yankees are at 3.48. That said, the Royals have a team 88 wRC+. The Yankees have an 84 wRC+. Sigh. Kansas City's only injured position player is an important one: 3B Mike Moustakas (136 wRC+). He was placed on the DL with a broken thumb Saturday, so he's out for the series.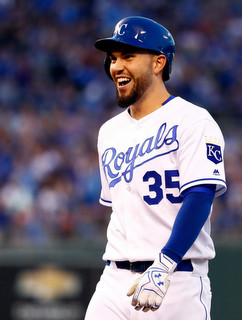 With Moose Tacos out, the regular No. 2 hitter, manager Ned Yost has simply slid everyone else in the lineup up a spot. SS Alcides Escobar (65 wRC+) continues to lead off — hey, they won a World Series doing that, so why not? — and is now followed in order by CF Lorenzo Cain (80 wRC+), 1B Eric Hosmer (157 wRC+), DH Kendrys Morales (56 wRC+), and LF Alex Gordon (86 wRC+). That's the standard batting order. Yost doesn't mix things up much.
C Salvador Perez (95 wRC+) doesn't do anything well according to the numbers, but he strikes me as the type of player who would really benefit from a "works with pitchers" metric. I believe his intangibles are off-the-charts good. 2B Omar Infante (67 wRC+) and RF Jarrod Dyson (66 wRC+) are the other regulars. IF Christian Colon (75 wRC+) and IF Cheslor Cuthbert (2-for-8) are tag-teaming third base for the time being. C Drew Butera (4-for-10) and OF Paulo Orlando (42 wRC+) are the other bench players. The Royals are currently carrying eight relievers, which seems to be a thing around the league now.
Defensively, there is no better team in baseball than Kansas City. They do take a hit at third with Moustakas out, but they're no worse than average everywhere else. Check out their projected defensive runs saved visualization from Sean Dolinar: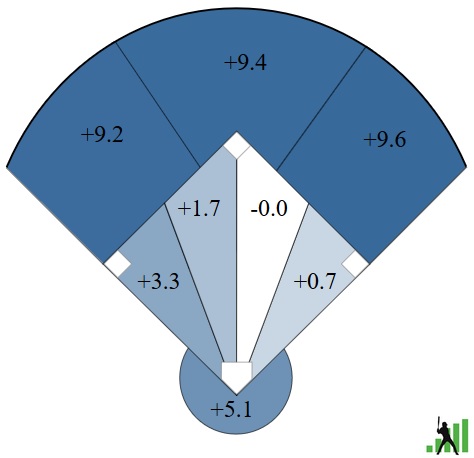 That's a lot of blue! The Royals catch everything, especially the Gordon-Cain-Dyson outfield. Opponents have a 0.293 BABIP on fly balls and live drives against Kansas City this season. The league average is .357. Yeah.
Pitching Matchups
Monday (7pm ET): RHP Ivan Nova (vs. KC) vs. RHP Chris Young (vs. NYY)
Five years ago it appeared Young's career was over. He had surgery to repair an impingement in his shoulder in 2009, missed almost the entire 2010 season with a shoulder sprain, then had surgery in 2011 to repair a torn labrum. Young went through all the rehab and is still out there slingin'. Good for him. Young, 36, has a 5.76 ERA (5.74 FIP) with a good strikeout rate (22.0%) and a walk rate (8.3%) in line with his career average. He's an extreme fly ball pitcher (32.2%) who has always been home run prone, though not as homer prone as this season (2.43 HR/9). Lefties have historically hit him much harder than righties. Young is as unique as any pitcher in baseball. He's 6-foot-10 and he pitches up in the zone with a fastball that averages 88 mph, which results in a ton of pop-ups. He also mixes in a low-80s slider and very rarely throws his low-80s changeup. The Royals have Young on a short leash. He's averaging only 90 pitches per start and three times in six starts has he failed to complete five innings. After all those shoulder problems he doesn't have the stamina to pitch deeper into games.
Tuesday (7pm ET): RHP Masahiro Tanaka (vs. KC) vs. RHP Kris Medlen (vs. NYY)
Medlen, 30, missed all of 2014 and the first half of 2015 following his second Tommy John surgery. This year he has a 6.85 ERA (4.91 FIP) in five starts and 22.1 innings, and, like Young, the Royals typically don't let him go through the lineup a third time. Medlen's grounder (48.6%) and homer rates (0.81 HR/9) are fine, and you can live with his strikeout rate (17.1%), but walks are a big problem (16.2%). To be fair, he's issued 13 of his 17 walks in two of those five starts. He has four walks in the other three starts. Medlen has been a bit better against righties than lefties throughout his career, and these days his primary fastball is a low-90s sinker. A mid-80s changeup and upper-70s curveball are his go-to secondary pitches, though he'll also mix in some low-80s sliders too.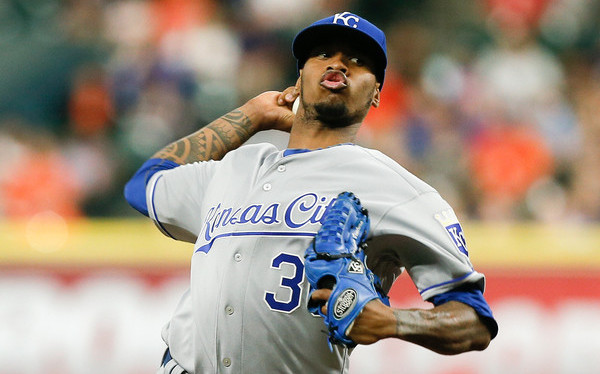 Wednesday (7pm ET): RHP Michael Pineda (vs. KC) vs. RHP Yordano Ventura (vs. NYY)
The 24-year-old Ventura is a reminder that not every live-armed prospect makes it big. He has a 4.65 ERA (5.24 FIP) with exactly as many walks as strikeouts (17.6%) in six starts and 31 innings this year. His grounder (42.2%) and homer numbers (0.87 HR/9) are a bit more normal, and throughout his career his platoon split has been small. Ventura sits in the mid-90s with his four-seamer and sinker nowadays — he hasn't hit triple digits since last September — and he'll throw a ton of upper-80s changeups and low-80s curveballs. He's about 50/50 with fastballs and non-fastballs. Ventura can dominate on his best days. On others he'll leave the Royals pulling their hair out.
Thursday (7pm ET): RHP Nathan Eovaldi (vs. KC) vs. RHP Ian Kennedy (vs. NYY)
For the first time since being traded as part of the package for Curtis Granderson, Kennedy returns to Yankee Stadium as a visiting player. In fact, this will be his first career pitching appearance in the new Stadium. He pitched in only one game with the 2009 Yankees and it was on the road. Kennedy, now 31, has a 2.13 ERA (3.60 FIP) six starts and 38 innings into his Royals career. His strikeout (23.2%), walk (8.6%), and ground ball (35.7%) numbers are right in line with his career norms, though his homer rate (0.71 HR/9) is much lower than usual. His platoon split has been negligible. Kennedy used to be one of those guys who would mess around with six pitches, but at this point of his career he's scaled it back to four: low-90s four-seamer, upper-80s cutter, low-80s changeup, upper-70s curveball. IPK has turned into exactly what he was projected to become when the Yankees drafted him in 2006, and that's a mid-rotation workhorse.
Bullpen Status
The Royals are credited with making elite bullpens popular — did everyone not realize good relievers are better than bad relievers before 2014 or something? — but their relief crew this summer has been short of outstanding. They rank in sixth in ERA (2.75), ninth in FIP (3.51), and 13th in fWAR (+0.8). Hangover from two straight deep postseason runs? Maybe. Here is Yost's relief crew.
RHP Wade Davis: 10.2 IP, 3 H, 0 R, 0 ER, 5 BB, 11 K, 0 HR (0 pitches Sun., 0 pitches. Sat)
LHP Danny Duffy: 16 IP, 16 H, 6 R, 6 ER, 5 BB, 19 K, 1 HR (23 pitches Sun., 0 pitches. Sat)
LHP Brian Flynn: 4 IP, 3 H, 2 R, 2 ER, 2 BB, 2 K, 0 HR (0 pitches Sun., 0 pitches. Sat)
RHP Dillon Gee: 15.1 IP, 15 H, 5 R, 5 ER, 7 BB, 13 K, 4 HR (0 pitches Sun., 0 pitches. Sat)
RHP Kelvin Herrera: 14.1 IP, 11 H, 0 R, 0 ER, 2 BB, 19 K, 0 HR (0 pitches Sun., 13 pitches. Sat)
RHP Luke Hochevar: 12.1 IP, 10 H, 6 R, 6 ER, 3 BB, 12 K, 2 HR (10 pitches Sun., 0 pitches. Sat)
RHP Joakim Soria: 15.1 IP, 15 H, 8 R, 7 ER, 8 BB, 13 K, 2 HR (13 pitches Sun., 11 pitches. Sat)
RHP Chien-Ming Wang: 10.1 IP, 13 H, 4 R, 4 ER, 3 BB, 8 K (0 pitches Sun., 0 pitches. Sat)
Man, I want Wang to pitch this series so much. He has never been the same since the foot injury in Houston back in 2008. It sucks. Wanger has found some success as a long man this season, partly because he's throwing harder than he has at any point since blowing out his shoulder in 2009 …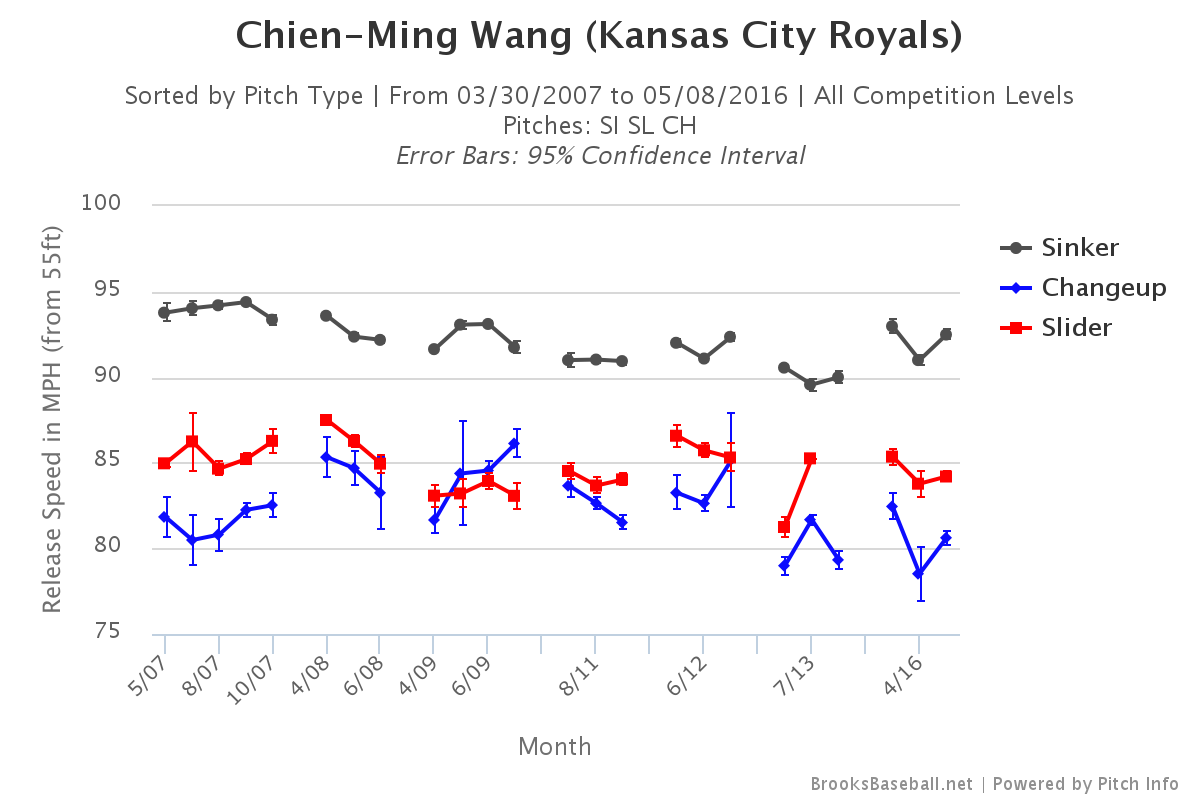 … so that's great to see. Nothing but love for CMW. He was a damn good Yankee for a few years. I hope he gets a big ovation this week. And hopefully he's coming in to mop-up a blowout loss. Best of both worlds.
As for the rest of the bullpen, Soria has really struggled as the replacement for Ryan Madson in the team's late-inning trio with Herrera and Davis. Those two are still really great in the eighth and ninth innings, so if the Royals have a lead after seven, the game is probably over.
The Yankees, meanwhile, are getting Aroldis Chapman back today. Well, not back. He's joining them for the first time. You know what I mean. So just like that, the Yankees have a new closer. Check out our Bullpen Workload page for the status of Joe Girardi's relievers.