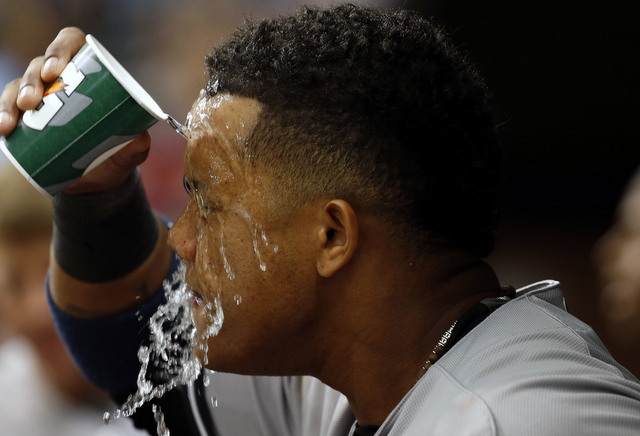 By my quick count, the Yankees have played 12 three-game series this season, and even with that recent 13-7 stretch, they've won only four of those 12 series. Yikes. Today's rubber game with the Rays is a chance for series win No. 5, and also a chance to get back within a game of .500. Baby steps, I guess. Getting a little tired of writing that. Anyway, here is the Rays' lineup and here is the Yankees' lineup:
CF Jacoby Ellsbury
LF Brett Gardner
2B Starlin Castro
C Brian McCann
DH Alex Rodriguez
SS Didi Gregorius
RF Aaron Hicks
1B Dustin Ackley
3B Ronald Torreyes
RHP Nathan Eovaldi
Another hot and humid day in St. Pete, and there's some rain in the forecast too. The dome will come in handy this afternoon. Today's series finale will begin at 1:10pm ET and you can watch on WPIX locally and MLB Network nationally. Yep, another WPIX game. Enjoy.
Injury Updates: Carlos Beltran left yesterday's game with a stiff back and is available today. Joe Girardi said before the series he wasn't going to play Beltran on the turf all three games anyway … Mark Teixeira (neck) feels much better and will take batting practice today with an eye on playing tomorrow.