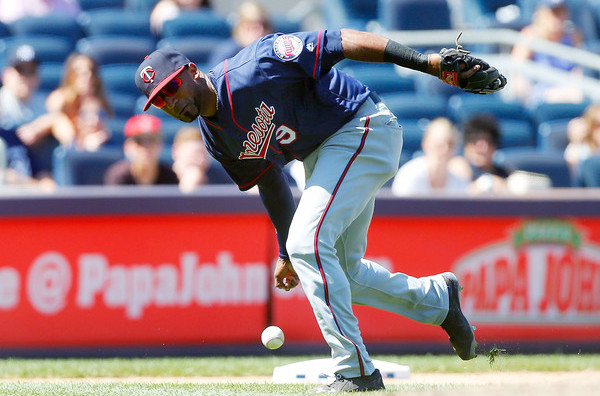 The Yankees are looking to finish a three-game sweep of the Twins this afternoon, and, unfortunately, they won't play Minnesota again this season. That's a damn shame. As we've seen the last two days, even with the Twinkies have a lead and the Yankees seem unable to do anything, the Twins will find a way to lose. Gonna miss that. Here is the Twins' lineup and here is the Yankees' lineup:
CF Jacoby Ellsbury
LF Brett Gardner
DH Carlos Beltran
C Brian McCann
1B Mark Teixeira
2B Starlin Castro
SS Didi Gregorius
3B Chase Headley
RF Aaron Hicks
RHP Nathan Eovaldi
It's a wee bit cloudy in New York, otherwise it's a very nice day for baseball. A little warm but not really hot unless you're stuck sitting in the sun. Anyway, this afternoon's series finale will begin at 1:05pm ET. You can watch on YES. Enjoy the game.
Roster Move: Nick Goody was sent down and Luis Cessa was called up, the Yankees announced. Cessa was scheduled to start for Triple-A Scranton today, so he's available to go long if necessary. Hopefully it's not. Joe Girardi indicated he wants to limit Richard Bleier to left-on-left matchup work going forward, so Cessa's the new long man.
Injury Update: Bryan Mitchell (toe) has started playing catch and could begin throwing off a mound reasonably soon. Girardi said they're not going to push him though, so there's a chance Mitchell won't return to the big leagues this season. He needs innings and he can get them in Triple-A, not sitting in the big league bullpen for a week at a time.