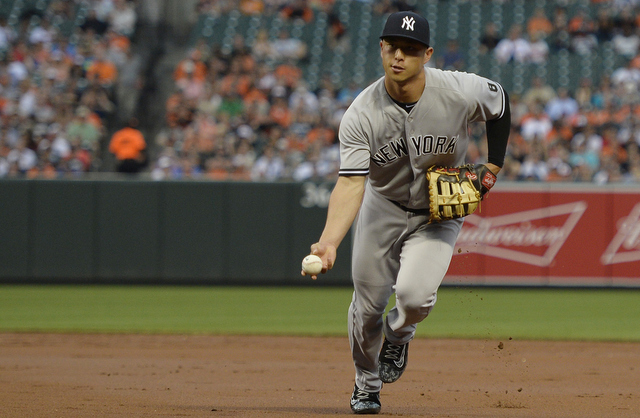 You know, I always assumed it would take an injury for Rob Refsnyder to get a chance to play everyday this season. I just didn't think it would take injuries to Greg Bird and Mark Teixeira and Dustin Ackley. The Yankees have lost Plans A through C at first base to injury, so, with their options limited, the team gave Refsnyder a crash course at the position last week and threw him out there.
I'd say Refsnyder's play at first base has been mostly fine, though I can't remember him being tested with any tough plays in his 28 innings at the position. The Yankees aren't asking him to be a Gold Glover like Teixeira. Just catch the ball from the other infielders and occasionally flip it over to the pitcher covering the bag. That's all. Chris Parmelee is there for late-inning defense. (He's taken over at first late the last few games.)
More important than Refsnyder's defense is his offense, which is his calling card and a fairly divisive topic in Yankeeland. Some folks think he can be an impact hitter, others aren't quite as sold. Regardless of your opinion of Refsnyder's bat, there is only one way for the Yankees to find out whether he can hit big league pitching, and that's by writing his name into the lineup regularly. He just needed the opportunity.
The Teixeira and Bird (and Ackley) injuries have created that opportunity for Refsnyder, even though he has to play out of position. It's not ideal, but you know what? Refsnyder's not the first player who will have to play out of position early in his big league career. He hasn't complained about playing first base and he won't. I'm just saying. The Yankees aren't being unreasonable by asking Refsnyder to play first. Quite the contrary, actually. They're giving him a chance.
Truth be told, the Yankees should have given Refsnyder a chance last season. Stephen Drew was unproductive for long stretches of time and never did validate the team's faith in him. Refsnyder started at second for a handful of games at the end of the season, which was better than nothing, but it wasn't enough to tell us anything meaningful. Now Refsnyder will have a chance to play regularly for possibly the rest of the season. It's not hyperbole to call this the opportunity of a lifetime.
The Yankees said yesterday they hope to get Teixeira back on the field in three weeks, so we'll see. We know the surgery would be season-ending, so why not try the rehab first? It only makes sense. If Teixeira does come back in three weeks, then the Yankees can figure out what to do with Refsnyder then. He has to give them a reason to stay in the lineup first, remember. "Let's find out what he can do," said Joe Girardi the other day when asked about playing Refsnyder everyday at first.
So far this season Refsnyder is 5-for-22 (.227) with two doubles, but he's looked good overall at the plate. He's working counts and putting together good at-bats. We saw the same thing last year. A lot of times young kids will try to hit a five-run homer every at-bat when they first get a chance to play regularly. We haven't seen that yet from Refsnyder and that's encouraging. Will it lead to production? We're finally getting a chance to find out.