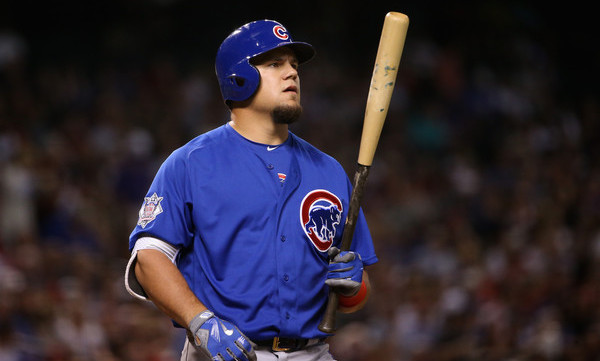 From the "no duh" department comes this nugget: the Cubs are unwilling to trade injured outfielder Kyle Schwarber for Andrew Miller, reports Joel Sherman. We've yet to hear whether Chicago has interest in Miller, but come on. Of course they do. Miller's awesome, and as good as the Cubs are, the one thing they lack is a shutdown left-handed reliever. (Miller is excellent regardless of handedness.)
Schwarber, 23, tore his ACL in an outfield collision three games into the season. He came up and hit .246/.355/.487 (131 wRC+) with 16 homers in 69 games last season. I'm not as high on Schwarber as most — he's a DH who probably needs a platoon partner, and now he's coming off a major knee injury too — and I believe the Cubs should be open to trading a guy who isn't on their active roster for help at the deadline, but Schwarber is certainly a good young player. Anyway, I have some thoughts on this.
1. The price for Miller should be very high. The Yankees don't absolutely have to trade Miller. He's signed for another two years and holding on to him through the trade deadline is a perfectly viable strategy. Free agent closers like Kenley Jansen and Mark Melancon and, of course, Aroldis Chapman, are going demand huge dollars this winter. Miller will represent a much more cost effective alternative. There will be a trade market in the offseason too.
So, with Miller being so valuable, the Yankees should stick to their guns and ask for top young players. And you know what? They've done that already. They held their ground over the winter and rejected a package from the Astros similar to what Houston sent to the Phillies for Ken Giles because they felt it wasn't enough. They're in control of the bullpen market at the trade deadline because of the arms they can offer. Miller will have a ton of suitors and it only takes one team to meet New York's asking price.
2. One great prospect or several good prospects? I've been thinking about this a bit and the Schwarber non-rumor gives me a reason to bring it up. The Yankees are going to get all sorts of offers for Miller (and Chapman), but do they prefer one high-end prospect or a package of two or three good prospects? Would they rather have, say, a top ten overall prospect or two guys in the 80-100 range plus a third piece?
This all depends on the players of course, and I don't think there's a right answer. Giles was traded for five players but none were a truly great prospect. Miller fetched a top 25 caliber prospect (Eduardo Rodriguez) when he was traded from the Red Sox to the Orioles a few years back. The Yankees figure to be in position to demand whatever they want if they do decide to take the plunge and trade Miller. I'm curious to see what kind of return they seek.
3. Trade season will pick up soon. The first major trade of the offseason just went down (James Shields to the White Sox) and once the draft ends this weekend, trade chatter will pick up. Right now clubs are focusing on the draft. Once that's out of the way, focus shifts back to the big league club, and teams are going to start looking to address their needs.
I think there's a big advantage in acting early, regardless of whether you're buying or selling. If you're buying, the new player(s) will be able to help you for a longer period of time. And if you're selling, you're trading away more games and can ask for more in return. I don't see the Yankees doing anything quickly, however. They're going to wait as long as possible before deciding whether to pull the plug and sell.