Well, you can't blame the offense for Tuesday's loss. That's a nice change of pace. The Yankees and Rockies played a classic Coors Field slugfest Tuesday night, and the Rockies came out on top 13-10. The Yankees scored seven runs in the eighth inning and still lost by three. Good grief. At least that was more fun to watch than a 3-1 loss or something like that.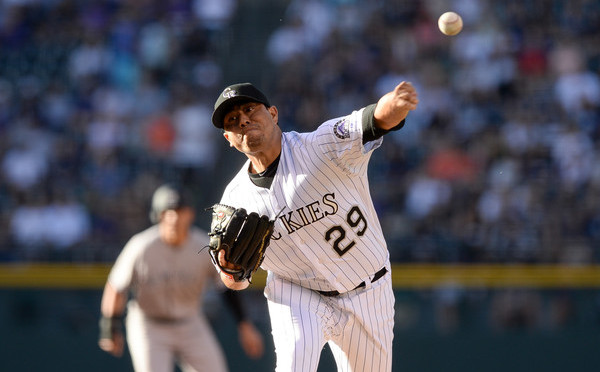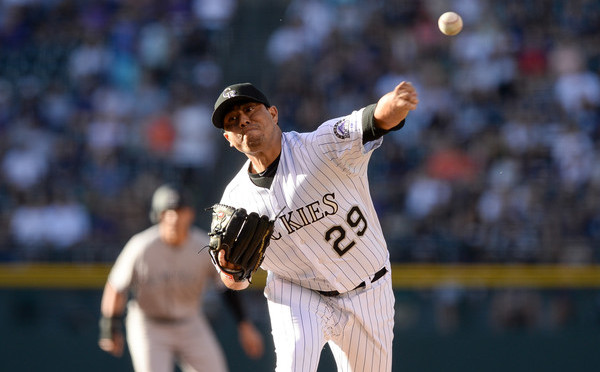 Don't Let That 8.81 ERA Fool You
Amazingly, the Yankees were unable to muster much of anything offensively against Jorge De La Rosa, who went into Tuesday's start with an 8.81 ERA (5.64 FIP) in 31.2 innings. De La Rosa limited New York to three singles and two walks in five innings while striking out only one. He also hit a batter. The Yankees actually had a baserunner in each of De La Rosa's five innings, but were still unable to score.
The team's best chance to put some runs on the board against the veteran southpaw came in the very first inning. Jacoby Ellsbury and Brett Gardner led the game off with singles — Ellsbury's was a line drive to center, Gardner beat out a bunt — but Starlin Castro banged into a 6-4-3 double play to short circuit the rally. De La Rosa allowed only one runner to make it as far as second base the rest of the night. Gross. He shaved more than a full run off his ERA. It's down to 7.61 ERA. The Yankees have made a lot of pitchers happy this year, huh?
Nate's Homer Problem
I get that it's Coors Field, but Nathan Eovaldi has now allowed 12 home runs in 75.1 innings this season after allowing ten homers in 154.1 innings last year. He came into the season with a career 0.6 HR/9 in more than 600 innings, so clearly he has some sort of homer suppressing skill. That skill has been nonexistent this year. Eovaldi is up to a 1.4 HR/9 a little more than one-third of the way through 2016.
Trevor Story and Ryan Raburn got him Tuesday night, and they were back-to-back blasts in the fourth inning. Story absolutely clobbered a terrible 3-2 pitch …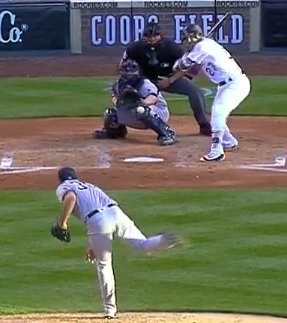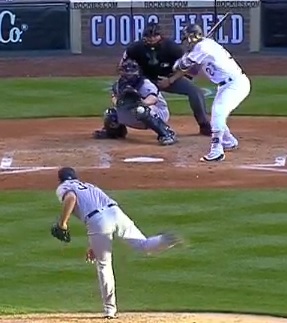 … to dead center field for a two-run homer that Statcast measured at 454 feet. It's the second longest homer given up by the Yankees this season. Remember that dinger Michael Pineda served up to Carlos Correa back in April, the one he smacked off the windows of the restaurant? That one went 462 feet. Raburn followed Story's blast with a 388-foot opposite field job.
Two singles and a double ended Eovaldi's night in the fifth inning. (Gardner got twisted around and should have caught the double, but by then the story of Eovaldi's outing had been written.) He was charged with six runs on eight hits and two walks in only four innings, and he struck out only two. It was a non-competitive start. Eovaldi has now allowed at least five runs in each of his last three starts after allowing seven runs total in his previous five starts.
Don't Call It A Comeback
To their credit, the Yankees did not go quietly. After falling behind 6-0, they put three runs on the board in the top of the sixth. Didi Gregorius had the big blow with a home run to right field. Brian McCann drew a walk and Chase Headley bunted to beat the shift to set Gregorius up for the dinger. Didi had a real nice at-bat. He fell behind in the count 0-2, worked it back full, then mashed the three-run tater.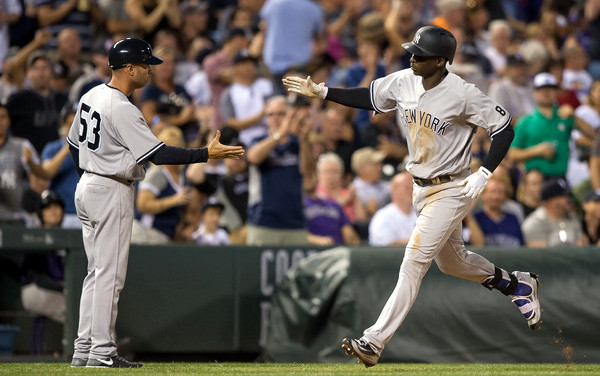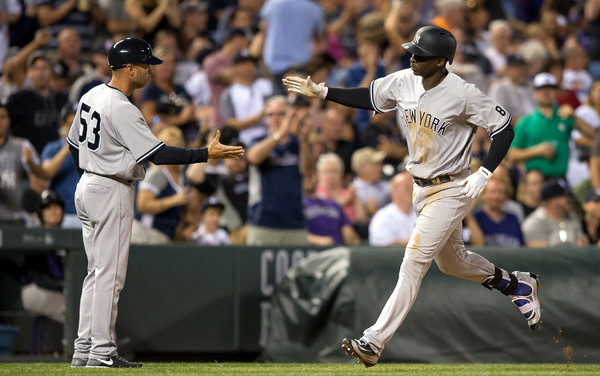 The home run cut the deficit in half but lol that didn't last. The Rockies immediately answered with three runs in the next half-inning, and another three runs the half-inning after that. Colorado scored three runs in the fourth, two in the fifth, three in the sixth, and three more in the seventh. Yeesh. Kirby Yates (0.2 innings) and Richard Bleier (1.1 innings) were both charged with three runs. The non-big three relievers now have a 4.95 ERA in 116.1 innings on the season.
The Rockies took a 12-3 lead into the eighth inning, and, just as we all expected, the Yankees scored seven runs that inning to make it 12-10. How about that? Here's the short version of that seven-run inning:
– Headley strikes out
– Rob Refsnyder rips a solid single to center
– Gregorius squibs an infield single to short
– Aaron Hicks bloops a single to right to load the bases
– Pinch-hitter Ike Davis singles to right to drive in a run in his first at-bat as a Yankee
– Ellsbury lines a two-run single to center to cut the deficit to 12-6
– Gardner gets hit by a pitch to reload the bases
– Castro drive in two with an infield single (pitcher Miguel Castro threw it away)
– McCann grounds out to second to score another run, cutting the deficit to 12-9
– Headley shoots a single to left to score yet another run, making it 12-10
– Refsnyder singles to right
– Gregorius grounds out to end the inning
Got all that? Seven runs on eight singles, an error, and a hit-by-pitch. No lead is safe in Coors Field, but geez, it's not like the Yankees were ripping line drive after line drive that inning. There were definitely a few softly hit but well-placed singles in there. Hey, sometimes that's all it takes. It also helps that Colorado's bullpen is really bad.
The Rockies got another run back in the bottom of the eighth — they scored in the next half-inning each time the Yankees scored, which is annoying as hell — when Carlos Gonzalez launched a bomb of a home run off Andrew Miller. It was a no-doubter. Rockies closer Carlos Estevez retired the side in order in the ninth with a 13-10 lead.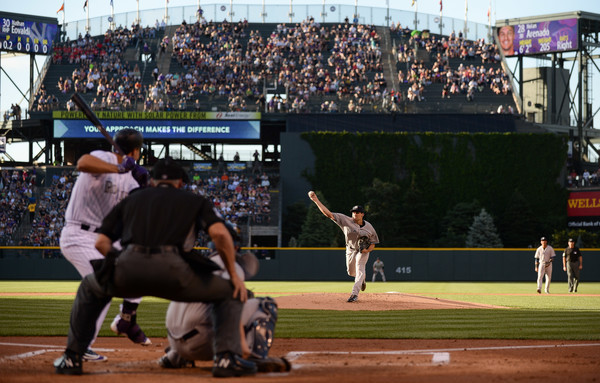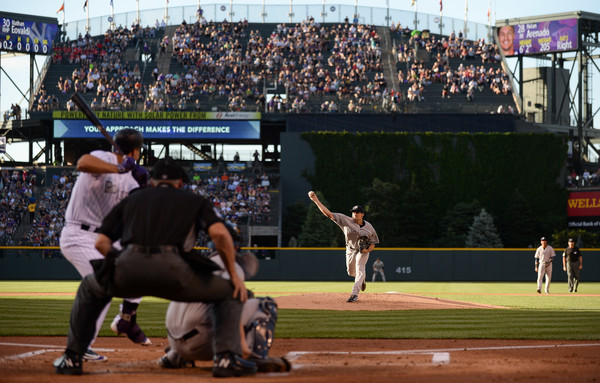 Leftovers
Every Yankee in the starting lineup had at least one hit except McCann and Eovaldi. In fact, every starter had at least two hits except McCann, Eovaldi, and Gardner. Gardner singled and was hit by a pitch. McCann drew a walk. The Yankees put 20 runners on base and scored scored ten runs. And lost. By multiple runs. The worst.
After facing Justin Wilson and Shane Greene last series, the Yankees got a look at two more ex-Yankees on Tuesday. Boone Logan and Chad Qualls combined for a scoreless seventh inning. Logan retired Ellsbury (strikeout) and Gardner (ground out). He was always over-hated while in pinstripes.
And finally, assuming my Play Indexing is correct, this is the first time the Yankees have scored ten runs in a loss since 2010. They dropped a 13-11 game to the Indians on May 29th, 2010. They blew a 9-3 lead that night.
Box Score, WPA Graph & Standings
Head on over to ESPN for the box score, MLB.com for the video highlights, and ESPN for the updated standings. Also don't miss our Bullpen Workload and Announcer Standings pages. Here's the win probability graph:

Source: FanGraphs
Up Next
The Yankees won't be in Denver very long. They'll wrap up this quick two-game set with the Rockies on Wednesday afternoon. That's a 3:40pm ET start. Lots of weird start times this season, huh? Ivan Nova and Chad Bettis are the scheduled starting pitchers.