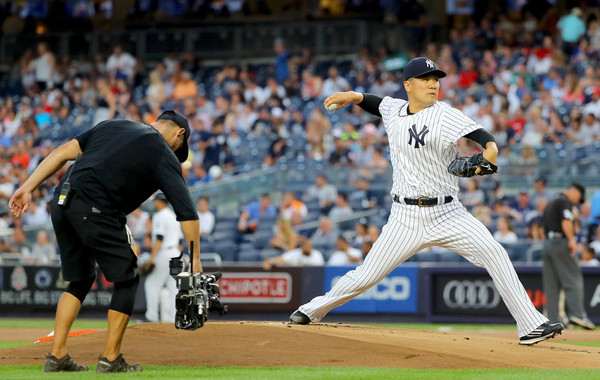 Even after back-to-back wins, the Yankees are five games back of a postseason spot with 13 days to go before the trade deadline. FanGraphs puts their postseason odds at 6.4% as of this writing. We've spent the last few weeks preparing for the deadline by discussing scenarios in which the Yankees sell. Carlos Beltran, Aroldis Chapman, Andrew Miller, Brett Gardner, whoever. We haven't even bothered to consider buying scenarios.
One player we haven't discussed as a trade candidate is Masahiro Tanaka, the staff ace and the Yankees' best starter. Teams usually don't trade their best pitcher, even when they're selling. It's a big deal when one of these guys is traded. Tanaka has been excellent overall this season, throwing 123 innings of 3.15 ERA (3.30 FIP) ball, so it stands to reason he could fetch quite a bit in a trade.
Brian Cashman and his staff surely are not ruling anything out. They'd be silly not to listen to offers for Tanaka or any other player on the roster. Does it actually make sense to trade him though? I think you can make the argument either way. In fact, let's do that right now.
The Case for Trading Tanaka
The case for trading Tanaka boils down to this: he can bring back good young players and boy oh boy do the Yankees need some of those. It's not quite that simple though. It never is. Here are the two main reasons to deal Tanaka.
1. He can fetch a lot of young talent. Tanaka is a top 25-ish pitcher in baseball and those guys are really, really valuable. Every team wants them too. There's not a rotation in baseball that wouldn't get better by adding Tanaka, so the Yankees would have no shortage of suitors. Every contender will be in the mix. Rangers, Dodgers, Giants, Nationals, you name it.
Look at the Jeff Samardzija trade. He was having an excellent season with the Cubs in 2014 (2.83 ERA and 3.09 FIP) and brought back a package led by Addison Russell despite his lack of track record. There were other players involved, but the Cubs were getting a big package for Samardzija no matter what. He was a year and a half away from free agency like Tanaka is now. That's not a crazy trade benchmark for Tanaka.
Other pitchers traded a year and a half away from free agency include David Price (Rays to Tigers) and Dan Haren (Diamondbacks to Angels). Tanaka is not Price, but you can compare him favorably to Samardzija and Haren, and those two were traded for some nice talent. If the Yankees put him out there, Tanaka would instantly become the best available starter, and that usually means a big return.
2. His elbow is on borrowed time. Two years ago Tanaka missed the second half with a partially torn ligament in his elbow, and let's be real, most expected him to require Tommy John surgery by now. Instead, the elbow has held up the last two years and Tanaka has been very good. The rehab process couldn't have worked any better.
Now, that said, it's only a matter of time until the ligament gives. Adam Wainwright pitched five years with a partial tear before it gave out, if you want one example. The Yankees don't want to be left holding the bag when Tanaka's elbow gives out. They've gotten three really good years out of him and have a chance to avoid not only his decline years, but the seemingly inevitable Tommy John surgery.
The Case Against Trading Tanaka
Getting a lot of talent and avoiding a serious elbow injury are two pretty great reasons to trade Tanaka. Keeping him? That's a different story. It's always easy to come up with reasons to dump a guy. Finding reasons to keep him can be a bit tougher. Here are three.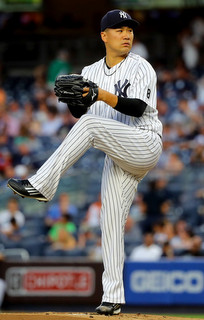 1. The opt-out clause really hurts his value. Once upon a time opt-out clauses only went to elite players. Nowadays everyday gets one, including guys like Ian Kennedy and Scott Kazmir. Tanaka can opt out of his deal after next season, and as long as he's healthy, he will. He'd be walking away from $67M and that's nothing. Samardzija got $90M this winter after leading the league in hits, runs, and homers allowed.
The opt-out is almost all downside. If the elbow gives out, Tanaka will stick around and collect his $67M. If he's healthy and productive, he'll bolt. How do you market that in trade talks? "Here's a guy you'll have for a year and a half if he's really good, or four and a half years if he's hurt or really bad." Not a great sales pitch. That downside created by the opt-out is going to be reflected in what teams are willing to give up to get him.
2. Can he really fetch a lot of talent? Is Tanaka's trade value as high as we'd like to think it is? Between the looming elbow injury and the opt-out, there's a lot of off-the-field stuff dragging down Tanaka's value. He's a really good pitcher! But he carries more injury risk than most and the opt-out is not team friendly. Yeah, you can get a draft pick if he opts out, but that mitigates the risk only so much. Tanaka's a great pitcher with just enough negatives that chip away at his trade value. Add all those chips up, and before you know it the offers aren't nearly as good as hoped. I'm not sure I'd call it selling low, but the return might not accurately reflect his value on the field.
3. Guys like Tanaka are hard to get, you know. The Yankees no doubt have plans to contend next season, and Tanaka can help them do that. He's a top 25-ish pitcher in baseball and those guys don't become available every often. The Yankees could trade Tanaka and get some young talent and that would be great, but that would leave them with one of the worst starting staffs in baseball with a dreadful free agent class on the horizon. Keeping Tanaka because they would be unable to replace him is not crazy, not if the goal is to win next year.
* * *
Every player is available at the right price, and I imagine the Yankees would set the price fairly high for Tanaka. They could market him as an ace caliber starter who can help you for two postseason runs, not one. And because he has that extra year of control and isn't a rental, they don't have to move him. Same with Andrew Miller. Keeping him is a viable strategy.
I don't expect the Yankees to trade Tanaka because I don't think anyone will meet their asking price, even with no other high-end starters available. He's a guy you get because you want to win the World Series, not sneak into the postseason. Know what I mean? Only serious offers will be considered and I think the elbow and opt-out will prevent Tanaka from bringing back a massive return.