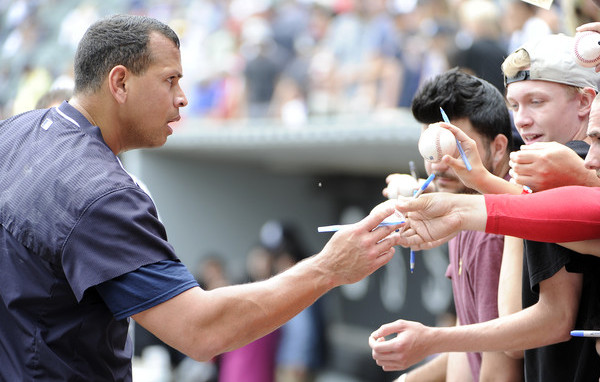 Later today the Yankees begin their final series of the first half, a four-gamer with the Indians in Cleveland. The Indians are really good with an insane power rotation — they have the rotation everyone thought the Mets would have — so these next four games might not be much fun. Anyway, I have some thoughts.
1. The Yankees will face four righties in the Cleveland series, so are they just going to sit Alex Rodriguez all four games? They deemed him unfit to face Miguel friggin' Gonzalez last night. Would they really send him out here against Corey Kluber or Carlos Carrasco, who throw mid-to-high-90s with wicked breaking balls? It seems unlikely. That means Alex is going to sit five straight days to close out the first half. The Yankees are basically playing with a 24-man roster right now. A right-handed platoon DH isn't all that useful, especially since playing the field appears to be completely off the table. There's a Catch-22 here. A-Rod's not playing because he's not hitting, but he probably needs to play more to start hitting. Sitting on the bench won't accomplish much as far as getting his bat going.
2. The "Masahiro Tanaka needs to learn how to pitch on normal rest" thing has officially jumped the shark. You'd think the guy has pitched like Sidney Ponson on normal rest, and yet:
Normal Rest, 2014-15: 2.89 ERA (3.42 FIP)
Extra Rest, 2014-15: 3.26 ERA (3.57 FIP)
Normal Rest, 2016: 5.28 ERA (4.27 FIP)
Extra Rest, 2016: 1.72 ERA (2.46 FIP)
Tanaka has made seven starts of his 17 starts on normal rest this year. That's it. Included in those seven starts are three starts of at least six innings with no more than two earned runs, so it's not like he's never pitched well on normal rest this year. I'm not saying it wouldn't be smart to give Tanaka an extra day whenever possible. It's smart to give every pitcher an extra day now and then. But the idea Tanaka is unable to pitch effectively on normal rest is so overblown. It's an overreaction to four starts spread across three months this year.
3. Jorge Mateo's two-week suspension is totally deserved, in my opinion. George King says Mateo complained to team executives about not getting promoted, and even went as far as to say an unnamed player in Double-A should be released to clear a spot for him. (Had to be Cito Culver, right?) First of all, Mateo is hitting .266/.323/.396 (112 wRC+) this season, including .240/.292/.351 (89 wRC+) since May 1st, so he hasn't exactly forced the issue. Secondly, a team can't just let a player complain about not being promoted, because I have news for you: everyone thinks they deserve to be promoted. If the Yankees had let Mateo get away with that, it would be open season. Every prospect would be going to the front office and mouthing off about a promotion. I mean, he went to the team and said release this guy and promote me. What the hell is that? Mateo was insubordinate and thus disciplined. Welcome to the real world, kid. Hopefully he serves his suspension, grows up a little, and performs well enough for the Yankees to consider promoting him.
4. Last week Chad Jennings posted a neat interview with Rob Refsnyder on Aaron Judge. Refsnyder was in Triple-A and had a front row seat for Judge's crazy home run surge a few weeks back. "With normal human beings, it's, 'I'm going to get a hit or two tonight.' With Judge it's like, 'I'm going to get a double and a home run tonight,'" said Refsnyder. Anyway, I found this part interesting:
"You get so many offspeed pitches in Triple-A, it's ridiculous. It's so unrealistic (compared) to this type of pitching. You get a lot more fastballs … So many more fastballs and truer pitch sequences. In Triple-A it's like, guys have five pitches and they could throw them at any time, so some guys start leaning out over the plate. They lose their posture and their swing plane is all messed up. So I think he's just trying to stick to staying taller and getting his hands to the ball more efficiently."
I think at least part of it is Refsnyder getting a lot of fastballs because he's a rookie, and pitchers are going to challenge him until he shows he can do damage, but otherwise that's pretty much the opposite of what I expected. I figured more pitchers would be living off their fastball in Triple-A while the five-pitch guys are in the big leagues. It does make sense though. Triple-A is loaded with older players trying to hang on — look at the International League innings pitched leaderboard, the retreads outnumber the prospects four-to-one — and many teams skip their top prospects right over Triple-A these days. The hard throwers all get called up because of baseball's general obsession with velocity. Had Refsnyder not said anything, it never would have occurred to me Triple-A pitchers may throw more fastballs than MLB pitchers.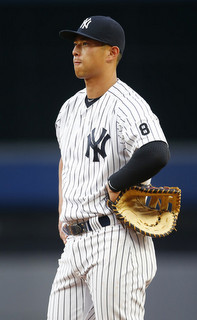 5. Speaking of Refsnyder, he's handled himself well these last few weeks despite being in a less than ideal situation. He's not playing every single day, and he's going back and forth between three different positions (first, second, right). It can be tough to remain productive when that's your role, especially when you're new to it after playing everyday for the last, well, rest of your life. I'm not a huge believer in Refsnyder. Yes, the Yankees should play him more just to see if he can be an everyday guy somewhere, but I think this is the best role for him long-term. Hopefully he can pick up third base and be an option there too at some point. Point is, the Yankees haven't exactly put Refsnyder in the best position to succeed — that's not exactly uncommon, young players are moved around and sit on the bench all the time — but he's made the most of it. Good to see.
6. It's not a fatal flaw, but Dellin Betances' inability to stop the running game is a real problem. Opponents are 11-for-11 in steal attempts against him this year after going 17-for-21 last year and 12-for-15 the year before that. That's 40-for-47 (85%), and that's, uh, bad. The book is out too. This is no secret. Whenever Betances puts a man on base, they're looking to run first or second pitch. Dellin is a big man with a slow and deliberate motion, so speeding up his delivery isn't really an option. (Given his career-long control issues, I wouldn't mess with his mechanics at all anyway.) The Yankees are going to have to work with him on his pickoff move, varying his times to the plate, that sort of thing. Betances doesn't allow many baserunners to start with, so this isn't a huge problem, but not every walk and single can be turned into a double. It's a weakness that can be improved. That's the best way to put it.
7. I'm happy the Yankees have kept Luis Severino in Triple-A these last few weeks. I thought they were going to bring him right back up after two or three good starts. Severino definitely has some things to work on, specifically his command of his secondary pitches, and it's not realistic to think that can be fixed overnight. I thought the Yankees were very aggressive with Severino — he was in the big leagues after throwing 144.2 innings between High-A, Double-A, and Triple-A combined — and this gives him a chance to catch his breath a bit and finish off some of the development the Yankees skipped over. Severino is incredibly important to the Yankees long-term. They have to get this right. Bringing him back up after a handful of Triple-A starts because his stats were shiny would have been an easy move, but not necessarily the right move. I totally expected Severino to back in MLB by now. I'm pleasantly surprised the Yankees are being patient after being so aggressive.