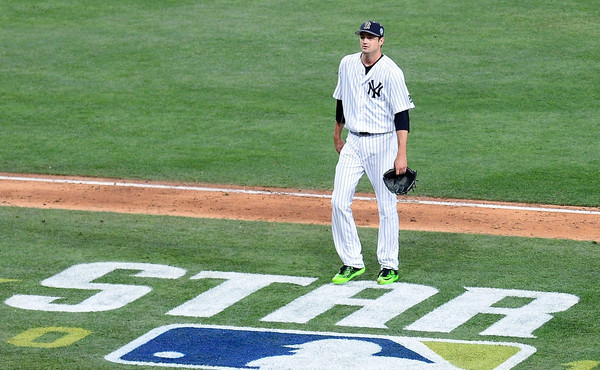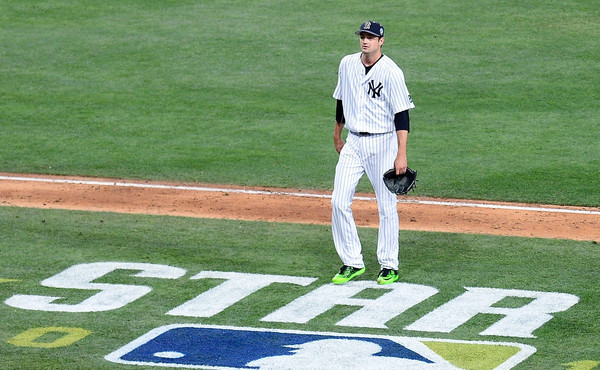 The trade deadline is now two weeks and five days away, and the Yankees should be leaning towards selling at this point. Should is the key word there. This team doesn't always do things it should do. Anyway, here are some trade deadline notes.
Yankees don't see Giants as trade match
According to Hank Schulman, the Yankees don't see the Giants as a good match for a potential Andrew Miller or Aroldis Chapman trade. San Francisco definitely needs bullpen help, but their farm system is thin and they're contending, so it's unlikely they'll deal off their big league roster. I wrote a little more about that a few weeks ago. Of course, this could all be posturing. The Yankees may be trying to put some pressure on the Giants to up their offer.
Teixeira not ready to discuss no-trade clause
When asked about possibly waiving his no-trade rights at the deadline, Mark Teixeira danced around the question, writes Ken Davidoff. "We'll cross that bridge when we get there," he said. Teixeira has full no-trade protection through five-and-ten rights at this point, so his contract is irrelevant. I know he's stunk this year and it sounds silly to talk about him as a trade candidate, but Mike Morse had a 63 wRC+ and was traded twice at the deadline last year. If some team has a need at first base and is looking for some pop, getting Teixeira on the cheap could be mighty appealing. I don't think he's going anywhere — nor do I think he'd agree to a trade — but he's not untradeable. Pretty much no one is.
Beltran open to trade to NL team
Unlike Teixeira, Carlos Beltran does not have a full no-trade clause. He has limited no-trade protection, and he told Davidoff the 15-team no-trade list includes "a little bit of both" leagues without disclosing the teams. Beltran did say he's open to going to the NL though, even though he won't be able to DH. "Why not? DH is great, but I played all my life in the outfield, so there's nothing wrong with it. I just want to play baseball, man," he said. There, figure to be a lot of outfielders on the trade market at the deadline (Melvin Upton, Josh Reddick, Carlos Gonzalez, Jay Bruce, etc.), but none come close to matching Beltran's combination of 2016 production and pedigree.
Yankees told Miller he'll be traded if they get blown away
From the "this applies to everyone" department: the Yankees have informed Miller they will trade him at the deadline if someone blows them away with an offer, reports Chelsea James. Like I said, that applies to every player ever. I guess it's notable the Yankees were compelled to tell Miller that's the case, but that might not be uncommon. Non-news, really. Miller is awesome and signed affordably for another two years. Keeping him is definitely a viable strategy even with the Yankees in need of more young talent. Miller is not "just a reliever." Kirby Yates is just a reliever. Miller's a high impact player.