Well that was a letdown. The Yankees had a chance to complete a sweep of the red hot Astros on Wednesday, but the offense fell flat (surprise!) and the pitching wasn't good enough to compensate. The result was a 4-1 loss and a missed opportunity to gain ground on the Red Sox and Blue Jays, the two wildcard teams.
The McCullers Curve
The Yankees have a pretty miserable offense. We've had to sit through all season. They've made more than a few crummy pitchers look great along the way and it's mighty annoying. This was not one of those games. Lance McCullers Jr. was totally dominant in his six innings, during which he allowed a run on five hits and two walks. He joined Rich Hill as the only pitchers to strike out 10+ Yankees in a start this season.
As he tends to do, McCullers threw more curveballs than fastballs in this one. PitchFX says he threw that hellacious mid-80s bender 44 times compared to only 30 fastballs. I can't imagine throwing more curveballs than fastballs is a good thing for the ol' elbow long-term, but that's not my problem. McCullers got 14 swings and misses out of 82 total pitches, including 12 whiffs on 22 swings against the curveball. It's a nasty, nasty pitch. The Yankees had no chance against him. Tip of the cap to Mr. McCullers for this one.
Tanaka Struggles
Time to dust off those "Tanaka can't pitch on normal rest!" columns that didn't get printed last time out. Masahiro Tanaka struggled with pretty much everything Wednesday night. Location, getting his splitter to bite, driving his fastball to the corners, everything. The end result was four runs in five innings, though the first came on two walks and a ground ball single. Blah. Whatever.
The second, third, and fourth runs were much different. Marwin Gonzalez led off the third with a single to center, moved to second on a ground ball, then moved to third on a wild pitch. Carlos Correa drove him in with a single through the left side of the infield. Tanaka fell behind in the count 2-1 to Colby Rasmus, then hung the everloving crap out of a splitter …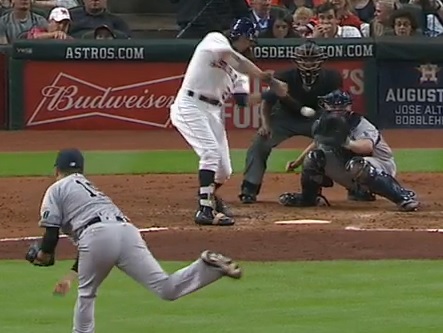 … that Rasmus promptly deposited in the left field seats for a two-run homer. Golly was that a bad pitch. Rasmus gave the Astros a 4-0 lead, and with the way McCullers was pitching, that was pretty much the ballgame. Tanaka allowed the four runs on seven hits and two walks in those five innings. He fanned four. This was his second shortest start of the season, behind that 4.2-inning disaster in Cleveland before the All-Star break.
The Two Returns
Welcome back, Adam Warren and Luis Severino. Those two made their first appearances back with the Yankees. Warren came over from the Cubs in the Aroldis Chapman trade and Severino returned following a stint in the minors. Warren allowed a double on a ground ball just inside the third base bag in an otherwise uneventful sixth inning. Severino struck out three in scoreless and hitless seventh and eighth innings.
Warren looked like Warren. Same as he ever was. Severino did a much better job keeping his slider down than he did earlier this season, though this was a limited look. His fastball was still crackling, and yeah, he missed his spots by a large margin a few times. The command is still not all the way where it needs to be, I'd say. This was a little tune-up appearance — Severino hadn't pitched since last Wednesday — and my guess is his next appearance is a start after Ivan Nova gets traded wherever at the deadline.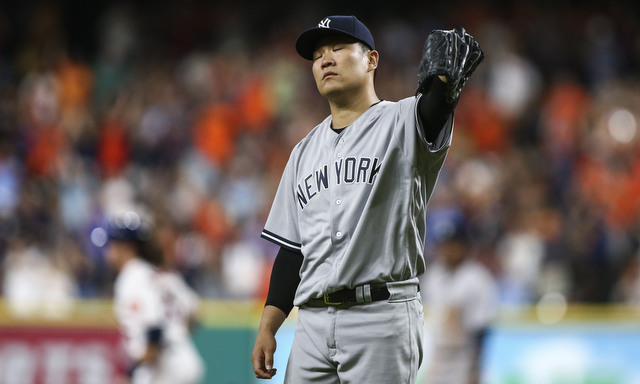 Leftovers
The Yankees scored their one token run on Brian McCann's fourth inning solo homer, which hit the tippy top the wall in center field and hopped over. The offense put two runners in scoring position all night. Brett Gardner reached on an infield single in the third and moved to second on a passed ball. Didi Gregorius singled in the fourth inning and moved up on a wild pitch. That's all.
Gregorius had two hits while Gardner, McCann, and Mark Teixeira had one hit each. Jacoby Ellsbury and Starlin Castro drew the two walks, of all people. The Yankees struck out 15 times, a new season high. It was only their 12th game with double-digit strikeouts overall, second fewest in baseball. The Angels have nine.
Box Score, WPA Graph & Standings
ESPN has the box score, MLB.com has the video highlights, and ESPN has the updated standings. RAB has Bullpen Workload and Announcer Standings pages too. Here's the win probability graph:

Source: FanGraphs
Up Next
This three-game series in Houston is over and the Yankees are heading to Tampa next. But first: an off-day. I could use one of those. Nova and Jake Odorizzi are the scheduled starters for Friday night's series opener at Tropicana Field. Will that be Ivan's final game in pinstripes? My guess is yes.