And just like that, he is gone. Alex Rodriguez's time with the Yankees is officially over, and the team sent him out with a win. They beat the Rays 6-3 on Friday night, in front of a packed Yankee Stadium crowd that was decidedly pro-A-Rod. A pretty wild era of Yankees baseball is over.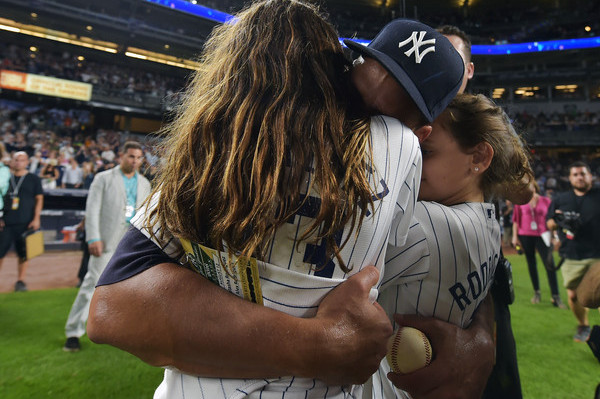 The Most A-Rod Ceremony Ever
That was the most appropriately awkward pregame ceremony in history. That could only happen to A-Rod. I mean really. The Yankees were in the middle of praising the guy and giving him some cool gifts, then BAM, a loud crack of thunder and the skies opened up. It literally rained on his parade. How ridiculous. Of course the baseball gods wouldn't let this happen without a hitch.
The Yankees gave A-Rod a base signed by his teammates and something else. I'm not sure what. I was too busy being amazed by the rain and the ridiculousness of it all. A-Rod, his family, and a bunch of Steinbrenners were standing there in the rain as the ceremony continued. It was beyond absurd. Eventually everyone hustled off the field. They were already in the dugout before public address announcer Paul Olden finished talking. Only A-Rod.
You Are Now Tuned Into The Greatest
Alex has heard an awful lot of boos at Yankee Stadium over the years. He heard none on Friday. He was cheered during warm-ups, he was given a big Roll Call by the Bleacher Creatures, and he was received a huge ovation before his first at-bat. The cheers were even louder after he doubled in the game-tying run with a line drive into the right-center field gap. To the video:
That double is the 3,115th hit of A-Rod's career and likely his last. Brett Gardner took a pitch to the foot earlier in the inning and he chugged all the way around from first base to score. Just like the old days, huh? A-Rod went out and gave the Yankees a quick first inning run. That tied the game 1-1 after Evan Longoria took CC Sabathia deep in the top of the first.
Castro Comes Through
Every so often Starlin Castro comes through with a huge game that reminds you exactly why he was in the big leagues at age 20 and so highly touted earlier in his career. He came through with the two biggest hits Friday night. The first came in the fourth inning, with runners at second and third following a single (Mark Teixeira) and a double (Didi Gregorius). Castro hit a two-strike chopper through the 5.5 hole and into left for a two-run single, giving the Yankees a 3-2 lead.
Then, in the sixth, Castro gave the Yankees a 6-4 lead with a two-out, two-strike, two-run home run off Chris Archer. Teixeira singled and stole second (!) earlier in the inning to set the rally up. The pitch was an absolute hanger. The hangiest hanger that ever hanged. Archer's reaction says it all: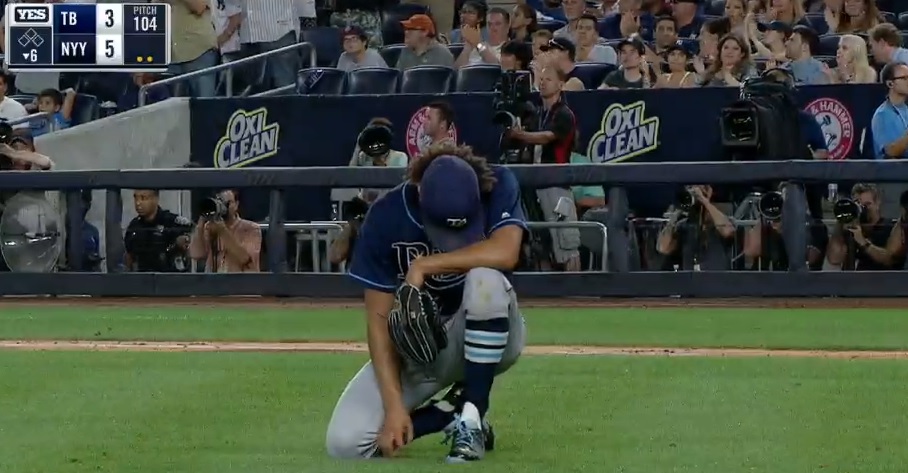 Following A-Rod's first inning double, Castro drove in New York's next four runs, and they were all meaningful. He gave the Yankees the lead twice. Good Starlin is mighty good. I hope we get to see more of him going forward.
Sabathia's Solid Start
This was not an easy start for CC Sabathia, who had to pitch out of more jams than Tampa's two at-bats with runners in scoring position would lead you to believe. He gave up the solo homer in the first, another run on a Longoria single against the shift in the third, then another run on a sac fly in the fifth after Tim Beckham doubled and moved up on a bunt. Only two of Sabathia's six innings were 1-2-3 innings.
All told, the Rays hung three runs on Sabathia with four hits and three walks in six innings. He struck out seven, got nine ground ball outs against two in the air, and also benefited from a double play ball. It was nearly two double plays, but instant replay exists now, so the second double play was (correctly) overturned and only one out was given. Anyway, Sabathia had to grind through Friday's start like he does most starts. The end result, three runs in six innings, is fine with me.
A-Rod Returns To The Hot Corner
Aaron Hicks' seventh inning solo home run was bigger than we realized. It was an opposite field job that landed in the very first row — if there is such a thing as a Yankee Stadium cheapie to left field, that was it — and it stretched the lead to 6-3. Still a save situation and all that, yeah, but that extra run is what pushed Joe Girardi to use Alex Rodriguez at third base in the ninth inning.
Girardi explained he did not want to use A-Rod at third with a two-run lead because if he doesn't make a play — on a grounder or a bunt or whatever — then the tying run is immediately at the plate. With a three-run lead, the Yankees could afford one A-Rod screw up. So, with that three-run lead, Alex came out of the dugout in the ninth inning to play third base for the first time since May 5th of last year. The crowd loved it.
That was a pretty cool moment. I doesn't compare to Derek Jeter's walk-off hit or Jeter and Andy Pettitte taking Mariano Rivera out of the game, but as far as grand finales go, that was pretty awesome. A-Rod said after the game that playing third base was the best part of the night for him, and he thanked Girardi numerous times for the opportunity.
Rodriguez's time at third base was short. One batter, in fact. Dellin Betances struck out Mikie Mahtook for the first out of the ninth, then Ronald Torreyes came out of the dugout to replace A-Rod. That was the plan. Girardi said he originally planned to let Alex play two outs in the field before removing him so he could get an ovation, but A-Rod said he only wanted one out in the field. He wasn't all that comfortable out there.
A-Rod hugged his teammates as he walked off the field and waved to the crowd. It was pretty great. The television cameras caught him with tears in his eyes, and really, it was the first time Alex seemed human. He's this kind of larger than life baseball playing robot who — let's be honest here — comes off as a bit of a phony. A-Rod was very human in that moment. It was emotional and he couldn't hold it back. What a way to go out.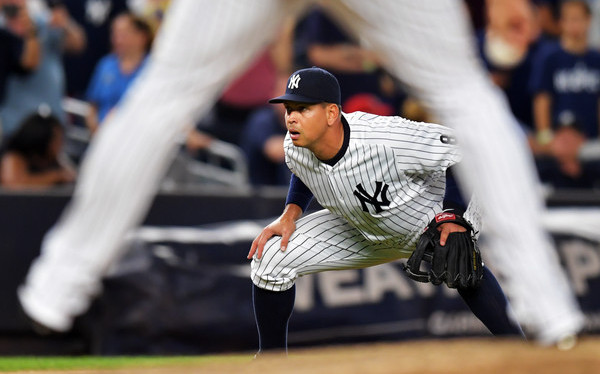 Leftovers
Alex finished the day 1-for-4 with the double and a strikeout. He went 1-for-4 with a double against the (Devil) Rays in his first ever game as a Yankee back in 2004, then went 1-for-4 with a double against the Rays in his final game as a Yankee in 2016. How about that? Baseball, man. It's amazing.
Teixeira and Castro each had two hits while Gregorius, Hicks, and Chase Headley had one each. Every Yankee reached base at least once except Jacoby Ellsbury and Brian McCann, though, to their credit, they both hit line drives right at defenders. So it goes.
Tyler Clippard retired all three batters he faced in the seventh, Adam Warren pitched around a two-out walk in the eighth, and Betances struck out the side in a perfect ninth. Dellin was pitching for the third straight day, you know. Girardi usually doesn't like to do that.
Box Score, WPA Graph & Standings
Here are the box score, video highlights, and updated standings. Also make sure you check out our Bullpen Workload and Announcer Standings pages. Here's the win probability graph:

Source: FanGraphs
Up Next
The post-A-Rod era is next. Writing that sentence made me sad. The Yankees will play their first game without Alex on Saturday afternoon. Masahiro Tanaka and Matt Andriese are the scheduled starters. RAB Tickets can still get you in the door if you want to catch that one live.