There are 14 questions in the mailbag this week, the third-to-last mailbag of the regular season. Crazy, I know. Time goes by a little quicker with each passing season. Use the RABmailbag (at) gmail (dot) com email address to send us any questions throughout the week.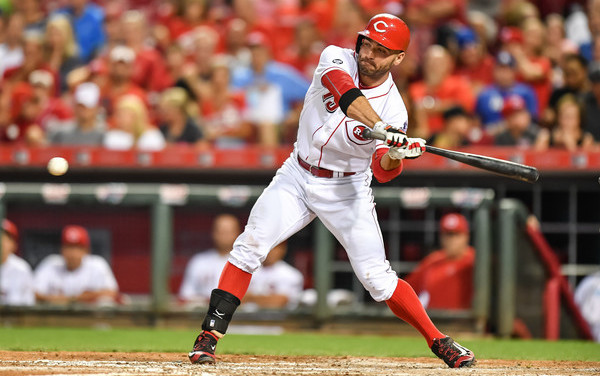 Ben asks: Does Joey Votto interest you in the off season to be the first baseman/DH next year even with the ludicrous contract, his offensive skill should age very well relative to other similar players.
In terms of on-field performance, adding Joey Votto to the Yankees would be amazing. He's such a great hitter. One of the best of his generation and still somehow underrated. In fact, look at the offensive leaders since the mound was lowered in 1969 (min. 3,000 plate appearances):
Barry Bonds: 173 wRC+
Mike Trout: 167 wRC+
Mark McGwire: 157 wRC+
Joey Votto: 156 wRC+
Frank Thomas: 154 wRC+
Yeah. Amazing. Votto's hitting .318/.433/.529 (153 wRC+) this season and .418/.504/.655 (202 wRC+) in the second half, and it's just another typical Joey Votto year. Ridiculous.
Adding his bat to the lineup would be huge. Adding Votto's bat and his contract is where it gets dicey. He's got $179M coming to him from 2017-23 and that's way too much for a guy who is already 33 and limited to first base. The Yankees gave Mark Teixeira eight years and $180M when he was 28. Votto's got seven years and $179M coming at age 33. Yikes.
Votto is a hitting savant. He studies video and analytics and all sorts of other stuff in an effort to make himself better. His latest trick is cutting down on his strikeouts. As long as he stays healthy, I think Votto will be productive for a very long time. That contract though … it's a killer. Hard to see that one having a happy ending. How much would the Reds have to eat to make that deal palatable? $7M a year?
Anthony asks: What's the timing for the new CBA vis-a-vis the FA signing period? Specifically, will the FO know what the "new $189mm" is before we have to bid on FAs?
Oh I'm sure the teams and owners will have an idea of what the luxury tax threshold will be going forward before the start of the offseason and before the new Collective Bargaining Agreement is finalized. They're negotiating the CBA with the MLBPA, after all. It's safe to assume the threshold will go up next year. If it doesn't, the union will have failed miserably. Revenues are only going up and the players deserve their piece of the pie. We might not learn what the new luxury tax threshold is for a few more weeks, but chances are the owners will have a ballpark number much sooner, if they don't already.
Jerry asks: In the Saturday game against Tampa, Torreyes went to the mound and said something to Tanaka. What language do they use?
English! Masahiro Tanaka speaks English. Ronald Torreyes too. Tanaka doesn't speak English fluently of course, but he knows the basics and can communicate with his coaches and catchers. Tanaka, like many foreign players, gives interviews through translators because he feels more comfortable in his native language (duh) and wants to make sure the things he wants to say come out correctly.
Nick asks: Crazy idea-but would Greinke be available? This idea is dumb and I should get back to work.
The Diamondbacks would be foolish not to make Zack Greinke available, right? They stink and he's a soon-to-be 33-year-old pitcher owed $172.5M from 2017-21. He's going to soak up about one-quarter of their payroll going forward, if not more. Arizona should definitely look to unload that contract this winter, but, then again, who knows why that team does anything. I'm inclined to give a flat "pass" on this one. Greinke's really good and I think he'll age well because his success is built on command and not raw stuff, but yeah, I'm not betting that much money on him holding up in his mid-to-late-30s.
Adam asks: In your opinion what do you think it would take for the Yanks to acquire Jake Lamb from Arizona. Fangraphs says his defense stinks, he'd be a perfect fit at DH for the Yanks next year.
The numbers hate Lamb's defense this year for whatever reason, but they loved him last year, and the scouting reports all said he's a solid defender when he was coming up through the minors. I wouldn't write him off at the hot corner yet. Is he Chase Headley over there? No. But Lamb can play the position. Either way, he's a bat-first player.
Lamb, 25, has broken out this year, going into last night's game with a .258/.337/.534 (122 wRC+) batting line and 28 home runs. He's going to strike out (25.8%) and he can't hit lefties (69 wRC+), so he's limited offensively. I've been a fan of Lamb's for a long time and I see him as a better version of Pedro Alvarez. The Yankees could be very short on lefty power next season if they trade Brian McCann and Greg Bird doesn't hit the ground running, and Lamb would help solve that problem.
What would it take? Well, Lamb is four years away from free agency, and the only decent trade comp I can come up with is Khris Davis. He was another young slugger four years from free agency, though Davis is legitimately a brutal defensive left fielder. Lamb's an okay third baseman and that makes him more valuable. The Athletics gave up one of their top five prospects (Jacob Nottingham) and a Grade-C second piece (Bubba Derby) for Davis. That seems like the starting point for Lamb, not the end point.
Eliot asks: If the Arizona Diamondbacks decide to make Shelby Miller available in the offseason should the Yankees check in on him? He is still young (turning 26 a few days after the regular season ends) and is not that far removed from having a great season. I was thinking that this could be a similar acquisition to Nathan Eovaldi. What do you think it would cost to acquire him if the Yankees decided to go after him?
Another question about a D'Backs player. Three this week after none in like six months. Anyway, yeah the Yankees should check in on Miller if Arizona makes him available. I have no idea what the D'Backs did to him, but his problems seem to be mechanical more than anything. They're not injury related as far as we know and it's not like he has the yips. Shelby's delivery needs to be cleaned up (a lot) and he's still young enough and talented enough that the reward could be considerable.
Because the D'Backs sent Miller to the minors for a big chunk of the season, they delayed his free agency a year, meaning he's now under team control through 2019. That extra year is pretty cool. If Arizona is looking for a Dansby Swanson-caliber prospect plus more for Miller, they can forget it. Not happening. But if they're open to taking two or three lesser young players, it could work. I'm going to go all my trade proposal sucks on you now: Chad Green, Dustin Fowler, and a lower level shortstop like Hoy Jun Park or Wilkerman Garcia for Miller. Eh? Eh?
Chris asks: Where do you expect to see Chance Adams on next year's MLB prospect lists, if at all? What are his career prospects and is it reasonable to expect him up at some point next season given his dominance in the minors?
I don't think Adams will appear on any top 100 lists next spring even though the scouting reports we've seen this season were all glowing. Seriously, not one "eh, he's probably just a reliever" report. By all accounts Adams held his stuff deep into starts and deep into the season, so there are no real concerns about his durability even though he's not the biggest guy (listed at 6-foot-0 and 215 lbs.). One year in, the transition to the rotation has been a smashing success.
I haven't thought too much about my own top Yankees prospects list yet but Adams definitely has a chance to be in the top ten somewhere, likely in the 6-10 range. In this system, that's really good. Adams might not be top 100 caliber yet — I bet he'd sneak onto some top 150 prospects lists though — but he's still a very good prospect and a steal in the fifth round. He figures to start next season in Triple-A, which means he's only a phone call away from the big leagues.
Jim asks: The Yankee rotation is shaky headed into next season. Doesn't it almost seem they need to make a run at Michael Pineda in the offseason? The alternatives next season may be even worse than him and there's always that elusive potential upside if he can figure it all out.
As frustrating as Pineda can be, the upcoming free agent classes are so weak that it would be worth exploring an extension with him now. If nothing else, it would make him more desirable on the trade market. Shopping one year of Pineda this offseason would get the Yankees something, probably something more than we expect, but obviously multiple years of him would be more desirable.
What about three years and $39M covering 2017-19? That allows Pineda to become a free agent again at 31. He received a $35,000 bonus as an amateur out of the Dominican Republic and has banked roughly $8.5M in his career to date, so he's made some money, but not "my family and my kids and my grandkids are set forever" money. Pineda might jump at the big payday after the shoulder injury. An extension is worth exploring, for sure.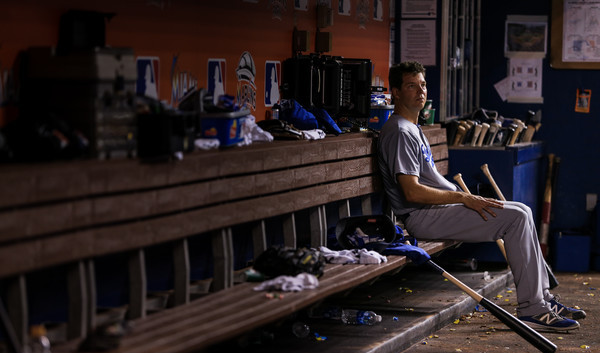 Mike asks: I know this is a Yankee blog, but what is your opinion about the Rich Hill being pulled 6 outs away from a perfect game?
I understand why Dave Roberts pulled him, but I thought he was being overly protective. At worst, Hill would have faced six more batters. Six! He was closing in on some major history. At the same time, if the trainer felt Hill was starting to develop blisters, taking him out was the right move. The Dodgers' goal is to win the World Series, not get Rich Hill a perfect game. I wanted to see him left in, but it's not my neck on the line if he develops a blister and isn't 100% for the postseason.
Eric asks: Is there any chance Luis Torrens gets picked in the rule 5 draft?
There's always a chance but I would strongly bet against it. Torrens is only 20 years old and he's played only 161 minor league games since signing in 2012 due to his shoulder surgery and general inexperience. It's really hard to see him making the jump from Low-A ball to the big leagues as a catcher. Someone might take him, but he won't stick. It's a waste of the roster spot. There have only been four catchers taken in the Rule 5 Draft over the last decade:
2014: Diamondbacks took Oscar Hernandez from the Rays and he stuck because he spent most of the season on the DL with a broken bone in his wrist.
2013: White Sox took Adrian Nieto from the Nationals and he stuck, though he was 24, not 20.
2008: Orioles took Lou Palmisano from the Brewers and immediately traded him to the Astros. He didn't make the team and Milwaukee declined to take him back, so he went to Double-A.
2008: Diamondbacks took James Skelton from the Tigers. Didn't make the team, so Arizona made a trade with Detroit to retain his rights. They then sent him to the minors.
It seems like teams are getting better at digging up hidden gems in the Rule 5 Draft these days. Luis Perdomo, Joe Biagini, and Matt Bowman look like keepers this year. Last year the Phillies struck gold with Odubel Herrera. Catcher is a tough place to hide a young player who likely isn't MLB ready though. That position comes with a lot of responsibility. Leaving Torrens unprotected this offseason is an easy call. It's so very unlikely he'd stick.
Neil asks: Is Severino on his was to being the next Betances? Keep holding out hope he will be a starter, but ends up being pretty awesome in late inning relief?
Luis Severino now and Dellin Betances then are very different situations. Betances was 25 when he moved to the bullpen, after hundreds and hundreds of minor league innings told us he was not going to be able to repeat his mechanics and throw enough strikes to start. Severino's delivery isn't the prettiest in the world, but he can repeat it and throw strikes. The only real questions are a) can he find his changeup again, and b) can he locate his offspeed stuff more consistently? Dellin's problem was basic strike-throwing.
Severino is only 22. Betances was in High-A at that age. It's way way way too soon to pull the plug on Severino as a starter, and I don't think the Yankees will. As good as he was last season, I do think the Yankees rushed Severino through the minors to his detriment. Learning how to not hang every slider you throw is something that should happen in Double-A and Triple-A, not in MLB when the team expects you to become the next staff ace. At this point I feel Severino will be a dominant reliever at worst, but it's still way too soon to pull the plug on his career as a starter.
Bobby asks: I know the common refrain to questions about empty seats at the Stadium is that the Yankees sell a lot of tickets and the old stadium wasn't loud all the time either. I get it. But you can't tell me that the flat atmosphere at the games this month, considering how young and exciting this team has been, isn't of concern. How is it that the most energy and most full section the stadium's seen the entire month has been from a renegade band of Dodgers' fans?
Attendance changes don't happen as quickly as people seem to think. The team doesn't go 6-1 one week and then bam, the ballpark is packed the next week. There's always a lag and it can be pretty long. Last place teams usually don't see the big attendance drop until a full year later. Yankee Stadium is empty now because they stunk in April and May and people lost interest. The strong finish and the general likeability of young players may not be reflected in the attendance until next year.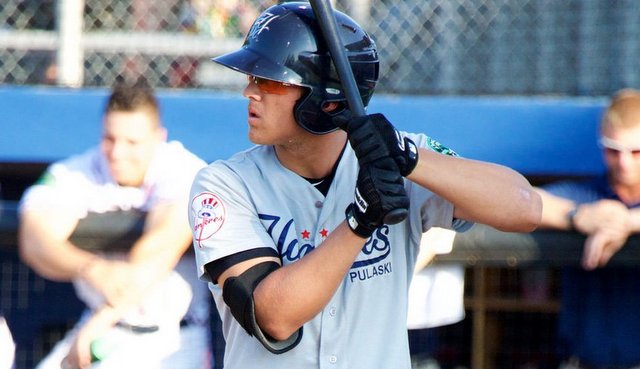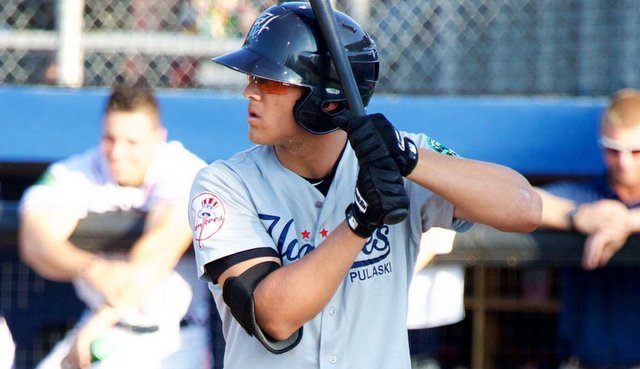 Dennis asks: If Blake Rutherford is put on the "fast-track" to the majors, when do you think we'll see him? Do you see Blake as a potential "fast mover" through the system? 
Fast-mover by high school player standards, sure. I could see Rutherford splitting next season between Low-A and High-A, then starting 2018 as a 20-year-old in Double-A. That would be about as fast as it gets. Clint Frazier, the fifth overall pick in the 2013 draft, spent his entire age 20 season in High-A, which is pretty aggressive. Rutherford would be a full year of ahead of where Frazer was at the same age if he cuts through Single-A next season.
Rutherford might go on more of a "split" development path. Start next season in Low-A, finish in High-A. Start the following season in High-A, finish in Double-A. The start the season after that in Double-A, finish in Triple-A. Point is, Rutherford's not a guy who is going to have to wait a year or two to get to full season ball. He should be there next season, and the number of high school kids who open their first full season in Low-A is pretty darn small.
Stephen asks: How do you choose which players to feature on Down on the Farm? Obviously legit prospects are always there, but where do you draw the line after that?
I cut back on the number of players included in DotF a few years ago for the sake of my sanity. Legitimate prospects are always included, so if you're wondering why, say, Frazier or Rutherford isn't included one night, it's because he didn't play, not because I decided to omit him. After that I usually just go with players who have big games and do something notable, or have some sort of hot streak going. There's no rhyme or reason to it, really. If a fringe or non-prospect has a good game, I'll throw him in too. The legitimate prospects are the priority though.