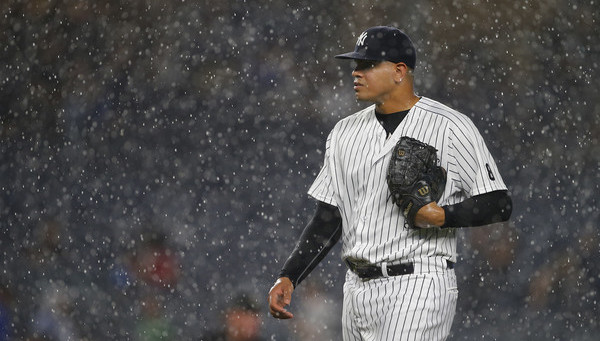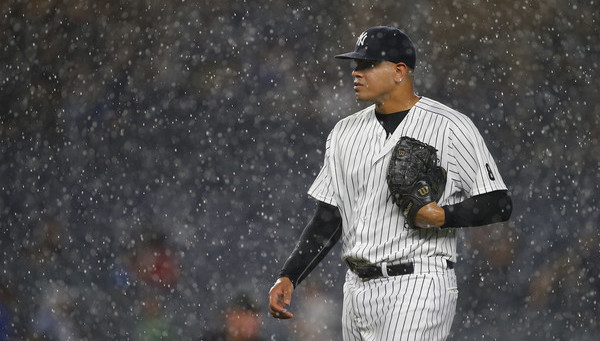 Last night the Yankees suffered what was maybe their most heartbreaking regular season loss of the Joe Girardi era. I can't remember another one that bad. The Yankees took a three-run lead into the ninth inning, and a little while later, the Red Sox walked off with a 7-5 win on Hanley Ramirez's three-run home run. Brutal. It gets no worse than that.
On the mound for that ninth inning meltdown was, of course, Dellin Betances. He's the closer and the guy Girardi wants pitching in a big spot. It was Dellin's third straight day of work — Girardi tried to stay away from him by going to Tommy Layne and Blake Parker in the ninth, but nope — and he was clearly out of whack, which has been the case for much of September. I have some thoughts on all of this.
1. Yes, he has what it takes to be a closer. This is as predictable as it gets. Betances has struggled the last few times out which of course leads to folks saying he doesn't have what it takes to be a closer. Doesn't have the mental fortitude. Can't handle the pressure. Blah blah blah. Nevermind that he's been throwing high-stakes innings for nearly three full seasons now and has been one of the two or three best relievers on the planet.
Here's a quick leaderboard showing WPA/LI. That's win probability added over leverage index, which essentially tells us who is most helping their team win in the most crucial situations. Here's the WPA/LI leaderboard for relievers over the last three seasons:
Zach Britton: +6.00
Dellin Betances: +5.89
Wade Davis: +5.39
Andrew Miller: +5.34
Mark Melancon: +5.08
Basically the five best relievers in baseball, right? Or five of the seven best with Aroldis Chapman and Kenley Jansen. Point is, getting huge outs is nothing new to Betances. He's gotten big outs in extremely high-leverage spots before. Struggling these last few times out doesn't suddenly mean Betances is not fit to be closer. He dominated in the ninth inning last month, and when he filled in for the injured Andrew Miller last year.
2. Yes, his inability to hold runners is a real problem. Although they were scored defensive indifference, the Red Sox stole three bases against Betances last night. Instantly, too. He came in and Chris Young immediately stole second. Then after Betances walked Dustin Pedroia, Pedroia and Young immediately pulled off a double steal. Wednesday afternoon Corey Seager stole second immediately after reaching on an error.
Runners are now 19-for-19 in steal attempts against Dellin this season, and that doesn't include those three defensive indifferences last night. This is a real problem. Every single and every walk can't turn into an uncontested double, especially since Betances is always pitching in close games where one run is so meaningful. This is a very real weakness. A fatal one? No. Batters have a .273 OBP against Dellin this season, so there aren't many guys on base to start with. But it is a problem.
This is clearly something the Yankees and Betances will have to work on in Spring Training next year. It can't be open season on stolen bases when he's on the mound, even with Gary Sanchez and his rocket arm behind the plate. Those extra 90-feet are too valuable in the late innings. I don't know the best way to solve this (varied timing, slide step, etc.) but it can't go unaddressed. Betances has to at least give the catcher a chance back there.
3. His problems throwing to bases are being overblown a bit. Wednesday afternoon Betances allowed the Dodgers to score an insurance run because he fielded a weak tapper back to the mound and shot-putted it to the backstop. It was ugly. Look at this: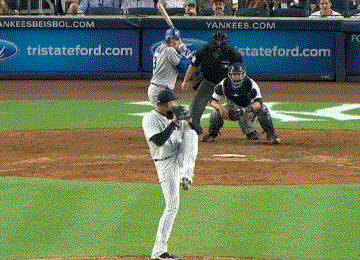 Yikes. That has taken on a life of its own in the last 48 hours and become a big "Betances can't throw to the bases" storyline. Last night YES showed a montage of his throwing failures this year and it was three plays. One play on Opening Day, one where he nearly threw away a 1-6-3 double play ball (but didn't), and that play against the Dodgers. When you have to go all the way back to Opening Day to find the last time his throwing caused a problem, it's probably not as big of an issue as its made out to be.
Now, that said, I understand the concern hitters may try to bunt and force him to field the ball, but Betances is not exactly the easiest guy to bunt against. I'll take my chances with hitters squaring around. Trying to bunt against Dellin is going to lead to a lot of foul balls and easy strikes. Like the stolen base problem, this is something Betances and the Yankees should work on, but this story seems to have taken on a life of its own. The real problem isn't as great as the perceived problem.
4. Once again, fatigue seems to be an issue. This is the second straight season in which Betances looks visibly fatigued in September. The high-end velocity might be there — Betances topped out at 100.6 mph last night — but he can't locate anything and his breaking ball lacks its usual bite. Working back-to-back-to-back days three times in the last five weeks after doing it once from Opening Day 2014 through July 2016 probably has something to do it.
The greater issue is the cumulative effect of all the innings Betances has thrown the last few years. He's thrown 70 innings this season and is on pace for 77.2 innings. That's down from 84 last year and 90 the year before that. The single-season workload only matters so much though. There is wear-and-tear on his arm from those 90 innings in 2014 and 84 innings in 2015. Betances has thrown 244 innings the last three years, 20.1 more than any other reliever.
It's not just the raw innings totals either. Girardi can be a bit panicky at times and get Betances up at the slightly hint of danger. Four-run lead in the eighth or ninth? Dellin gets up. We've seen it countless times the last few years. Those warm-up pitchers count. They're pitches being thrown. Add in all the warm-ups and the fact those 244 innings from 2014-16 were almost all high-leverage innings, and it's no wonder he's getting worn down despite being 6-foot-8 and 265 pounds.
Betances' days as a super-reliever who'd come in and get five or six high-leverage outs at a time may be over. Going forward, it may be best for the Yankees to consider him a true one-inning reliever, a guy who throws 65-ish innings a season rather than closer to 80. It sucks and it takes away from Dellin's value a bit, but keeping him healthy and effective long-term has to be a priority.
* * *
Betances is literally the last player on the roster I'm worried about. His recent slump sucks and is very poorly timed — did you expect the Yankees to be playing meaningful games in mid-September after the way they started the season? of course not — but I don't see it as being anything more than "he's running on fumes and is in a slump." I trust him implicitly as the closer and just wish he'd start holding runners better.
If the Yankees miss the postseason, it won't be because Betances blew some games this week. It'll be because Mark Teixeira and Alex Rodriguez completely no-showed this season, and because the rotation has been mostly crap behind Masahiro Tanaka. The Yankees are still in the race largely because Betances has been so awesome this season at protecting leads. The last week or so doesn't change that.