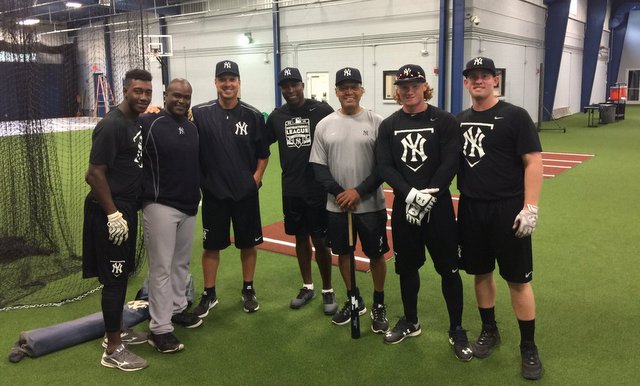 Instructional League is over now, but as you can see in the photo above, the Yankees had their top prospects mingle with some big time guest instructors the last few weeks. That's SS Jorge Mateo on the left, and OF Clint Frazier and OF Billy McKinney on the right. Tino Martinez, Reggie Jackson, Alfonso Soriano, Nick Swisher, Orlando Hernandez, and Alex Rodriguez were among the guest instructors to stop by. Jim Callis has a great article on Instructs up that I recommend checking out. Here are some other minor league notes.
Arizona Fall League
3B Miguel Andujar: 3 G, 4-10, 3 R, 1 3B, 1 BB, 1 K (.300/.455/.600)
1B Greg Bird: 3 G, 4-13, 2 R, 4 2B, 2 RBI, 1 BB, 1 K (.308/.357/.615) — so far, so good following shoulder surgery … I wonder if he can become the first two-time MVP in AzFL history
SS Gleyber Torres: 2 G, 3-8, 3 R, 1 2B, 1 HR, 2 RBI, 1 BB, 2 K (.375/.444/.875) — played second base yesterday … he also had an opposite field double (video) and a walk-off single (video, video) … Keith Law, who hates every Yankees prospect, says Gleyber's going to be a star, so that's cool
SS/CF Tyler Wade: 2 G, 0-8, 1 R, 1 BB, 4 K, 1 SB (.000/.111/.000) — played center field for the first time yesterday
RHP J.P. Feyereisen: 2 IP, 2 H, 2 R, 2 ER, 3 BB, 2 K (9.00 ERA, 2.50 WHIP) — Josh Norris says he sat 94-96 mph in one of his appearances … I didn't realize he threw that hard
RHP James Kaprielian: 1 G, 1 G, 3 IP, 1 H, 0 R, 0 ER, 0 BB, 6 K (0.00 ERA, 0.33 WHIP) — the results are nice but they don't really matter … is he healthy? has his stuff returned following his injury? that's most important
RHP Brody Koerner: 1 G, 1.2 IP, 4 H, 3 R, 3 ER, 3 BB, 0 K (6.20 ERA, 4.20 WHIP) — rough start to the AzFL season
RHP Dillon Tate: 2 IP, 3 H, 5 R, 4 ER, 4 ER, 0 BB, 4 K, 2 HR (12.00 ERA, 1.67 WHIP) — Keith Law had him at 93-95 mph with a good slider and changeup, so that's another report that his stuff is getting back to where it was last year, when he was the fourth overall pick in the country
The Dominican Winter League season begins today, though the rosters still have not been announced. A couple Yankee farmhands will play in the league this year, inevitably. There's always a few.
The Mexican Pacific League season started last weekend. The only Yankee prospect on the rosters is C Sebastian Valle, who a) isn't really a prospect, and b) will become a minor league free agent soon.
The Roberto Clemente Professional Baseball League (Puerto Rico) season starts in two weeks. The rosters have only been partially released, and there are no Yankees.
The Venezuelan Winter League season began last weekend. RHP Mark Montgomery, LHP Miguel Sulbaran, C Francisco Diaz, RHP Daniel Alvarez, 3B Daniel Barrios, RHP Luis Cedeno, RHP David Kubiak, RHP Alex Mejias, 3B Andres Chaparro, OF Andres Fernandez, and C David Vergel are all on rosters. Montgomery and Sulbaran are the big names there. Montgomery has allowed two runs in 1.1 innings so far. That's about it.