I've got ten questions in the mailbag this week, which I guess makes this a small mailbag. Any and all questions should be directed to RABmailbag (at) gmail (dot) com. Fire away.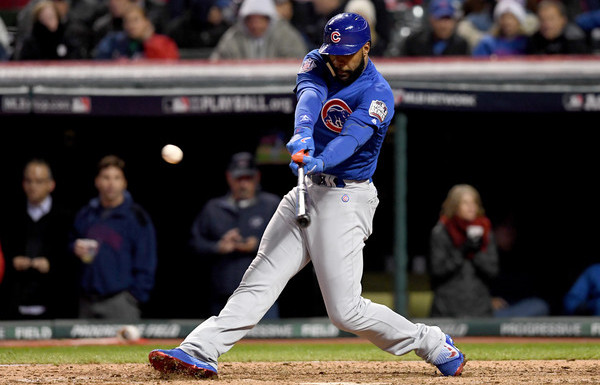 Chris asks: I know My Trade Proposal Sucks, but I'm wondering with the World Series starting and Jason Heyward getting benched Game 1, would the Cubs and Yankees swap Heyward for Ellsbury? I know Heyward is much younger, but we'll need a big contract swap or eat a ton of money to get away from Jacoby.
I wanted the Yankees to sign Heyward last offseason. I really did. I thought his offensive production would get better in his age 26 season, not take such a huge step back that he was one of the worst hitters in baseball. Heyward and Ellsbury are very similar players, right? Below average hitters and above-average glovemen. Heyward's better than above-average in the field, but the shape of their production is similar. Glove before bat. Heyward is much younger, but he was also worse this year and is owed more money.
This trade would be four years of Ellsbury for six of Heyward. I'd rather have Heyward's next six years than Ellsbury's next four, but yeesh, I don't say that with much confidence. Both teams would love to get out from under these contracts right now whether they're willing to admit it or not. I'd rather just keep the guy who comes off the books sooner than try to get cute and buy low on a dude who had a 72 wRC+ this year and has another $162M coming too him.
Andrew asks: Any interest in an Ellsbury for Pujols bad contract swap? Would fill a hole on both sides, giving us some power and a backup option for Bird while giving the Angels an actual outfielder to play LF. Or would you be scared off by the extra year, money, and injury risk that comes with Pujols?
This one is an easy no for me. Ellsbury for Heyward is at least worth thinking about given Heyward's age and athleticism. Pujols can still sock dingers, but that's about it. He doesn't hit for much average or get on base anymore. He's going to be 37 in January, he can't run or play the field, and he's owed (gulp) $140M over the next five years. The Yankees owe Ellsbury $90M over the next four years. We've seen more than enough ex-star sluggers over the age of 35 lose it in pinstripes, haven't we? There aren't many players I would not trade Ellsbury and contract for at this point. Pujols is one of them. It's the worst contract in baseball, hands down.
Michael asks: It's easy to see the Yankees in the market for a top reliever, but what about the trade market? This winter, guys like Greg Holland (actually a FA, my bad), Wade Davis, David Robertson might be available. Are there any pieces that stand out as interesting for NYY? (Personally, a possible buy-low on Davis intrigues me.)
Davis is going to be the big name on the bullpen trade market. He'll be a free agent next offseason and the Royals probably won't re-sign him — Aroldis Chapman and Kenley Jansen are going to break the bullpen salary scale this offseason — so they figure to make him available in trades. His name was out there at the deadline before he got hurt, so this isn't coming out of nowhere.
I don't think it would be wise for the Yankees to trade a big package of prospects for one year of a reliever, even one as good as Davis. That's a move you make when you're a World Series contender, not a team in transition. (The Chapman trade was an exception because he came so cheap.) Robertson is signed for two more years and there were some red flags in his performance this year. Would the Marlins make A.J. Ramos available given Kyle Barraclough's emergence? Tyler Thornburg and Tom Watson are trade candidates too.
Like every other team, the Yankees should explore every possible avenue to get better this season. Trade, free agency, waivers, whatever. When it comes to the elite reliever market, it would make more sense to just spend the money and sign Chapman and/or Jansen rather than trade away top prospects for someone like Davis or Ramos or whoever. The Yankees have money. Spend it and keep the prospects. Best of both worlds.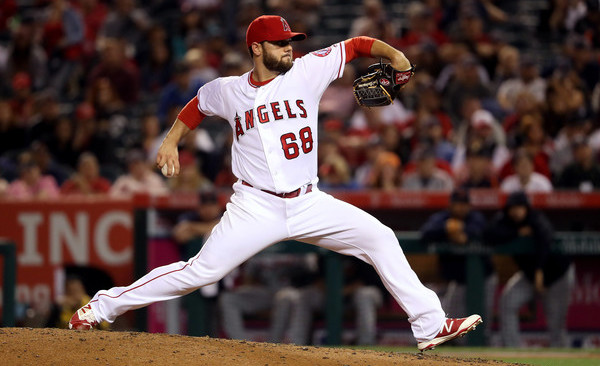 Chris asks: Assuming Chapman and Jensen's services are coveted by many teams this off-season and the Yankees are no lock on any free agent lately, what do you think of the Angels Cam Bedrosian as a possible late inning bullpen piece to set up for Dellin?
For some reason I thought Bedrosian had Tommy John surgery this year, but apparently not. I guess I got him confused with all the other Angels pitchers who had their elbows rebuilt. Bedrosian — yes, he's Steve's kid — did have surgery in September to remove a blood clot from his arm pit, and he's expected to be ready to go for Spring Training. Blood clots are scary, but by all accounts he'll make a full recovery.
The 25-year-old Bedrosian had a phenomenal year in 2016, pitching to a 1.12 ERA (2.13 FIP) with 31.5% strikeouts and 49.5% grounders in 40.1 innings. He walked a few too many (8.5%), but not a ridiculous amount. Bedrosian has really good stuff too. He lives in the mid-to-upper-90s with his heater and backs it up with a wipeout slider. Not a whole lot went right for the Angels this year. This guy was a positive before the blood clot got in the way.
The Halos need basically everything. Well, except a center fielder. They won 74 games. There's plenty of room for improvement on the roster. I wonder if Billy Eppler would be willing to cash Bedrosian in as a trade chip to plug other roster holes. Maybe the Justin Wilson trade is a good benchmark? Two good but not great prospects? Say, Chad Green and Rob Refsnyder for Bedrosian? I know, I know. My trade proposal sucks.
Paul asks: What are the average woba or wrc+ for each position? Does it vary year to year?
Yep, it varies year to year the same way the league batting average and slugging percentage and ERA and everything else varies. It all fluctuates. Generally speaking though, the league average offensive production from each position stays the same relative to each other. First basemen outhit shortstops, etc. Here are the 2016 averages:
Catcher: .242/.310/.391 (.304 wOBA and 87 wRC+)
First Base: .255/.344/.447 (.334 wOBA and 108 wRC+)
Second Base: .270/.329/.425 (.324 wOBA and 101 wRC+)
Shortstop: .262/.319/.407 (.312 wOBA and 92 wRC+)
Third Base: .264/.331/.442 (.331 wOBA and 106 wRC+)
Left Field: .251/.321/.417 (.318 wOBA and 97 wRC+)
Center Field: .259/.324/.407 (.316 wOBA and 96 wRC+)
Right Field: .257/.327/.425 (.324 wOBA and 101 wRC+)
Designated Hitter: .258/.330/.480 (.343 wOBA and 115 wRC+)
Pitchers: .133/.165/.172 (.152 wOBA and -15 wRC+)
Boo pitchers, hooray DHs. I mean, seriously. Pitchers totaled over 5,300 (!) plate appearances in 2016. Imagine how many more runs would be scored around baseball if we replaced pitchers with DHs. It would be so much more exciting. You won't even notice double switches are gone.
Anyway, I'm surprised to see left field production was so low this year. Teams historically stash a masher out in left, but not any more. Think about it. How many truly great left fielders are there in baseball today? I count three: Yoenis Cespedes, Christian Yelich, and Starling Marte. That's it. I guess Ryan Braun is still great too. And healthy Michael Brantley, but he's not healthy. These are dark times for left field.
Liam asks: My question is: With the possibility that Tanaka could opt out of his contract after next season, would it be smart to put him on the trade block this offseason? Who would be realistic trade partners?
Yes and pretty much every contender. Cubs, Red Sox, Dodgers, Rangers, Astros, Giants, Nationals, Cardinals … all of 'em. Even the smaller market teams like the Indians and Pirates could swing it for a year, not that I think they'd actually go through with it. Masahiro Tanaka is an ace. He is. It's weird people try to downplay his performance. He's an ace and any team with a realistic chance to win the World Series should want him. Tanaka makes every rotation better. It would be foolish not to listen to offers for Tanaka given the impending opt-out, but that doesn't mean the Yankees should give him away. They need high-end arms too.
Kenny asks: Mike, could the Yankees bring back Pat Venditte to serve as an innings eating long man? I know he hasn't exactly dominated the big leagues, but it's essentially a day off for the bullpen in blowout games. And does he have any options remaining?
No. Come on. Does this question get asked about a non-switch pitcher? Anyone eager to bring Preston Claiborne back? Venditte is 31 and he has a 4.97 ERA (5.02 FIP) in 50.2 career big league innings, including a 5.73 ERA (6.15 FIP) in 22 innings this year. No offense to the guy, but he doesn't have the stuff to get Major League hitters out. Never really did. PitchFX says his fastball averaged 85.4 mph from the right side and 83.3 mph from the left side in 2016. Nope. Nope nope nope. I think there's value in having a veteran long man you can run into the ground in blowouts and things like that, but the Yankees can do better than Venditte. They have enough bullpen arms. There's a competent long man among them.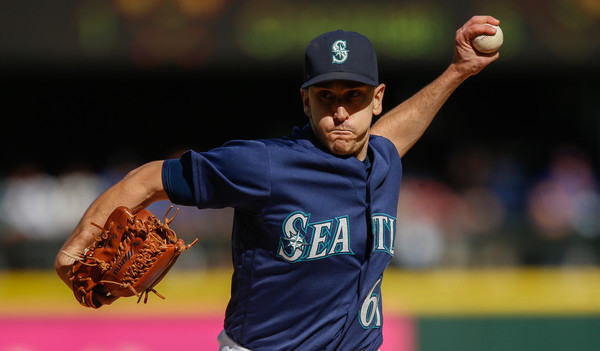 Brock asks: Better trade: the proposed Miller for Schwarber or the actual Chapman for Warren, Torres, McKinney, Crawford? From my biased point of view, the Yanks gave up less to get more. I don't recall who balked at the Miller/Schwarber deal, but if you're Theo, how do you rationalize accepting one but not the other? Is it simply that the Cubs didn't want to give up ML-talent?
Chapman for that package, hands down. The Cubs supposedly made Kyle Schwarber completely off limits anyway, so this is a moot point. Could you imagine trading Andrew Miller for a guy who is essentially a platoon DH coming off a major knee surgery though? Yeesh. Schwarber's good! But he's not some generational talent or anything. The guy hit two singles the other night and people are acting like it he pulled a Willis Reed.
What are the odds Schwarber is an appreciably more valuable player than Greg Bird going forward? Pretty small, I think. Give me the high-end shortstop prospect, the big league swingman, and two others for the rental reliever. Easy call. Chapman for Schwarber would maybe be a different story, but Miller for Schwarber? Not a chance. Anyone thinking the Yankees are better off with a (still not 100% healthy!) Schwarber instead of the package they received for Miller is getting too caught up in the moment.
George asks: Instead of a separate Int. draft, where poor teams get protected picks, early slots, etc. would it be possible to include international players in the regular draft, and maybe add 2-3 rounds. The money/slot might also have to change. That would seem to add talent for teams with lower picks, and not penalize teams with good records twice.
Have one amateur talent draft that combines high school, college, and international kids would be the best way to go, if an international draft is unavoidable. I don't see why the crummiest teams should get first dibs on the best draft and international prospects. That's too much of a reward for being bad. They wouldn't even need to add rounds to the draft. Forty rounds is plenty. Teams can fill out their minor league rosters with undrafted free agents.
MLB is said to be pushing for an international draft — they have been for years, really — and part of the current proposal includes making kids wait until they're 18 to sign. If they do that, it would make it easier to combine the talent pools. Lumping 16-year-old kids from Latin America in with high school and college kids from the U.S. would have been a little weird. I don't like the idea of two separate drafts at all. Combining the two talent pools into one draft is the lesser of two evils.
Daryl asks: I know when discussing closers and this off season, many think Chapman will be back, including you. Each time you mention it, you don't think it's the right move. Why? Besides just "relievers are volatile"? Where would you prefer 15mil x 4yr go?
For me, it's mostly off the field stuff with Chapman. I know a lot of people don't care about that and that's cool. You're welcome to feel however you want. He's a great pitcher. There's no doubt about that. I do wonder what happens when he inevitably loses a little velocity — for a guy who throws that hard, he gives up an awful lot of foul balls, doesn't he? — but that might not happen for a few years. He's still only 28.
Four years and $15M annually seems like Chapman's floor to me. That's only $3M more per season than Jonathan Papelbon's record contract for relievers, which was signed five years ago now. Salaries have increased a ton since then. That extra $3M might not even cover general league-wide inflation. In this market, Chapman is probably worth something like $17M a year for four or five years. I just don't like the off-field stuff. This isn't performance-enhancing drugs here. This is much more serious.