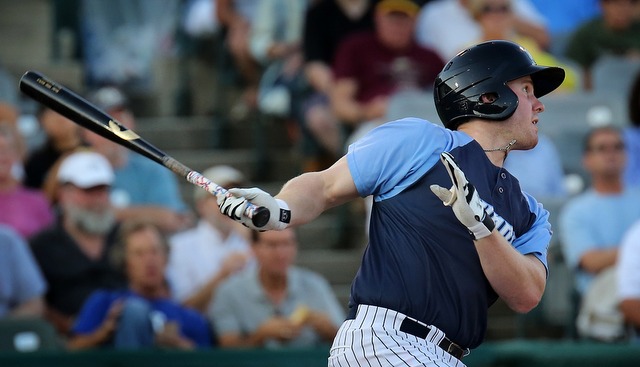 When the Yankees took the plunge and sold at the trade deadline, they wound up acquiring a dozen prospects (and one Adam Warren) in their four seller trades. Gleyber Torres, Justus Sheffield, and Clint Frazier were the headliners and the prospects everyone is talking about, understandably so. They're all legitimate top 100 prospects and among the best young players in the organization.
The trades were not only geared towards impact players, however. The Yankees also added a ton of depth — again, they acquired 12 prospects — and the secondary pieces shouldn't be overlooked. Ben Heller has already pitched in the big leagues. Erik Swanson and J.P. Feyereisen have sneaky good arms. Tito Polo is a pretty good bet to carve out a Major League career as an extra outfielder. Those guys have value too.
The most high-profile secondary piece the Yankees added at the deadline is outfielder Billy McKinney, who came over from the Cubs with Torres and Warren in the Aroldis Chapman trade. McKinney was the 24th overall pick in the 2013 draft — he had been connected to the Yankees often enough at the time that I wrote a draft profile — and was later traded from the A's to the Cubs in the Addison Russell/Jeff Samardzija trade.
The Yankees picked up McKinney while his stock was down. Keith Law (subs. req'd) ranked the 22-year-old as the 69th best prospect in baseball coming into the season — not last year or the year before, this year, 2016 — but, at the time of the trade, he was hitting .252/.355/.322 (102 wRC+) with one home run in 349 Double-A plate appearances while repeating the level. Last year he hit .285/.346/.420 (116 wRC+) at Double-A.
McKinney performed quite a bit better after the trade, putting up a .265/.337/.444 (117 wRC+) batting line with four homers in 169 plate appearances with Double-A Trenton, including the postseason. That looks good on the surface, but for close to a bat-only dude repeating the level, it's not nearly enough to maintain top 100 prospect status. McKinney is, to paraphrase Brian Cashman, an asset in distress. They bought low and hope to build him back up.
There are reasons to believe McKinney can be built back up. For starters, his age. He turned 22 in August. Had he gone to college, McKinney would have been a draft-eligible junior this year. Secondly, his raw talent. He wasn't a first rounder by accident. McKinney has impressive hitting tools, which were on display just last season. And third, his health. His 2015 season ended in mid-August after he fouled a pitch into his knee and suffered a hairline fracture, Mark Teixeira style.
Everything in baseball starts from the ground up, including hitting. It's tough to hit when you don't have a solid base underneath you, and thanks to the knee injury, McKinney's lower half was compromised this year. How much? We don't know exactly. Player development chief Gary Denbo thinks the injury was at least somewhat a factor in McKinney's disappointing season. From Jim Callis:
"He had issues with his knee and didn't have all his balance and stability in his lower half, which makes it difficult to be a consistent hitter," Denbo said. "He's just now getting healthy. He's working very hard to improve his timing and lower-half stability, and also to let his raw power play in games. He started to do that late in the season and he has been one of our best performers down here."
It's not crazy to think a healthy McKinney could bounce back next season. Not considering his age and talent. That's what the Yankees are hoping, anyway. They got him almost as a throw in, after all. McKinney is not the centerpiece of the farm system or anything like that. He's a reclamation project.
Now, what happens if McKinney does rebound next season? First, celebrate! That'd be cool. Secondly, the logjam of upper level outfielders could become even logjam-ier. Right now, the Triple-A Scranton outfield figures to feature some combination of Frazier, Mason Williams, Jake Cave, and Dustin Fowler. Maybe Aaron Judge too. That leaves McKinney back in Double-A for a third straight season. Not ideal, but what can the Yankees do?
Given the state of the organization right now, it appears the best thing for both McKinney and the Yankees is that he plays well enough to re-establish some trade value. Instead of being the No. 3 piece like he was in the Chapman deal, he could maybe be the No. 2 piece in a deal at some point in future. Or maybe even the headliner in a smaller trade that brings immediate MLB help. That seems to be the best case scenario. McKinney rebuilds value and the Yankees flip him elsewhere, where he'll have a better opportunity for MLB playing time.
As far as the Yankees are concerned, anything they get from McKinney is gravy. He's not one of their top prospects and they're not relying on him to fill a roster spot long-term. They rolled the dice on his talent as the third piece in the Chapman trade, and if he rebounds, great! If not, well, that's baseball. When a guy like McKinney is one of your second tier prospects and almost an afterthought in your system, things are looking up.