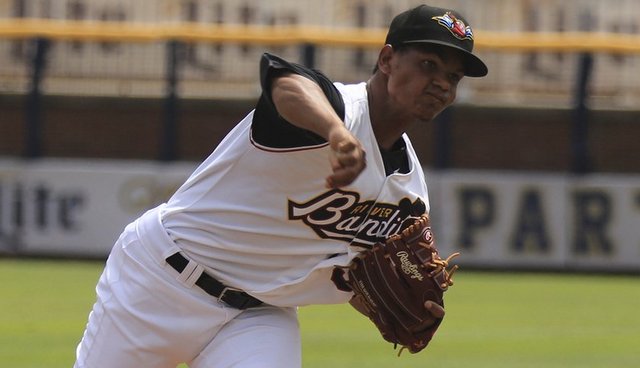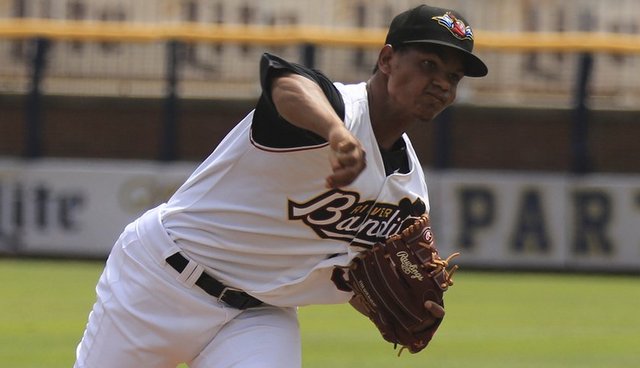 Albert Abreu | RHP
Background
Back in 2013, the Astros signed the now 21-year-old Abreu out of the relatively small town of Guayubin, in the Dominican Republic. He received a $185,000 bonus. Baseball America did not rank Abreu among the top 30 international prospects available during the 2013-14 international signing period.
The Yankees acquired Abreu from Houston in the Brian McCann trade earlier this offseason. Abreu and fellow right-hander Jorge Guzman went to New York in the two-for-one swap.
Pro Career
Because he wasn't a high-profile signing, the Astros assigned Abreu to one of their rookie Dominican Summer League affiliates for his pro debut in 2014. He had a 2.78 ERA (3.41 FIP) with 19.4% strikeouts and 10.4% walks in 14 starts and 68 innings that year.
The 'Stros brought Abreu to the U.S. in 2015 and sent him to their rookie Appalachian League affiliate. That summer he made seven starts and six relief appearances, and threw 46.2 innings with a 2.51 ERA (3.56 FIP) with 26.0% strikeouts and 10.7% walks. Baseball America ranked Abreu as the sixth best prospect in the league after the season.
Abreu opened the 2016 season in the Low-A Midwest League. He managed a 3.50 ERA (3.85 FIP) with 27.1% strikeouts and 12.8% walks in 90 innings spread across 14 starts and seven relief appearances at that level. Houston bumped Abreu up to the High-A California League at the end of the season, where he allowed eight runs in 14.1 innings.
All told, Abreu had a 3.71 ERA (4.07 FIP) with 26.3% strikeouts and 12.9% walks in 104.1 innings in 2016. Baseball America (subs. req'd) ranked him as the 14th best prospect in the league, one spot ahead of Angels catcher Matt Thaiss, the 16th overall pick in the 2016 draft. Abreu was ranked the Astros' tenth best prospect prior to the trade by Baseball America.
Scouting Report
When the Astros signed Abreu, he was 6-foot-2 and rail thin with an 87-91 mph fastball. He still stands 6-foot-2, but he's filled out a bit and now checks in at 175 pounds. His fastball has climbed into the 93-96 mph range and will top out at 99 mph. Abreu's arm is really loose and the ball jumps out of his hand.
Depending on the day, either the slider or the changeup will look like Abreu's second best pitch. The slider has hard break in the mid-to-upper-80s while the changeup fades down and away to lefties when thrown properly. Abreu also has a big breaking power curveball. He's still working to gain consistency with all three non-fastballs. Here's some video:
Abreu is a good athlete with a really quick arm, though his control suffers because he tends to rush through his delivery. He's still learning to repeat his mechanics, especially from the stretch, and once he does that, it should improve his presently below-average control. Abreu is very much a young pitcher with tantalizing stuff who is still learning how to pitch.
2017 Outlook
Given his success at Low-A last season, the Yankees figure to assign Abreu to High-A Tampa to begin the 2017 season, his first in the organization. I wouldn't count on a midseason promotion. Abreu just turned 21 in September and he's not very experienced. A full season at High-A is in the cards, even if he dominates.
My Take
I'm not gonna lie, I'm not much of an Abreu fan. The kid has a great arm, no doubt about that. Four pitches and a good delivery is a nice starting point. I just see too many obstacles to overcome. Abreu needs to refine multiple secondary pitches, hone his mechanics, and learn to throw strikes. His upside is enormous, possibly the highest of any pitcher in the system, but there's a very long way to go before Abreu approaches that ceiling. And, frankly, the Yankees haven't much success developing these high-risk/high-reward kids. Abreu is a quality prospect. I'm just not his biggest fan. That's all.