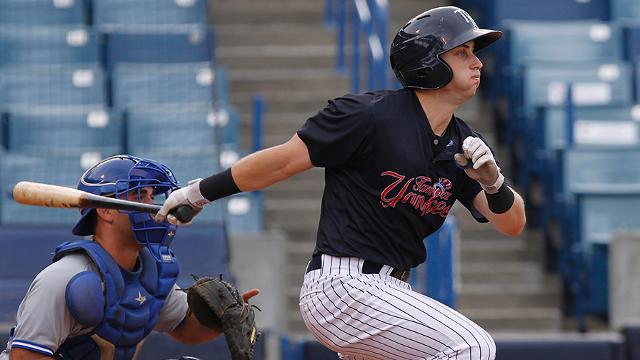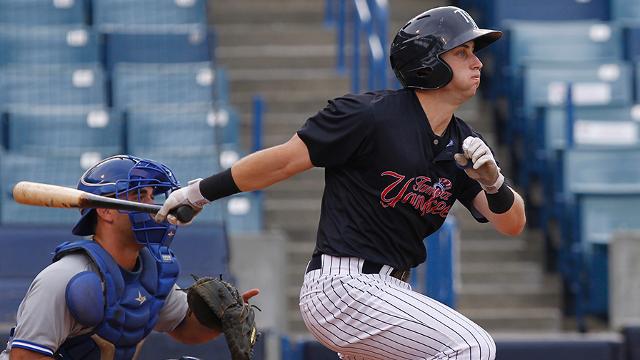 Dustin Fowler | OF
Background
The 22-year-old Fowler was born and raised in Cadwell, Georgia, a town with a population of under 500 during his formative years. He attended West Laurens High School a few miles down the road, where he split his time between baseball, wrestling, and football through his junior season. His high school career took off once he focused on the best sport of the three, and he won the All-Middle Georgia GHSA Baseball Player of the Year Award in his senior season. He batted .598 that year, with 8 home runs and 39 RBI.
Baseball America ranked Fowler as the 22nd best prospect from Georgia heading into the 2013 draft (a class headlined by Clint Frazier), though he did not crack the BA 500. The Yankees took him in the 18th round (554th overall), and gave him a well over-slot $278,000 signing bonus to buy him out of a commitment to Georgia State University.
Pro Career
Fowler kicked-off his professional career in the GCL, where he hit just .241/.274/.384 with zero homers and three steals in 117 PA (89 wRC+). He would then spend the entirety of an injury-abbreviated 2014 at Charleston, where he hit .257/.292/.459 with 9 HR and 3 SB in 272 PA (104 wRC+). The uptick power jumps off the page, as does the modest bump in OBP, thanks to Fowler's walk rate jumping from 3.4% in 2013 to 4.8% in 2014.
Fowler broke out in 2015, batting .307/.340/.419 (114 wRC+ with 4 HR and 18 SB in 256 PA) in a return engagement with Charleston, and earning a promotion to High-A Tampa on June 22. His power sagged a bit in the pitcher-friendly Florida State League, but he still batted .289/.328/.370 with a home run and 12 steals (111 wRC+) in 262 PA. His walk rate ticked up once at High-A, from 4.3% to 5.7%, which helped to mask the slip in power.
He earned a ticket to the Arizona Fall League after the 2015 season, and it was more of the same in the desert, as he slashed .279/.313/.410 with 2 HR and 7 SB in 65 PA. It's an offense-happy environment, so his 96 wRC+ was actually a bit below-average, but he impressed nevertheless.
The 22-year-old's ascent up the Yankees prospect list continued in 2016, as he performed admirably in a full season at Double-A. Fowler batted .281/.311/.458 for Trenton, with 12 HR and 25 SB (109 wRC+) in 574 PA, and drew praise for his continued refinement. His walk rate sagged dramatically, dipping to 3.8%, but it was mitigated a bit by his career-best 15.0% strikeout rate and well above-average .177 ISO.
All told, Fowler is a .279/.313/.429 hitter in 1,546 professional plate appearances.
Scouting Report
Most any report that you read on Fowler revolves around two things: his rawness, and his athleticism. The former is largely a product of his amateur career, as he was a three sport athlete for a few years, and played for a small school in a small division. And the latter is simply something that he oozes, with his 6'0″, 185-pound frame (he's added about 15 pounds of muscle since signing with the Yankees) and well above-average to plus speed.
It isn't just about athleticism for Fowler, though. He's a left-handed hitter and thrower, with above-average to plus bat speed and the ability to barrel the ball anywhere in the strike zone. He also has average to above-average raw power, particularly to the pull side (hello, short porch), and he has been able to actualize that power in-game more often than many expected. Fowler's approach at the plate may be best described as controlled aggression, and his ability to work the count remains his most glaring flaw as a prospect.
Defense is where Fowler truly shines, owing to his aforementioned speed and athleticism. He takes good routes in the outfield, accelerates quickly, and has the arm strength to stay in center long-term.
That speed and acceleration should make him an asset on the basepaths, as well. It has not as of yet, though, as he has been successful on just over 71% of his 95 career attempts, or right around the break-even mark. Fowler's still just 22 (and a young 22, as his birthday was on December 29), so there is reason to hope that he'll figure it out.
Baseball America ranked him ninth on the Yankees' top-ten back in October, which says quite a bit given the team's extraordinary farm system.
2017 Outlook
Fowler is set to open this coming season at Triple-A, where he'll bounce between left and center. He's not on the 40-man roster at this point, but he'll be eligible for the Rule 5 Draft next off-season, so this is an important year in his development. I expect to see him in Spring Training this season, and I wouldn't be shocked if he spent a significant amount of time in the Majors this season (perhaps in some sort of carousel with Mason Williams and Jake Cave).
My Take
The walk rates are a red flag, as I worry that Fowler will be too easily exploited by pitchers who are more capable of painting the corners (as well as umpires who call more consistent strike zones). His tools are so obvious, though, and the praise is so universal that I hold out hope that he could be a league-average regular in center. There's a great deal of work to be done, but he's already at Triple-A, and it's clear that the Yankees believe in him.