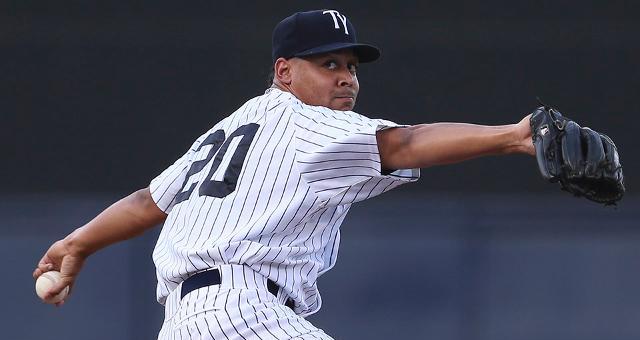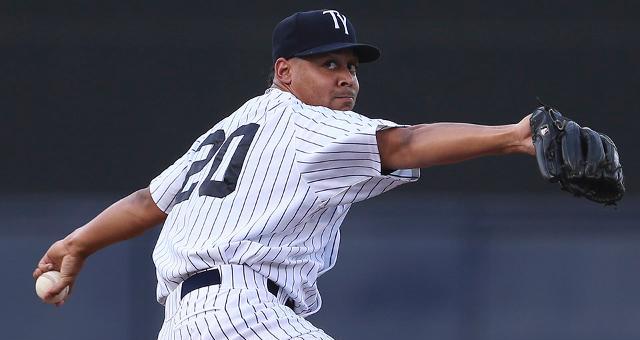 Justus Sheffield | LHP
Background
Sheffield, 20, grew up in Tullahoma, Tennessee, which is about halfway between Nashville and Chattanooga. As a senior at Tullahoma High School, Sheffield struck out 131 batters in 61.2 innings while allowing only three earned runs. That's a 0.34 ERA with seven-inning games. He had a 17-strikeout game and also hit .405 with three home runs, which earned him Gatorade National Player of the Year honors. No, he is not related to Gary Sheffield.
Like his older brother Jordan, Justus committed to Vanderbilt, which meant he figured to be a tough sign. Vandy is typically a tough commitment to break. Baseball America ranked Sheffield as the 49th best prospect in the 2014 draft class and the second best prospect in Tennessee, behind Vanderbilt righty Tyler Beede. Keith Law (subs. req'd) ranked Justus as the 21st best prospect in the draft class while MLB.com had him 39th.
The Indians selected Sheffield with the 31st overall pick in the 2014 draft, the supplemental first round pick they received as compensation for losing Ubaldo Jimenez to free agency. Rather than be a tough sign, Sheffield was literally the first 2014 draftee to agree to terms. (That we know of, anyway.) The two sides agreed to a below-slot $1.6M bonus only hours after the MLB Network broadcast of Day One of the draft. Slot money for the 31st pick was $1.733M.
The Yankees acquired Sheffield from Cleveland in the five-player Andrew Miller trade at the 2016 deadline. Miller went to the Indians for Sheffield, outfielder Clint Frazier, and righties Ben Heller and J.P. Feyereisen. It was a four-for-one swap.
Pro Career
Because he signed quickly, the Indians sent Sheffield to their rookie level Arizona League affiliate for his pro debut. Sheffield had a 4.79 ERA (2.67 FIP) with 29 strikeouts and nine walks in 20.2 innings after signing. That's a 30.9% strikeout rate and a 9.6% walk rate. After the season, Baseball America ranked him Cleveland's fourth best prospect.
During the 2014-15 offseason, Sheffield was arrested back home in Tullahoma for underage drinking and aggravated burglary after breaking into a home in the early morning hours to confront one of the residents about a personal matter. Sheffield pled guilty to underage drinking and a reduced charge of aggravated criminal trespassing, and was sentenced to probation. He also had to donate $500 to a local charity and was allowed to have the charges expunged from his record one year later.
Once the 2015 season began, the Indians assigned Sheffield to their Low-A affiliate in the Midwest League, where he was the sixth youngest player and second youngest pitcher in the league on Opening Day. He spent the entire season at the level and posted a 3.31 ERA (2.99 FIP) with 24.9% strikeouts and 6.9% walks in 26 starts and 127.2 innings while being nearly three years younger than the average Midwest League player. Baseball America ranked Sheffield as the club's fourth best prospect and 81st best prospect in baseball after the season.
The Indians moved Sheffield up to the High-A Carolina League to begin 2016 — he was the sixth youngest player and youngest pitcher in the league on Opening Day — and he had a 3.59 ERA (3.80 FIP) with 22.8% strikeouts and 9.8% walks in 19 starts and 95.1 innings there before the trade. Baseball America ranked Sheffield as the 69th best prospect in the game in early-July, in their midseason top 100 update.
After the trade the Yankees initially assigned Sheffield to High-A Tampa, where he made five starts and had a 1.73 ERA (2.33 FIP) with 27.3% strikeouts and 10.1% walks in 26 innings. A late season bump to Double-A Trenton saw Sheffield make three more starts, postseason included, during which he managed a 4.97 ERA (4.86 FIP) with 17 strikeouts and nine walks in 12.2 innings.
All told, Sheffield pitched to a 3.36 ERA (3.61 FIP) with 24.2% strikeouts and 10.4% walks in 27 starts and 134 innings in 2016. He was three years younger than the competition in both High-A leagues. After the season, Baseball America ranked Sheffield as the seventh best prospect in New York's stacked farm system. He should be in the middle of all the top 100 prospect lists that come out this spring.
Scouting Report
Sheffield is a short little southpaw — he's listed at 5-foot-10 and 195 lbs. — with big stuff. His fastball is more of a two-seamer than a four-seamer, with run down and back in on left-handed batters. It sits mostly in the low-90s and has topped out at 96 mph. That's pretty good velocity given his age (he doesn't turn 21 until May) and size.
A low-to-mid-80s slider is Sheffield's primary secondary pitch. He used to throw a curveball back in the day, but it's morphed into a slider since signing and become a more reliable offering. Sheffield also throws a mid-80s changeup that has made a lot of progress since high school and is now an average-ish offering. On his best days, he'll take two swing-and-miss secondary pitches out to the mound. Here's some video from September.
Throwing strikes has been an issue for Sheffield at times, which is surprising because he's a great athlete and repeats his delivery well. The hope is he'll iron out his location with more experience. Sheffield has mid-rotation upside, but as a lefty with three quality pitches, he could exceed that ceiling with much improved command. Keep in mind it's not unusual for a 20-year-old kid to lack pristine location.
The arrest a few years ago was a surprise because Sheffield was praised for his makeup prior to the 2014 draft. He completed his probation and hasn't had any other legal problems, either before or since the arrest.
2017 Outlook
Sheffield will open the 2017 season as a 20-year-old in Double-A, where he figures to be one of the youngest players and pitchers in the Eastern League on Opening Day. You can never rule out a player starting extremely well and forcing a promotion, but I think Sheffield will remain with Double-A Trenton almost all season. He could make a handful of Triple-A starts at the end of the regular season and in the postseason or something like that, I suppose. The Yankees like to do that stuff. A midseason promotion seems unlikely though given his age and developmental needs.
My Take
It's easy to overlook Sheffield in the system, isn't it? He wasn't even the headliner in his own trade (that was Frazier), and the Yankees landed other bigger name prospects like Gleyber Torres and Dillon Tate at the deadline. And they drafted Blake Rutherford. And guys like Aaron Judge, Jorge Mateo, and James Kaprielian are prospect list holdovers from last year. It's really easy to forget about Sheffield.
That said, I think Justus is the Yankees' best pitching prospect at the moment. His medical history is cleaner than Kaprielian's — Sheffield has never had an injury, arm or otherwise — and his arsenal is more advanced than Albert Abreu's. Fastball plane and homeritis is always a concern with sub-6-foot pitchers because they tend to lack downhill plane on their fastballs, but Sheffield has some natural sink on his heater and has kept the ball in the park as a pro (career 0.46 HR/9), which is encouraging.
There is no such thing as a low-risk pitching prospect — Sheffield has been healthy to date, but that doesn't mean he can't blow out his arm on the first day of Spring Training — but I feel like Sheffield carries less risk than the typical 20-year-old hurler. He has three pitches already, and he's athletic and he repeats his delivery well. I'm optimistic his control will improve in time. Sheffield has less to figure out than most kids this age.
I'm really looking forward to seeing how Sheffield handles his assignment to Double-A this season. A good season at that level would put him in the game's top tier of pitching prospects and make him a potential big league option for the Yankees as soon as 2018. It's not often a high school pitcher reaches the big leagues within four calendar years of being drafted, but Sheffield has a chance to do it. That's pretty awesome.