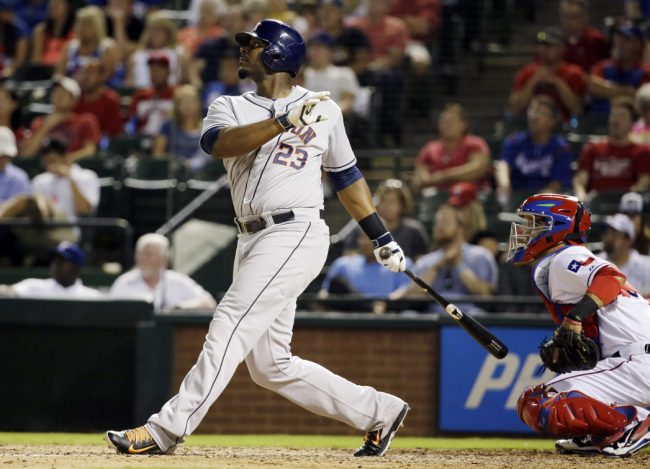 Update (7:04pm ET by Mike): The deal is worth $3.5M guaranteed, not $3M, says Ken Rosenthal. The plate appearance incentives can push the total value to $4M.
Update (3:08pm ET by Mike): According to Bob Nightengale, the Yankees have agreed to a one-year deal with Carter, pending physical. It'll pay him a $3M base salary plus incentives. Carter gets a $500,000 signing bonus plus an extra $100,000 each for 250, 300, 350, 400, and 450 plate appearances.
Original Post (12:30pm ET): As per Jerry Crasnick of ESPN and Baseball America, the Yankees have some semblance of interest in former Brewer and current free agent 1B/DH Chris Carter. The front office has been in contact with Carter's agent, Dave Stewart (yes, that Dave Stewart), but that accounts for all that we know at this point in time.
Carter was non-tendered by the Brewers early in the off-season, on the heels of a solid 2016 in which the 30-year-old batted .222/.321/.499 (112 wRC+) and led the National League in both home runs (41) … and strikeouts (206). The Brewers decision was likely influenced by his poor defensive contributions and expected $8 MM-plus price tag, as Carter's iron glove at first limited him to just 0.9 fWAR. They are in the midst of a tear-down and rebuild, so it makes sense that they would look to invest their payroll and playing time elsewhere.
The question for the Yankees is rather simple – where would Carter play?
Carter has been a 1B/DH almost exclusively since 2014, though he has played 79 games in the outfield in his career. Unsurprisingly, the 6'5″, 245-plus pound slugger was an unmitigated disaster out there, with a career -29.7 UZR/150 (or an ugly .951 fielding percentage, if you want to keep it simple). In short, unless the Yankees are feeling particularly adventurous, Carter's role would be a back-up/platoon partner for Greg Bird at first.
The likelihood of Carter settling for a back-up or platoon role may not be all that great, as Ken Rosenthal recently reported that Carter is "looking for more at-bats than he probably would get from the Dodgers, who likely would play him at first base against left-handed pitching and give him an occasional start in left field." Rosenthal also spoke with the aforementioned Stewart, who said that "[i]t's going to be important for Chris to get significant playing time."
That expectation also suggests that Carter is looking for a guaranteed Major League deal. He made $4.175 MM in 2015, and was subsequently non-tendered by the Astros. The Brewers picked him up for just $2.5 MM last year, and now here we are. Carter was non-tendered after the free agent predictions list came out in early to mid-November, so there isn't much guesswork out there. Do we compare him to Matt Holliday, who the Yankees signed for $13 MM? What about Mitch Moreland, who was picked up by the Red Sox for $5.5 MM? Or will he have to settle for something less, considering that it's a week before Spring Training and other RHH 1B/DH types like Mike Napoli (though, he has been linked to the Rangers) and Billy Butler are still available?
As of now, there are two distinct possibilities that stand out to me. The first is that the Yankees are looking for an insurance policy for Bird and/or Tyler Austin, and are merely doing their due diligence. And the other is that this is a tried-and-true example of a player's agent using the Yankees name to try to put his player front and center (which we are playing into with this very post). Either way, it's fun to imagine Carter crushing baseballs into the Bronx skyline.