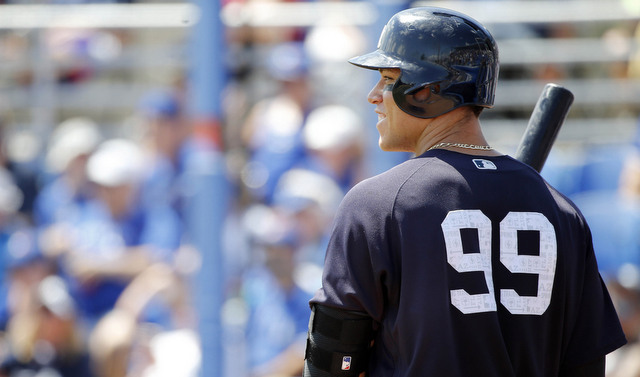 Common sense prevails! Joe Girardi announced this morning Aaron Judge will be the Yankees' starting right fielder this season, according to Erik Boland. "He's our right fielder," said Girardi. The club was reportedly considering sending Judge to Triple-A as recently as yesterday.
Judge, 24, is hitting .345/.406/.569 with three homers so far this spring. He's also struck out only 13 times in 64 plate appearances, or 20.3%. That is a completely acceptable strikeout rate, though it comes with the obvious caveat that this is Spring Training and it's 64 plate appearances. We'll see what happens during the regular season.
Aaron Hicks, Judge's primary competition for the right field job, has had a strong spring as well. He's hitting .264/.361/.528 with three homers in 61 plate appearances. Hicks will again be the fourth outfielder, though my guess is he'll get much more playing time this year. Brett Gardner and Jacoby Ellsbury could get more days off.
With Judge being named the right fielder and Rob Refsnyder being optioned out, the position player portion of the roster is basically set. The Yankees just need to make a move to get Pete Kozma on the 40-man roster. There are still some open bullpen spots to be decided, however.