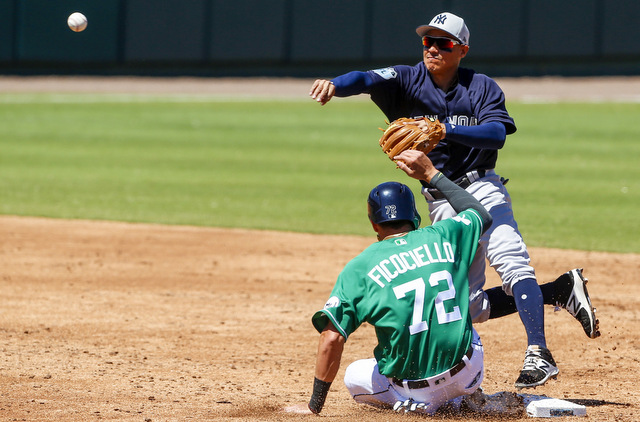 Later today, the Yankees hope to get good news about starting shortstop Didi Gregorius, who left the World Baseball Classic and returned to Tampa yesterday with a "hematoma of the subcapsular muscle." This a shoulder injury. Otherwise I have no idea what that means. I googled it and only made myself more confused. We should get some clarification soon.
"The doctor was really encouraged by his strength and felt good about it, but we thought we're going to cover ourselves," said Joe Girardi to Randy Miller. "It's obviously not what you want to hear, but hopefully it's something short. But again, we have not seen him. The evaluation from the doctor was his strength was really good. But we've got to see him."
The bottom line is Gregorius now has some kind of shoulder injury, and unless it's a really minor injury — the fact he's already had a preliminary MRI and is going for more tests suggests he's going to miss at least a few days with this — it's hard to think he'll be ready for the start of the regular season. Opening Day is only 12 days away now, you know. Practically right around the corner.
Compared to most teams, the Yankees do have a pretty decent collection of shortstop options. Not too many clubs can replace their starting shortstop with another starting caliber shortstop, you know? The Yankees have a nice mix of shortstop prospects and veterans with big league shortstop experience, some as an everyday player. It could be worse.
So, with that in mind, I'm going to attempt to lay out what I think is the shortstop pecking order. This isn't necessarily how I'd rank these players. It's how I think the Yankees rank them internally. Depth charts change as the season progresses, so this is nothing more than a snapshot in time. Let's get to it.
1. Ronald Torreyes
Why is he ranked here? Torreyes managed to spend the entire 2016 season in the big leagues as the utility infielder, and when you do that, there's a pretty good chance you're at the front of the line to replace an injured infielder. The Yankees know he can handle shortstop defensively and know his contact skills allow him to go on some insane BABIP fueled hot streaks. Simply put, among the reserve infielder options, Torreyes had the best 2016 season, and that tends to be a factor in decisions like this.
Why could he be ranked lower? I'm of the belief that Torreyes would get exposed pretty quickly as an everyday player, and the Yankees could feel the same way. Given his complete lack of power and general lack of walks, playing Torreyes everyday could very easily result in a slash line that starts with .2s across the board. The man they call Toe has a nice utility infielder's skill set given his defensive versatility and ability to get the bat on the ball. I'm not sure that's enough to hold down an everyday shortstop job though, even for a few weeks.
2. Ruben Tejada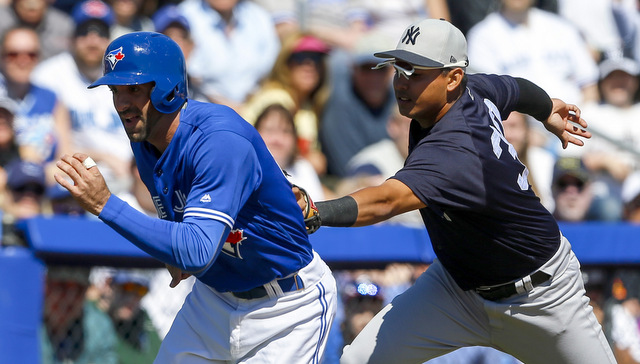 Why is he ranked here? Prior to last season, Tejada spent most of the previous five seasons as the starting shortstop with the Mets. From 2011-15 he hit .261/.333/.328 (88 wRC+) overall, including .261/.338/.350 (94 wRC+) in 2015, which works out to +1.4 bWAR and +1.8 fWAR per 162 games. Not great! But the league average shortstop hit .262/.319/.407 (92 wRC+) last season, so Tejada isn't that far below the positional standard. He's long been a solid defender, so, in that sense, Tejada might be the best bet for competence on both sides of the ball.
Why could he be ranked lower? There's a reason the Yankees were able to scoop Tejada up on a minor league contract over the winter. He was pretty terrible in 2016. Tejada played 36 games with the Giants and hit .167/.247/.242 (34 wRC+) in 78 plate appearances, though his .303/.337/.414 (101 wRC+) batting line in 43 Triple-A games with the Giants and Cardinals is easier to swallow. It should be noted Tejada missed time with a quad strain last year, and he was also coming back from having his leg broken by Chase Utley's vicious takeout slide in the 2015 NLDS. Either way, healthy or not, Tejada was pretty bad in 2016.
3. Donovan Solano
Why is he ranked here? Familiarity more than anything. Solano has plenty of big league time — he played 361 games with the Marlins as a reserve player from 2012-15 — and he spent just about the entire 2016 season with Triple-A Scranton, where he hit .319/.349/.436 (124 wRC+) and led the league in hits. The Yankees called Solano up late in the season when Starlin Castro's hamstring acted up, and they liked what they saw from him enough to sign him to a new minor league deal over the winter. Solano is an okay defender who had a nice year in Triple-A and seems to have some fans in the organization.
Why could he be ranked lower? Unlike Tejada, Solano has not been a full-time shortstop in several years. Not since he was in Single-A ball back in 2009. He has played the position before, though most of his experience is at second base. Even last season Solano was primarily a third baseman with the RailRiders. Solano has big league time and he performed well in Triple-A last summer. Still, his ability to handle shortstop on a full-time basis, even for a few weeks, is in question.
4. Tyler Wade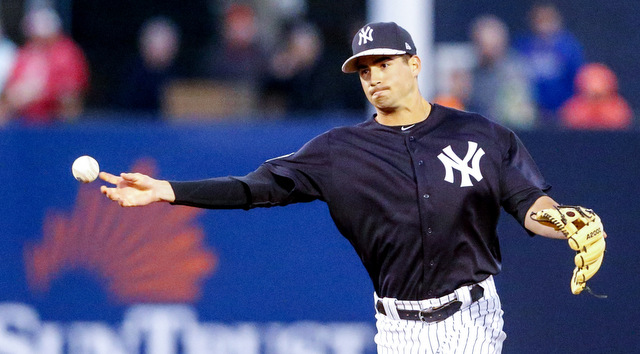 Why is he ranked here? The first actual prospect on our list. Wade played shortstop everyday with Double-A Trenton last summer and hit .259/.352/.349 (101 wRC+) overall. He's now having a strong Grapefruit League season (.394/.430/.484) while playing multiple positions as the Yankees try to turn him into a super utility player. It's not often the Yankees skip prospects over Triple-A, but they have done it before, and they sure seem committed to this youth movement. Wade has open some eyes this spring — the Yankees knew he was good, though I've seen more than a few fans say he's growing on them — and we know he can play shortstop. The Yankees may decide to continue trekking forward with the youth movement and go with Wade.
Why could he be ranked lower? A few reasons. One, zero Triple-A games. That's kind of a big one. The Double-A to MLB jump isn't an easy one. Two, he's not on the 40-man roster, and the Yankees might not want to add him yet. Adding Wade ties up a 40-man spot for good. Tejada and Solano are guys they could easily add to the 40-man then designate for assignment when a spot is needed. Can't do that with Wade. And three, the Yankees do want to turn him into a super utility guy, and perhaps they'd prefer to continue that process in Triple-A. That last one doesn't seem like a good reason to me, but who knows why teams do what they do.
5. Starlin Castro
Why is he ranked here? No one in this post has as much experience as a big league shortstop as Castro. He played the position everyday all those years with the Cubs before sliding over to second base in the second half of the 2015 season. Because he's played the position before and will without a doubt be part of the Opening Day roster, I don't think we can completely rule out the Yankees sliding him over to shortstop, even for a short period of time. I don't think that'll happen, which is why he's ranked so low in our half-baked attempted as a shortstop depth chart, though I'd never say never. (Not surprisingly, Castro told George King he's willing to play short while Didi is out.)
Why could he be ranked lower? The Yankees have given us no reason to believe they consider Castro a shortstop option. He played only three games at the position last year — when Gregorius sat, it was Torreyes at short — and he hasn't played the position at all in Spring Training. Not one inning. I assume that will change at some point given the Gregorius injury, just to keep Castro acquainted with the position in case he's needed there. Starlin seems to be a shortstop option the same way Matt Holliday is a left field option. Yeah, he can do it if needed, but they'd prefer not to. Also, moving Castro to shortstop doesn't solve the problem. It just shifts the opening from short to second.
6. Pete Kozma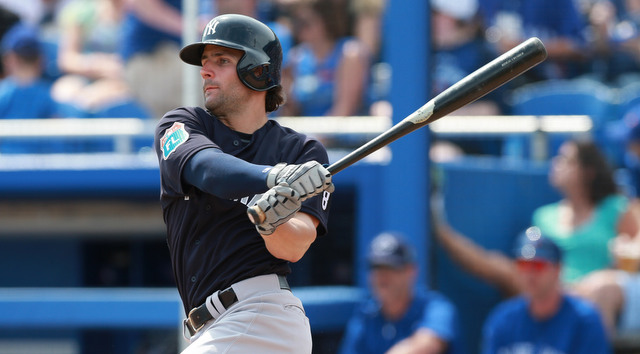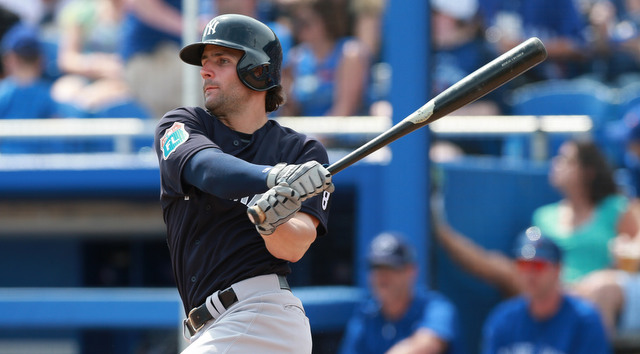 Why is he ranked here? Kozma has some time as a big league shortstop — he started at short for the pennant winning 2013 Cardinals — and, if nothing else, he's a good defensive player. The man can't hit at all — he's a career .222/.288/.293 (58 wRC+) hitter in MLB, and last summer he managed a .209/.268/.265 (52 wRC+) line in 130 games with Triple-A Scranton — but he can catch the ball, and that's not nothing. If the Yankees say "screw it, no one can hit so let's focus on defense," Kozma could be the guy.
Why could he be ranked lower? He really can't hit. I don't think anyone would expect Torreyes or Tejada or even Wade to come out and knock the ball all around the park, but the book is out on Kozma. He'll turn 29 shortly after Opening Day and there's no reason to think his offense is about to take a step forward. It seems the Yankees re-signed Kozma to a minor league deal because a) shortstop depth is never a bad thing, and b) he's long had a reputation for being a hard worker and great clubhouse dude, and I think they consider him a good example for the kids in Triple-A.
7. Outside Help
Why is this ranked here? Going outside the organization for help can never be ruled out. Depending on the severity of Didi's injury and how the Yankees feel about their internal options, they could look to make a minor trade or free agent signing to plug the shortstop hole for the time being. There are always a rash of transactions near the end of camp, and the Gregorius injury could push the Yankees to make one.
Why could this be ranked lower? Because, right now, there's basically no one available. The only available free agent shortstop is Alexei Ramirez, who can no longer hit or defend, and the out of options market doesn't offer any help either. There aren't many teams with spare shortstops lying around, and those that do tend to want to hang on to them. Anyone who becomes available figures to be a Tejada/Solano type. Not surprisingly, Brian Cashman told Brendan Kuty the Yankees will stick with their internal options at shortstop for now.
8. Gleyber Torres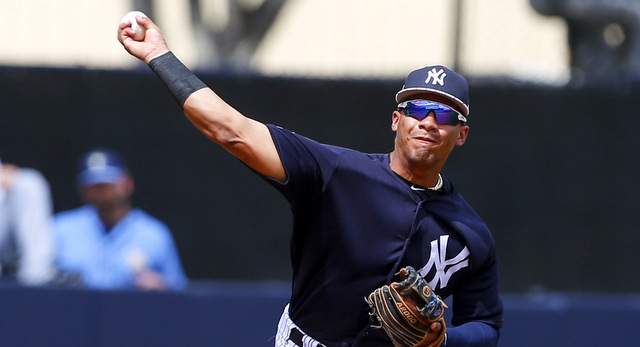 Why is he ranked here? Torres has not played a single game above High Class-A. Not one. Making the jump from High-A to MLB is not unprecedented — the late Jose Fernandez made that jump and had a Cy Young caliber rookie season — but there's a reason it rarely happens. It's very, very, very difficult. Also, spoiler alert: Cashman already told Andrew Marchand that Gleyber won't be on the Opening Day roster. I know folks are thinking about a Tony Fernandez/Derek Jeter situation here, but Jeter had some MLB time and was making the jump from Triple-A in 1996, not High-A.
Why could he be ranked higher? Because he's the best prospect in the organization and on the very short list of the best prospects in baseball. Oh, and Torres is hitting .464/.484/.964 this spring, and his 51.1 innings at shortstop are by far the most among all players in camp. (Jorge Mateo is second with 35. Obviously Gregorius being away at the WBC has opened up playing time.) Torres looks like he belongs and special talents have a way of forcing an accelerated timetable.
* * *
For now the Yankees will hope the second round of tests today bring good news about Didi's shoulder. And if not, they'll change gears and adapt. Nothing else you can do. Torreyes seems to be at the top of the replacement shortstop depth chart given the fact he was on the MLB roster all year last season, though others like Tejada and Solano are viable fill-in utility infielders.
Wade is the wildcard to me. My hunch is his chances of being the fill-in shortstop are better than the above rankings would lead you to believe. I think he's right there with Tejada and Solano. I really do. (Things drop off a bit after him.) It boils down to how willing the Yankees are to tie up a 40-man roster spot, and how ready they think Wade is for the big leagues. Again, zero Triple-A experience. My guess is that should Gregorius miss time during the regular season, they'll look to get by with a combination of two of the top four players on this list.