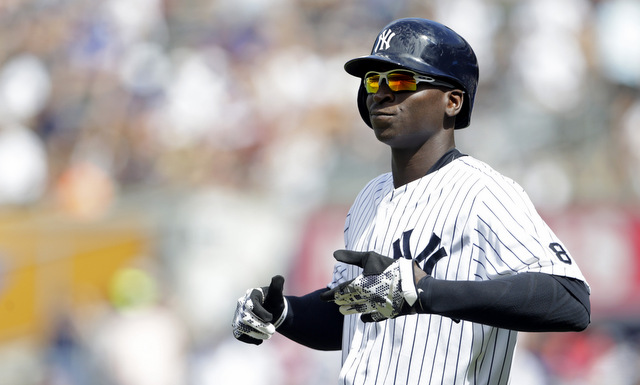 The Yankees are getting closer to being whole. Didi Gregorius, who has not played at all this season thanks to a shoulder strain suffered during the World Baseball Classic, returns tonight and is in the starting lineup. Hooray. I've missed Didi. Let's not forget Ronald Torreyes though. Dude stepped in and hit .308/.308/.431 (106 wRC+) as the starting shortstop while Gregorius was out. He was pretty rad.
Anyway, the Yankees are back home for a quick little six-game homestand, and this weekend they'll play the Orioles, the team they're chasing for first place in the AL East. Hey, it's never too early to start thinking about the division title, right? The Yankees have won 12 of their last 15 games. If you're not going to look at their current situation in terms of the postseason race, when will you? Here is the Orioles' lineup and here is the Yankees' lineup:
LF Brett Gardner
3B Chase Headley
DH Matt Holliday
CF Jacoby Ellsbury
2B Starlin Castro
SS Didi Gregorius
RF Aaron Judge
1B Greg Bird
C Austin Romine
LHP CC Sabathia
Perfect baseball weather in New York today. Not a cloud in the sky and the temperature was in the 80s pretty much all afternoon. It'll be a little cooler tonight though. Tonight's game will begin a little after 7pm ET and you can watch on YES. Enjoy the game.
Roster Move: As expected, Pete Kozma was designated for assignment to clear a roster spot for Gregorius. That leaves the Yankees with an open 40-man roster spot, which will likely go to Tyler Austin whenever he's activated off the 60-day disabled list.