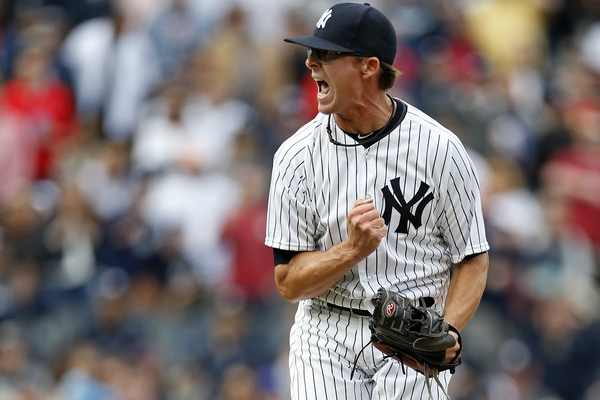 Many relievers live off intimidating opposing hitters. Aroldis Chapman comes at you with 100+ mph and a changeup that hits 90. Dellin Betances can touch 100 and has a curveball that can't be touched when he's on. Former Yankee Andrew Miller comes at you with his 6-foot-7 frame and tosses his signature slider with a fair dose of imposing fastballs.
Tyler Clippard doesn't really fit that category. But that hasn't stopped the Yankees now-setup man from not only carving out a solid career, but continuing to excel at 32.
Thoughts of doom crept in when Clippard was traded to the Yankees at last year's deadline. A flyball pitcher at Yankee Stadium? A guy seemingly on the downside of his career having a sub-par season? Yikes. The idea that he would replace Miller seemed laughable. For me personally, I had most recently seen Clippard struggle in the 2015 postseason for the Mets, leaving an impression that was at least somewhat misleading.
But his 3+ months back in pinstripes have been fine. Actually, better than fine. He's thrown 40 2/3 innings over 46 appearances, allowing just nine earned runs while striking out 47 batters. That's good for a 1.99 ERA and 10.4 K per nine. His ERA had steadily climbed since his 2014 All-Star appearance and he was typically worse in the second half, so his resurgence has been surprising and that much more rewarding and exciting. This is a homegrown talent returning to the Bronx and thriving, even if it's been less than a full year's worth of work.
And it doesn't hurt to have a goofy guy who seems to be genuinely nice getting big outs for you, adding to the overall Clippard experience.
WATCH OUT THE CLIPPARDBOT IS MALFUNCTIONING pic.twitter.com/RHM6GHTBUt

— Subpar Fundies (@goodfundies) March 19, 2017
He goes out there with a top-notch changeup and a fastball with some "rising" action, a quality slider and splitter, and all of this plays up in part thanks to his quirky motion. It's not something to teach your kids, but you can't say it doesn't work.
Don't get me wrong, he can terrify you with some of his appearances. We're still talking about a flyball pitcher in a park that plays very small. He's typically off to fast starts (2.50 and 2.14 ERA in first two months, respectively for his career) before the summer air aids a few more flyballs in their pursuit of becoming home runs in June and July. His 2016 return was all rosy in August until hiccups came in September.
We were indoctrinated early in 2017 about his potential pitfalls when he earned a loss against the Orioles with a two-run homer allowed to Seth Smith. And don't act like you weren't biting your nails on the edge of your seat during his save against the Cardinals. Perhaps the best example of how the Clippard experience can frustrate is the Adam Jones catch from March's World Baseball Classic. Clippard's "Oh my" reaction was all of us in that moment.
But he also turns it on at times. He changed the complexion of the 18-inning win vs. the Cubs, ending the 9th inning rally before striking out the side in the 10th. Watch the video below: He utilizes his entire arsenal to create three punchouts.
Compared to most team's "7th inning guy", Clippard is light years ahead. Some teams would even kill for him to be their setup man.
Which, coincidentally, is where he'll be for the next month, taking the 8th with Betances closing. We were spoiled last year with No Runs DMC. Miller is gone and Chapman is hurt, although the Yankees hope he'll be back in a month or so. However, Clippard is adept. He's certainly a non-traditional back-end reliever with below-average velocity, but he's out here with career-best strikeout and walk rates in 2017.
The Tyler Clippard renaissance will only last so long. He has a .161 BABIP and a 98 percent strand rate. His home runs per fly ball are actually up vs. last season, but his 1.17 ERA isn't going to hold and it would be foolish to expect it. He's going to blow at least a game or two, but, then again, so does every reliever.
But Clippard is a pitcher worth enjoying for what he is. Clippard is an above-average reliever who won't overpower or intimidate, but he's beat expectations and he's doing it in a Yankees uniform, coming full circle. If that's not something to sit back and appreciate, then I don't know what is. I suggest enjoying the ride.