Big mailbag this week. Sixteen questions and 15 answers. RABmailbag (at) gmail (dot) com is the email address for all mailbag related correspondence.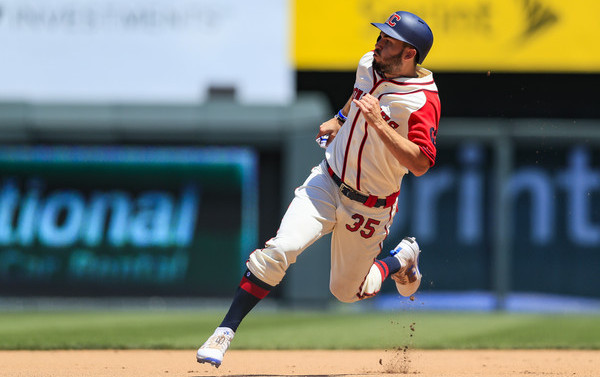 Joe asks: What would an Eric Hosmer deadline trade look like? Do you think it's a potential fit?
The Royals are pretty terrible and Hosmer is one of their many impending free agents, along with fellow core players Mike Moustakas and Lorenzo Cain. Hosmer, 27, went into last night's game hitting .295/.358/.409 (110 wRC+) with three home runs, and he's really turned things round after a terrible start. He was hitting .225/.281/.292 (55 wRC+) on the morning of May 1st.
Hosmer has developed a reputation for being better than he actually is. I guess being a former top prospect and cleanup hitter for a World Series champion will do that. The fact of the matter is Hosmer hit .266/.328/.433 (101 wRC+) last season, and is a career .278/.336/.427 (107 wRC+) hitter in nearly 4,000 MLB plate appearances. That's not awful, but it is below average for a first baseman.
As far as the Yankees are concerned, the question is whether Hosmer would be better than their in-house first base options, specifically Greg Bird and Chris Carter. I guess it depends on Bird's health, really. I'd much rather stick with Bird than give up prospects for Hosmer. But, if Bird's ankle issue lingers and the Royals decide to sell, maybe checking in on Hosmer wouldn't be a terrible idea?
The thing is, I'm not willing to give up a whole lot for Hosmer. I do think he's a better defender than the stats indicate, but he is a below average hitting first baseman, and that's not all that valuable. If the Yankees could build a package around their second tier prospects, guys like Miguel Andujar and Domingo Acevedo, then sure, it might be worthwhile. I can't imagine parting with Tyler Wade or Dustin Fowler for Hosmer though, nevermind Gleyber Torres or Clint Frazier.
Jason asks: Could you imagine a scenario in which the Yankees ownership gets antsy and decides to buy big in either July or this offseason and target Freddie Freeman? What would a package for him look like?
This question was sent in before Freeman took a pitch to the wrist the other day. He'll be out ten weeks with a fracture. Hypothetically though, I don't think trading for Freeman would be an "ownership gets antsy" move. I think everyone would be on board with that, including Brian Cashman and the rest of the front office. There are not many players I would give up Torres to acquire, but Freeman is one of them.
The facts: Freeman is only 27, he is signed affordably through 2021, and he's hit .309/.411/.602 (162 wRC+) with 48 homers in 858 plate appearances since the start of last season despite playing nearly all of his home games in a pitcher's ballpark. He is one of the best and most valuable players in baseball. There's basically no chance the Braves are open to trading him — Freeman is their franchise player, the guy they're building around — but if they decide to put him on the market, the Yankees should go all out to get him. He's an MVP caliber producer.
Would the Braves be wrong to ask for Torres, Frazier, Bird, and Luis Severino? I don't think so. I don't think that's enough, to be honest. Torres and Frazier are great looking prospects, but they're still prospects. Bird hasn't been healthy for a while now. Severino? Well, you have to give something to get something. Add Freeman to Gary Sanchez and Aaron Judge, and the Yankees are set with a monster middle of the lineup. Like I said though, the Braves aren't trading him.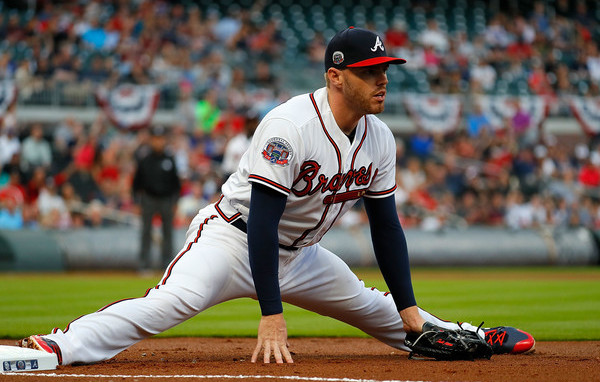 Michael asks: Mike. Am I being irrational in wanting them to trade Fowler but not Frazier (or Torres for that matter) for a SP..?? As a CF Fowler may project as better in the long term, yet I'm fascinated by what Frazier is likely to become and want to keep him no matter.
Not at all. Fowler is getting more hype right now because he's having an insane start to the season in Triple-A, but Frazier remains the better prospect with the higher long-term ceiling. I'm not opposed to trading either! I just wouldn't give them away for a quick fix rental, you know? Trading Frazier or Fowler as part of a package to get a young pitcher with ceiling and long-term control is perfectly cool with me. If I had to pick, I would trade Fowler before Frazier despite their early season numbers. Frazier's upside is too great to ignore.
Pete asks: I just read your post about the OF production and the 160 OPS+. What was the best Yankees OF of the past 25 years based on overall OPS+?
Going into last night's game Yankees outfielders were hitting .303/.407/.572 (157 OPS+) with 31 home runs in 520 plate appearances this season, so they have slipped a tiny little bit since that 160 OPS+ post. That was bound to happen. Even then, the Yankees still have far and away the most productive outfield in baseball. The Nationals are a distant second with a 148 OPS+.
Most of the best outfields in Yankees history are from way back in the day. The Babe Ruth, Joe DiMaggio, Mickey Mantle teams. The most productive outfield in franchise history is the 1940 team (140 OPS+), which was led by DiMaggio. Next best is the 1961 team (135 OPS+), the year Mantle and Roger Maris raced to the single season home run record. Here are the best Yankees outfields over the last quarter-century:
1994: .317/.407/.497 (128 OPS+)
2011: .260/.360/.459 (119 OPS+)
1998: .299/.380/.482 (118 OPS+)
1997: .302/.380/.473 (117 OPS+)
1996: .291/.379/.482 (114 OPS+)
The peak Bernie Williams/Paul O'Neill teams dominate the list, unsurprisingly. The Yankees had some great outfields from 2009-12, though they weren't close to the mid-to-late-1990s teams. I'm not sure the current outfield is good enough to best the 1994 outfield — that was a strike-shortened season, remember — though I do this year's crew will go down as one of the most productive units in recent Yankees history.
Alessandro asks: Who is the 40th man on the roster right now? Is it finally Refsnyder? Or is it someone like Giovanny Gallegos/Mason Williams?
There actually is no 40th man on the 40-man roster right now. Well, no, that's not true. There are 40 players, but Tyler Austin doesn't count against the 40-man because he is on the 60-day DL. The Yankees have an open spot at the moment. Right now, my guess is Dietrich Enns is the last man on the 40-man roster. He's an okay prospect at best and he's currently out with a shoulder injury. Those dudes usually don't stick around long. Refsnyder and Williams are the next men up on the position player side. If an infielder gets hurt, Refsnyder is coming up. If an outfielder gets hurt, Williams is coming up. I don't think either is in danger of losing their 40-man spot right now. Enns is my guess. Tommy Layne might be next.
Charlie asks (short version): While we look great at the plate and pretty good in pitching (when I combine the performance of the starters and the bullpen), I'm wondering how the team ranks in terms of performance in the field. I know defensive stats are tough, but how are we doing?
Here are the defensive stats for the Yankees over the last three seasons (MLB ranks in parenthesis):
| | UZR | DRS | Defensive Efficiency |
| --- | --- | --- | --- |
| 2015 | -19.9 (27th) | -38 (22nd) | .700 (22nd) |
| 2016 | +5.0 (15th) | +1 (14th) | .708 (10th) |
| 2017 | -1.3 (15th) | -2 (16th) | .715 (12th) |
Keep in mind UZR and DRS are counting stats, so the Yankees right now are on pace for -5.7 UZR and -9 DRS, which indicates the Yankees have been worse than last year. I suppose that makes sense. The Carlos Beltran to Judge upgrade is negated by the Mark Teixeira to Bird/Carter downgrade, plus Chase Headley's errors have annoyingly returned.
That said, UZR and DRS aren't perfect. Far from it. On a team-wide scale, I prefer Defensive Efficiency, which is simply the percentage of batted balls the team turns into the outs. The Yankees have converted 71.5% of all balls in play into outs this year, up from 70.8% last year and 70.0% the year before. The MLB average is 70.9% this year. Simplistic? Sure, but I think this works best.
Jerome asks: If Gleyber asks for the number zero would the Yankees give it to him? What will it take for the Yankees to issue the #0 to someone?
I don't think they ever would. The Yankees have never issued No. 0 (or No. 00, for that matter) and it just seems like one of those things they'd never do. Then again, I didn't think we'd ever see a player wear No. 99 either, so what do I know? No. 0 is just weird though. I suppose eventually they will have no choice but to issue No. 0 because so many other numbers are retired, but we'll all be long gone by time that happens. A player wearing No. 0 would be kinda cool — wouldn't Ronald Torreyes be a fun No. 0? — but I'm not going to hold my breath waiting for it to happen.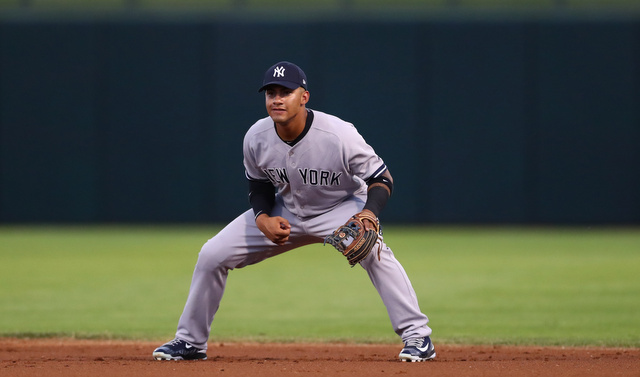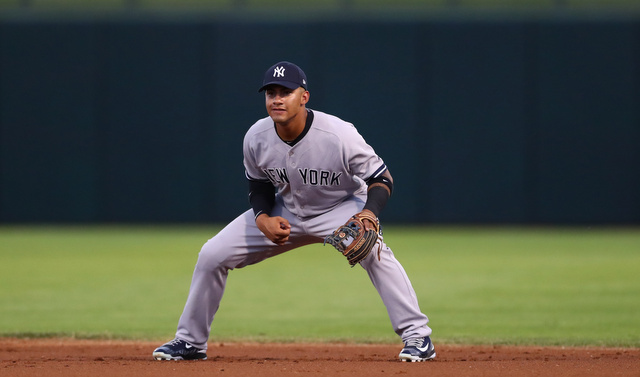 Bobby asks: As I read Steven's piece on the potential for a Yankees-Astros rivalry, I thought about how the battles with Cleveland, Anaheim and Seattle in the past and how replicating those seem less plausible now that teams in the same league but different divisions only play two series per year. Do you support the unbalanced schedule and inter-league play or would you rather balance things out to see the A.L. central/west teams more often?
I would greatly prefer a balanced schedule with no interleague play. It would add more drama and intrigue to the World Series because there's no chance the two pennant winners will have played during the regular season — the Yankees dropped two of three to the Phillies during the 2009 regular season — and also the balanced schedule would make things much more fair. Could you imagine the Yankees if they had, say, the Nationals' schedule? The Nats are going to play 57 games, more than one-third of their schedule, against the crummy Braves, Phillies, and Marlins. A balanced schedule would make things more fair for everyone, especially since the postseason seeding is determined by regular season record. Interleague play is never going away because it's too popular among casual fans and there's too much money to be made, and the unbalanced schedule is more about travel than anything. I don't see these things going away anytime soon.
Jim asks: I was a little surprised the Yankees held back former top international signee Dermis Garcia based on the power he showed last year (13 Hrs in 194 ABs) for extended spring training. Seems like move was based on his contact issues the first few years stateside. Might it be to rebuilt or tweak his swing to produce better contact? The Yankee minor league philosophy has been leave them alone initially before making changes.
On a scale of 1-10, I'm about a three with my level of surprise for Garcia being held back in Extended Spring Training. I thought he would start the season with Low-A Charleston, but holding back a 19-year-old kid who had a 34.3% strikeout rate in rookie ball last year is not stunning, regardless of his power output. The Yankees felt Dermis required more seasoning and instruction than full season ball allows, so they kept him in ExST. Not a huge deal or terribly surprising, as far as I'm concerned.
John asks: Do the Yankees have a better bullpen now than in 2016? Do you agree? Disagree? Why? Obviously without Andrew Miller who is arguably the best reliever in all of baseball it's a tough argument to make, but on some level it does make sense due to the depth.
I do think the 2017 bullpen is better than the 2016 bullpen, at least when Aroldis Chapman is healthy. The Chapman-Dellin Betances-Andrew Miller trio is unmatched. Those guys were devastating for the short time they were together. Chapman-Betances-Tyler Clippard is a pretty great end-game trio too, but Clippard is not Miller, so this year's late-game relievers aren't as good as last year's.
The key difference between the 2016 bullpen and the 2017 bullpen is depth. Adam Warren and Jonathan Holder, the fourth and fifth relievers in this year's bullpen, are far better than the guys who held those roles last year. Do you remember who they were? It was Kirby Yates and Anthony Swarzak. Yeah. Really though, they were shuttle spots with others like Chasen Shreve, Nick Goody, and Richard Bleier. Either way, give me Warren and Holder over those guys any day of the week. No Miller stinks. He's awesome. But the Yankees have a much deeper relief crew right now than they did a year ago.
Billy asks: MLBTR had a phenomenal in-depth look at the 1992 expansion draft. Using the same rules, who do you think would be the 15 protected players in the Yankees' organization right now?
An expansion draft would be pretty fun to cover as a baseball writer dude. I'm jealous of all the NHL folks who get to analyze the expansion draft this summer. Anyway, here are the 1992 expansion draft rules:
Teams could protect only 15 players in the entire organization for the first round.
Players with no-trade clauses (either contractual or 10-and-5 rights) had to be protected.
After the first and second rounds, AL teams could protect an additional four players.
Players selected in the 1991 and 1992 drafts did not have to be protected.
International free agents signed at 18 or younger from 1990-92 also didn't have to be protected.
So let's assume there will be an expansion draft after this season, meaning 2014-16 international free agents and 2015 and 2016 draftees do not have to be protected. Here is my protection list for the Yankees:
First Round: Dellin Betances, Greg Bird, Starlin Castro, Aroldis Chapman (no-trade clause), Jacoby Ellsbury (no-trade clause), Dustin Fowler, Clint Frazier, Didi Gregorius, Aaron Judge, Jordan Montgomery, Gary Sanchez, Luis Severino, Masahiro Tanaka (no-trade clause), Gleyber Torres, Tyler Wade.
Next Four: Miguel Andujar, Aaron Hicks, Jorge Mateo, Justus Sheffield.
Next Four: Albert Abreu, Luis Cessa, Chad Green, Bryan Mitchell.
Teams can only lose one player per round, and I assume the Yankees would lose one of those pitchers in the first round. Probably Sheffield since he's the best prospect of the bunch. It's not often you can grab a top 100 caliber prospect in an expansion draft. Perhaps the expansion team would pop Hicks, though he doesn't come with a ton of team control (free agent after 2019).
Keep in mind notable prospects like Chance Adams, James Kaprielian, Blake Rutherford, and the entire 2014-15 international signing class are not eligible for the expansion draft. They were all acquired too recently. Also, CC Sabathia and Michael Pineda will become free agents after the season, so they don't have to be protected. The notable players left unprotected include Tyler Austin, Brett Gardner, Chase Headley, Jonathan Holder, Rob Refsnyder, and Adam Warren.
Simon asks: I've noticed that various folks have called Dellin Betances' breaking ball as a curve, knuckle curve, slider. To me it looks like a curve. Can we determine once and for all what breaking pitch he actually throws?
The grip never lies. Here is a screen grab of Betances throwing his breaking ball from FanGraphs:
That's a knuckle curveball grip. Mike Mussina used to throw that pitch too. Betances himself calls it a curveball, not a slider. The grip says it all though. His knuckle is on the ball, therefore it's a knuckle curve. It's a very hard knuckle curve — the pitch is averaging 83.7 mph this season — but it's a knuckle curve nonetheless.
Brent asks: Thairo Estrada has been performing pretty well for a few years and as of late has been on fire. He's young and seems to be very well rounded. Is he emerging as maybe a top 5 prospect in the Yankees system? With some guys graduating and his good play.
Bob asks: I get why the Yankees are exploring using Tyler Wade all over the field. Why aren't they doing the same thing with Thairo Estrada? He has played 3b and 2b in addition to his natural ss position so why not the outfield as well?
Going to lump these two questions together. I love Estrada as much as anyone, but no, I don't see him as a top five prospect in this system. His offensive ceiling is too limited by his lack of power. Perhaps he'll grow into some more pop and outperform expectations. That would be cool. I do love me some Thairo though. That dude can flat out play.
As for the outfield, I think it is a very real possibility. Estrada is a natural shortstop who has played a ton of second and third base in deference to higher ranked prospects (Torres and Mateo, most notably), and the outfield could be next. Keep in mind the Yankees didn't have Wade play the outfield until after he mastered Double-A. They could do the same with Thairo. Wait until it's crystal clear he's an MLB option with no clear path to playing time on the infield.
Anonymous asks: Since it looks like SD has no intention of returning Torrens, do you think they would be amenable to a trade that will allow them to send him back to the minors for seasoning instead of eating an entire year of development? What do you think the Yankees could ask for and what do you think SD would agree to surrender to make this happen?
Generally speaking, teams don't give up a whole lot to acquire players already in their organization. The Padres already have Luis Torrens, and while I'm sure they'd love to send him to the minors for regular at-bats, I don't think they'd part with even a decent prospect to make it happen. Last year the Padres traded cash to the Mariners to keep Jabari Blash, a Rule 5 draft pick. Torrens is better than Blash, but still, San Diego already has him. Why give up something worthwhile to acquire him again? Maybe the Yankees could get a Grade-C prospect, someone from the back end of their top 30 prospects list, but that's probably it. The Padres have little reason to pursue a trade unless they determine there's absolutely no way to keep Torrens on the MLB roster much longer.
Dan asks: In wake of Aaron Judges and Gary Sanchez's high exit velocity, should the Yankees reconsider putting up extended netting down the foul lines? Do you think there is an increased risk of injury as players start hitting the ball harder? Could they do so on their own, or do they need permission from MLB?
Teams are free to do it on their own, and I am all for extended netting. Players are so big and strong these days, and everything on the field is happening faster than ever before. A woman sitting behind the dugout got hit by a flying bat earlier this year and the game was delayed nearly ten minutes while she received medical attention.
"Pay attention and watch the game!" is not a realistic solution, and "fans won't be able to get autographs" is not an acceptable reason to keep the netting as is. The netting extends all the way around, from foul pole to foul pole in Korea. There's no reason MLB can't do the same. Given the way things are going now, it's only a matter of time until a fan gets killed by a foul ball. The longer MLB waits to extend the netting, the more likely it is to happen. They need to be proactive when it comes to safety. Not reactive.