There are 13 questions and eleven answers in this week's mailbag. Remember to use the RABmailbag (at) gmail (dot) com email address to send us any questions. We get a lot of them each week, so don't take it personally if yours doesn't get picked. Keep trying.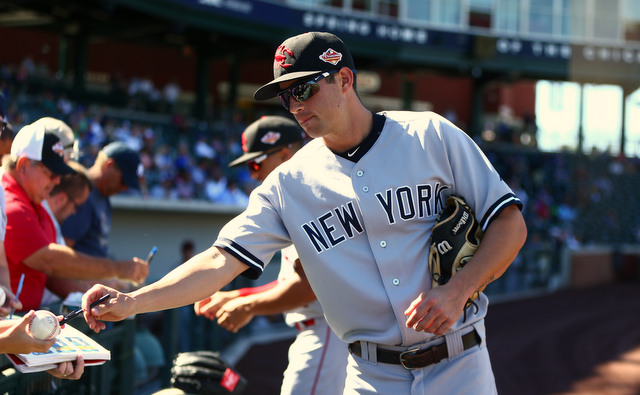 Many asked: Talk to me about Tyler Wade.
Lots of mailbag questions about Wade this week, for some reason. Kinda came out of nowhere. I guess that's what happens when a 22-year-old is hitting .307/.380/.436 (133 wRC+) while playing six different positions at Triple-A. Anyway, I'm going to try to hit on all the popular questions, so let's get to 'em.
Could he be the answer at third base? Possibly. Chase Headley is doing the reverse of last season. He was terrible last April and then pretty solid the rest of the season. This year he was great in April, and he's been inexcusably bad since. I don't think Headley is really this bad, but if he keeps it up, the Yankees will have to make a change. What could Wade give you right away? Eh, it might not be pretty. ZiPS pegs him as a true talent .224/.284/.315 big leaguer right now and I don't think that's terribly far off from what Wade will give you in his first taste of the show. That said, I wouldn't surprised if Wade outperformed that projection because he's a contact guy and a really smart hitter. I think I'd rather see the Yankees go outside the organization for short-term third base help (rental Todd Frazier?) than hand the keys to the hot corner over to Wade this summer.
What do the Yankees do with him and Torreyes? There's room for both on a four-man bench. Wade would essentially take the Chris Carter spot. The Yankees would have a backup catcher (Austin Romine), a backup infielder (Ronald Torreyes), a backup outfielder (Aaron Hicks), and then what amounts to a flex spot. Having Wade and Torreyes on the bench would give Joe Girardi more flexibility to pinch-run and rest guys, things like that. I like Torreyes. I like him a lot! But if it ever comes down to Torreyes or Wade for a bench spot, give me Wade. The Yankees don't have to make that decision yet though. Probably not until next year at the earliest.
Are you worried about all the errors? Nah. Wade has nine errors this season: seven at shortstop, and one each at second and third base. Minor league errors aren't really indicative of anything. The fields aren't in the best shape and there's a lot of hometown scoring. And, of course, the players are learning. Every time you move up a level, the game moves a little faster. Wade has been in Triple-A a little less than two months now. He's a really good athlete with good hands and good footwork. The tools are there for him to be a good defensive player. I wouldn't sweat the errors one bit.
Where does he fit long-term? I think the Yankees are trying to turn Wade into their Ben Zobrist, their super utility guy who gets 500-something plate appearances while playing all around the field. It never seems to quite work out that way — even Zobrist spent most of his time at second base, and moved around only on occasion — but that's the idea. Injuries happen. Wade could spend a month filling in at shortstop, then six weeks in left field, then bounce around a little bit. Something like that. The Yankees have moved Wade around pretty aggressively since the Arizona Fall League, and he's handled it well. He's made himself more valuable through versatility, and because of that versatility, he's carved out a spot in the team's long-term plans. He'll fit somewhere. Wherever the Yankees need him.
A few asked: What about Brad Hand?
The Padres are terrible and Hand, a shutdown left-handed reliever, is arguably the most valuable trade chip remaining on their roster. Buster Olney reported a few days ago that San Diego is letting teams know they are open for business, and Hand is the primary piece they're discussing. He's available. There's no doubt about that.
Hand, 27, spent a few years as a spot starter/long man with the Marlins before the Padres put him in short relief last season, where he's thrived. Last year he had a 2.92 ERA (3.07 FIP) with 30.5% strikeouts and 9.9% walks in 89.1 innings. So far this year he's at 1.73 ERA (2.84 FIP) with 32.7% strikeouts and 9.4% walks in 26 innings. Hand has always had a good slider, and his velocity has ticked up into the 93-95 mph range with the move to short relief.
Hand turned 27 in March and he's under team control through 2019 as an arbitration-eligible player, so he's on the right side of 30 and he's not a rental. Seems like a pretty good trade target, no? I think so. Especially since he dominates lefties (.211 wOBA since Opening Day 2016) and more than holds his own against righties (.283 wOBA). He's a full inning reliever who happens to be left-handed.
I'm curious to see how the Padres value Hand. Do they market him as Andrew Miller without the hype? You could make the argument Hand is the closest thing to Miller in baseball right now with Aroldis Chapman and Zach Britton hurt. He's been that good. I have a hard time thinking the Padres will settle for one good prospect and an interesting secondary piece here. They're going to ask for the moon, which is what I would do.
That said, are teams going to be willing to pay big for a guy who was on waivers just last season? (The Padres plucked him Hand waivers from Miami at the end of Spring Training last year.) It only takes one team to take the plunge of course. There is no shortage of contenders in need of another dominant bullpen arm. My guess is the Yankees will resist trading notable prospects for a bullpen arm, even one as good as Hand. They'll look for the next Brad Hand. The guy available for cheap who could benefit from a move into short relief.
Frank asks: Yankees are looking for controllable pitchers. Can the yankees do anything to pry berrios from minny? hes young, has insane stuff, and a free agent after 2023. I know my trade proposals suck, but is gleyber straight up enough?
The Yankees have the pieces to put together a legitimate trade offer for any player in baseball. If the Angels put Mike Trout on the market, the Yankees could make as strong an offer as any other team. The question isn't whether the Yankees can get Jose Berrios, but whether the Twins want to give him up, and my guess is no. They're rebuilding and he is, by frickin' far, their most promising young starter.
Jose Berrios just fanned Caleb Joseph with this absurd breaking ball pic.twitter.com/L1XGrmjygf

— Pitcher List (@ThePitcherList) May 24, 2017
Berrios is a former top prospect — Baseball America ranked him as the 28th best prospect in baseball prior to last season — who was historically bad last year. Not just bad bad, I mean bad for the ages. He had an 8.02 ERA (6.20 FIP) in 14 starts and 58.1 innings. Here is the full list of rookie starters pitchers with an 8.00+ ERA in 50+ innings throughout baseball history:
Jose Berrios, 2016 Twins
That's it. He was awful last year. Berrios started this season in Triple-A and he's been very good since coming up earlier this month, allowing four runs total in three starts and 21.2 innings. Three of those four runs came on solo home runs Wednesday afternoon against the Orioles. Good to see him rebound. Has he been good enough to forget about last season? Eh, little too early to say that. Props to the kid for getting back on track and not letting last year snowball though.
Berrios will turn 23 on Saturday and he is pretty much exactly the type of player I'm talking about when I say I'm open to trading someone like Clint Frazier or Dustin Fowler for a young arm. No chance I'm trading Gleyber Torres for him though. Give me the elite position player prospect over the very good pitching prospect eight days a week and twice on Sunday. I'm wouldn't even trade Frazier for Berrios straight up. Surely there's a middle ground somewhere, though the Twins have to make Berrios available first, and I don't see that happening.
Scott asks: How about a bad contract swap of Ellsbury for Zach Greinke? With the exception of the last year of Greinke's contract, the difference between the two is around 10 million, and Greinke would be much more useful to the Yanks than Ellsbury is right?
The difference between the two is $10M per year. Greinke is owed $172.5M from 2017-2021. Jacoby Ellsbury is owed $89.5M from 2017-20. Greinke has been awesome this year (2.82 ERA and 3.18 FIP in 67 innings) and I love him, he's a modern day Mike Mussina between his pitching style and grumpiness, but the Diamondbacks can keep that contract. On paper, it makes sense for the Yankees because they need high-end pitching and to clear an outfield spot for younger players, but goodness, taking on nearly $100M in additional contract obligations? No thanks. And how much longer will he be a high-end starter anyway? The time to get Greinke was five years ago, when he hit free agency as a 29-year-old still in his prime. Taking on a 33-year-old pitcher, even a great one, with over $170M remaining on his contract is asking for bad news.
Michael asks: Do you think we'll eventually see Judge move to 1B a la Pujols and Miggy? Feel like it could clear up a potential OF log jam (especially if Harper is ever added to the mix), limit wear and tear on Judge's body, and ultimately, provide a ton of value at an offensive position. Like the actor who played Ron Washington in Moneyball said, "(1B) is incredibly hard," but I bet Judge could pull it off!
I do think it's a possibility. Not right now because Aaron Judge is a really good defensive right fielder, but a few years down the line. Running around the outfield day after day while being 6-foot-7 and 282 lbs. can't be good for the knees, you know? Add that to the normal "he's lost a step" that happens to every player and yeah, a permanent move to first base could be in the cards at some point. When? I have no idea. Judge will answer that for us with his defensive play and health. Could be two years away. Could be ten. I don't think it will happen soon enough to clear up the current outfield logjam, however. That's something the Yankees need to address basically right now.
George asks: Even if Tanaka turns it around at this point (pitches to his normal low 3.00 ERA), he's probably already cost himself dearly in free agency right?
James asks: After his start to the year I find myself thinking, how bad a year (excluding an injury) does Tanaka have to have to not opt out of his contract?
Eugene asks: If Tanaka's troubles are mechanical rather than physical, is there any way a rough season for him could be a minor blessing? If he doesn't opt out and returns to form, that has to be a win.
Might as well lump these three questions together. It's too early to worry about the opt-out and what Masahiro Tanaka is costing himself in free agency and all that. He has 20-something starts remaining. It's not how you start, it's how you finish. If Tanaka pitches like himself the rest of the way, I think he'll opt out and pretty easily clear the three years and $67M left on his contract. Jeff Samardzija led the league in hits, home runs, and earned runs two years ago and still got five years and $90M. Teams are desperate for pitching.
And as Eugene suggested, there's a scenario in which Tanaka not opting out works great for the Yankees. Unless you think Tanaka will now be this bad forever, keeping him for his age 29-31 seasons at $67M total is pretty damn great. Getting a top flight pitcher at that sort of commitment for peak-ish years is damn near impossible. You usually have to give up a ton prospects to get that guy in a trade. This is all a long way off right now. The Yankees have to figure out what's wrong with Tanaka and get him right. The opt-out decision is still six months away.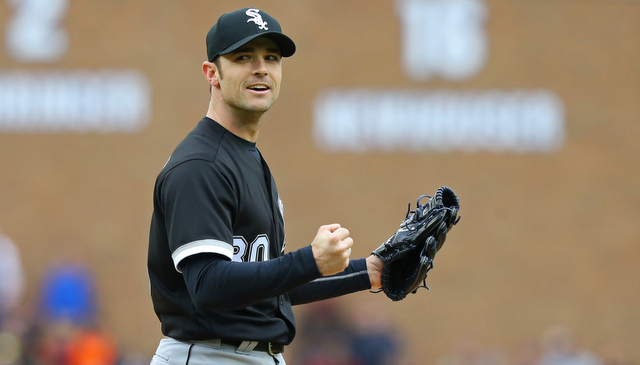 Dan asks: If the White Sox were willing to eat some of the contract, would you be in favor of pursuing David Robertson?
Sure. Robertson is having a great season so far (2.65 ERA and 2.04 FIP in 17 innings) and there's no such thing as too many good relievers. Bob Nightengale reported the White Sox and Nationals came really close to a Robertson trade right before Spring Training. From Nightengale:
The Nationals, according to executives with direct knowledge of the deal, were to send 19-year-old left-hander Jesus Luzardo and minor league infielder Drew Ward to the White Sox for Robertson, with the White Sox eating about half of the $25 million remaining in his contract. But the deal got hung up over money.
The Nationals would have gotten Robertson at roughly $6M per year through 2018 and given up their No. 10 (Luzardo) and No. 12 (Ward) prospects, per MLB.com. The Yankees have a deep farm system, so their No. 10 (Albert Abreu) and No. 12 (Jordan Montgomery) prospects according to MLB.com sure as heck aren't equal to Washington's. A more appropriate trade equivalent is probably something like Dillon Tate and Hoy Jun Park. Or Domingo Acevedo and Nick Solak. My guess is the Yankees would say no to that, even with the ChiSox eating half of the money left on Robertson's deal. I'd probably be fine with it. Prospects are a renewable resource.
Paul asks: I know I'm getting ahead of myself, but what's the better defensive alignment: Didi at SS and Gleyber at 3B or vice versa? I'm assuming the former.
I have no idea. We haven't seen any reports on how Torres is adjusting to the hot corner yet. And how would Didi Gregorius handle third base? He's played ten innings at the position in his professional career. My guess is Gregorius at short and Gleyber at third would be the better alignment because Didi is so good at short. Torres is good too! But I think Gregorius is better, so keep him at the tougher position.
John asks: Do you think the new character of the team (more young and hungry players, less overpriced has-beens) will have any influence over how individual players do in the end-of-season award voting? There's been a bias in the past, but (not to get ahead of ourselves) will Castro show up better in MVP voting because he's on an "underdog"?
Interesting. I hadn't thought about that. There has been something of a bias against Yankees in awards voting for a long time now. It takes an incredible season far beyond what everyone else is doing for a Yankee to win a major award, a la Alex Rodriguez in 2007. They still get plenty of votes — CC Sabathia finished top four in the Cy Young voting every year from 2009-11, for example — but Yankees always seem to be underrepresented.
I think that bias stems from the belief the Yankees are supposed to be good and have such a big advantage due to their payroll. The Yankees definitely have a huge payroll advantage, but are they supposed to be good now? I don't think many folks pegged them as anything more than a possible wildcard team this year. They're overachieving! It's a weird feeling. Maybe that could sway the voters to put Yankees higher on their ballots, though I'm going to need to see it to believe it.
Alessandro asks: Looking around the league, there are plenty of teams that need bullpen help. We have an upcoming 40 man crunch, would this be the trade deadline to start doing 2 for 1 deals with relievers (Tyler Webb, etc) to clear some of that up?
Two things about this. One, I have no issue with keeping all the pitching. I'd rather have it and not need it than need it and not have it. Guys like Webb and Ernesto Frieri and Gio Gallegos aren't great, but they're usable depth arms. And two, these guys don't have a ton of trade value anyway. You're not going to package two or three together and get one nice piece out of it. Webb was on waivers at the end of Spring Training as part of the Rule 5 Draft return process, and no one grabbed him. Frieri was unsigned until March. These guys don't have a huge impact on the 40-man roster situation. They're pretty replaceable.
Julian asks: Should the Yankees consider dumping Layne for Tyler Webb? Layne isn't getting the job done and Webb seems to be tearing up AAA this month, getting both lefties and righties out.
Yeah, I think so. Tommy Layne's leash shouldn't be long. He's a career journeyman, and if you cut him loose and he has success elsewhere, who cares? Not a huge loss. Webb has been phenomenal for Triple-A Scranton this season, pitching to a 3.27 ERA (0.98 FIP) with 33 strikeouts and no walks in 22 innings. He'll turn 27 in July and this is his third full season at Triple-A. There's a glaring need for a lefty in the big league bullpen. If they're not going to try Webb now, they probably never will. I'd make the change. Chances are it wouldn't amount to much of anything anyway, so I wouldn't sweat it.