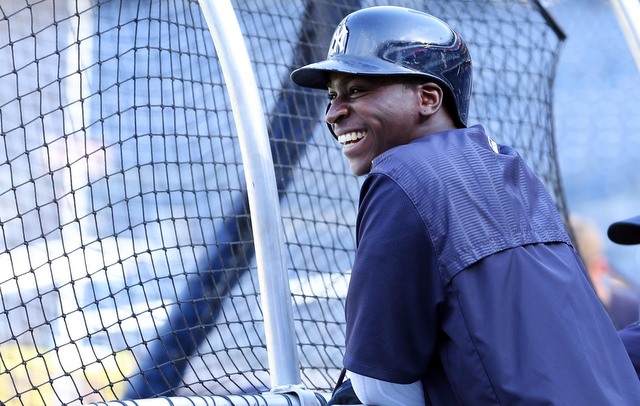 Last night the Yankees did a number on Jason Vargas en route to an 11-7 win over the Royals. The Yankees extended their AL East lead to 1.5 games over the Orioles, and although that doesn't mean a whole lot in May, it's better than being 1.5 games back, isn't it? Also, the Yankees boast the baseball's best run differential at +63. That's pretty cool.
Following last night's win, Didi Gregorius fired off a celebratory tweet, as he does after just about every win. They all start with #StartSpreadingTheNews and end with WHAT A GAME too. Love it. Such a fun little tradition. Here is last night's post-win tweet:
#StartSpreadingTheNews yankees win great start by #BigMike going 6+ and #?? with 3run homer .. WHAT A GAME!!

— Sir Didi Gregorius (@DidiG18) May 18, 2017
He's got the #BigMike hashtag in there for Michael Pineda and … an old man emoji for Aaron Hicks? Hicks hit the three-run home run last night. The emoji has white eyebrows so yeah, it's definitely an old man. What's up with that? Is it because Hicks likes golf? That's kind of an old man thing. Or maybe because he's bald like the emoji? That's it. It's because Hicks is bald. Has to be.
Here is the tweet Didi sent out following Tuesday's series-opening win over the Royals.
#StartSpreadingTheNews yankees Win Great start by #CC going 6+ … #EL? 3run HR and #? with 2run HR… WHAT A GAME!!!

— Sir Didi Gregorius (@DidiG18) May 17, 2017
A squid for Gary Sanchez! Or is that an octopus? I think it's a squid. Either way, Sanchez is the Kraken — he can thank Brian Cashman for that nickname — and the squid/octopus fits perfectly.
What about the rhino though? That's Chris Carter. He hit the two-run home run Tuesday. Is Carter a rhino simply because he's a big strong dude? Because he's deceptively fast? Rhinos can run up to 34 mph, you know. The internet told me that. Is it because his eyesight is poor and he strikes out so much? Rhinos have bad eyesight too. That can't be it. That's too mean. I'm going to say Carter is a rhino because they're both big and strong. Perhaps an ox emoji would have been better, but rhinos are cooler than oxen.
The Yankees came back for a win over the Astros in the first game of Sunday's doubleheader, and between games Gregorius broke out the ultra-rare five emoji tweet to celebrate.
#StartSpreadingTheNews yankees Win… #?lin 2r hr, #?????solo hr, #?solo hr and #???clutch base clearing 3triple … WHAT A GAME!!!

— Sir Didi Gregorius (@DidiG18) May 14, 2017
Okay, the first two are kinda easy. The star is Starlin Castro. He hit a two-run game-tying home run. The Judge is, well, Aaron Judge. He hit a solo shot to give the Yankees the lead as part of back-to-back homers with Castro.
Now we move on to the clown, who is Brett Gardner. He's hit the other solo home run. To further confirm the clown=Gardner dynamic, here is the tweet Gregorius sent out after Gardner's ninth inning game-winning home run against the Cubs two weeks ago:
#StartSpreadingTheNews yankees Win #BigMike getting his first MLB hit…. clutch 3run homer by ? … WHAT A GAME!!!!

— Sir Didi Gregorius (@DidiG18) May 5, 2017
That was a fun game, wasn't it?
Anyway, you know why Gardner is the clown? I'll tell you why. Because he's the biggest jokester on the team. He's the dude who pranks everyone and keeps the team loose. You wouldn't think Gardner is that guy, but he is. Next time you're at Yankee Stadium, pay attention to the between-innings entertainment on the scoreboard. There's one skit in which they ask a bunch of players who the funniest guy on the team is, and to a man, they say Gardner. That's why he's the clown.
Okay, going back to the original May 14th tweet, we're left with a fist and a red angry face. That's … Chase Headley? He had the bases clearing triple that game. Has to be him. I have no idea why Headley is a fist and an angry red face. He doesn't strike me as a fighter or a guy who gets mad a lot. Could it be because he's intense? We've seen Headley get pretty fired up at times, either after a big hit or a big play or whatever. Example:
I'm at a loss for this one. Headley as fist plus angry red face is a #thingtowatch. A developing situation.
Let's now go back to May 6th, the middle game of that three-game sweep at Wrigley Field.
#StartSpreadingTheNews Yankees win great start by #??bomber going 6+ and 2run homer by #?and 3run homer by #??… WHAT A GAME!!!

— Sir Didi Gregorius (@DidiG18) May 7, 2017
Two-run homer by the star (Castro)? Check. Three-run homer by the bald guy (Hicks)? Also check. That leaves the baby emoji in baby bomber, a phrase usually reserved for hitters, but in this case it goes to a pitcher, Jordan Montgomery. He pitched that day. 24-year-old Jordan Montgomery, who is 6-foot-6 and 225 lbs., is the team baby. Didi has spoken.
Okay, we've got one more postgame tweet and two more player-specific emojis to cover. Here's the tweet:
#StartSpreadingTheNews Yankees Win…3run HR # ??? and 2run Hr by #?????AllRise … #???to Close the Game… WHAT A GAME!!

— Sir Didi Gregorius (@DidiG18) May 4, 2017
May 3rd was the final game in the series against the Blue Jays, when the Yankees came back in the seventh inning against Joe Biagini. Gregorius drove in the go-ahead run with an infield single that game. He doesn't have an emoji for himself, as far as I can tell.
Anyway, Judge smashed a two-run home run against Marcus Stroman that game — I guess there's no short guy who finished his degree while rehabbing a torn ACL emoji? — so we get the judge emoji. The fire to close out the game? Aroldis Chapman. That one is easy.
That leaves us with the big biceps and expressionless face, which is Matt Holliday. He hit the three-run homer. Have you seen Holliday's arms? They're the size of my thighs. Holliday could give Joe Girardi a run for his money in the big arms contest. Judge too, for that matter. Ditto Clint Frazier whenever he gets called up.
What about the face though? Is it because Holliday never smiles? Now that I think about it, I can't remember ever seeing him smile. He's always super serious. That's okay. He's the grizzled veteran who was brought in to show the kids how to win and all that. It's a serious job. I just enjoy that Didi decided a boring face emoji is most appropriate for Holliday.
The Yankees are off to a great start this season and this team is, rather easily, the most likeable group of players the Yankees have had in a long time. The young players are a big part of that, and Didi himself is a young player. He's only 27. This team is so very fun and easy to root for, and after each win, Gregorius marks the occasion with a tweet. It's the best. Love this team, you guys.