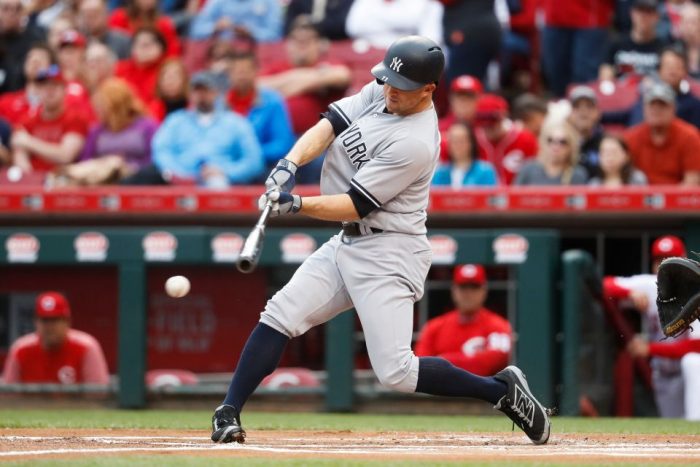 No sleep, no problem
The Yankees arrived bleary-eyed in Cincinnati just as the sun was rising on Monday morning, but there was no hangover from Sunday's epic marathon game when they took the field against the Reds later that night.
They put up a three-spot on the Reds in the top of the first inning and cruised to a 10-4 win, giving them a remarkable 21-9 record. There is obviously a ton of baseball to be played, but it's still worth putting their win total in perspective at this point in the season.
This is the 17th time in franchise history the Yankees have won at least 21 of their first 30 games. Here's the breakdown of how the previous 16 seasons ended up:
Won division/league – 15 (all except 2010)
Made World Series – 15
Won World Series – 12
A look at their run differential (currently +58) through 30 games tells a similar story. This is 15th time in franchise history the Yankees have outscored their opponents by at least 58 runs through 30 games. Here's the breakdown of how the previous 14 seasons ended up:
Won division/league – 12 (all except 2010 and 1931)
Made World Series – 12
Won World Series – 11
Back to Monday's game … the Bronx Bombers continued to do Bronx Bomber things, belting two more homers to give them 50 on the season. This is the second-fastest the Yankees have reached the 50-homer milestone, behind only the 2003 team that that hit their 50th longball in their 28th game.
Masahiro Tanaka was good but not great, though the most important number he tallied was seven – his innings pitched – ensuring that Joe Girardi wouldn't have to dig deep into his very tired bullpen. Since Tanaka's debut in 2014, he has 39 outings of seven innings or more. That nearly three times as many as any other Yankee has produced in that span (CC Sabathia is second with 15).
Gary Sanchez was the most consistent offensive threat for the team in this game, getting on base all five times he came to plate, as went 3-for-3 with a walk and hit-by-pitch while driving in two runs. It had been more than five years since a Yankee catcher reached base five times in a game: the last guy to do it was Jesus Montero on September 22, 2011 against the Rays.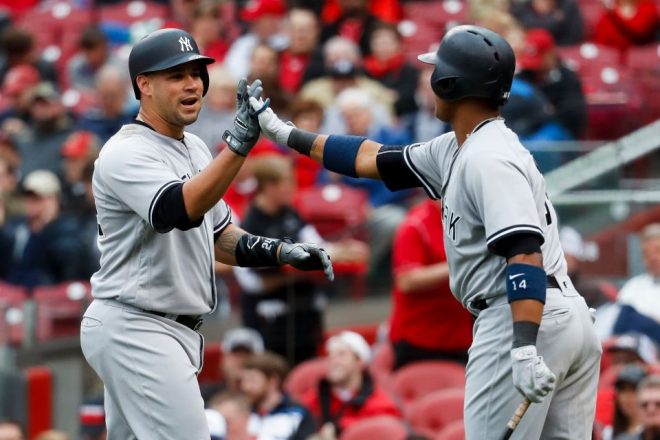 Zero heroes
The Yankees six-game win streak came to an end on Tuesday night in a 5-3 loss to the Reds, as they capped off their five-game road trip on a disappointing note.
You can't win 'em all, especially when you're starting pitcher gives up five runs in the second inning to cough up a 2-0 lead. Aside from that horrible inning, CC Sabathia held the Reds scoreless, but the damage was done. He's now allowed at least five earned runs in three consecutive starts, matching the second-longest streak of his career, and his ERA has ballooned to a rotation-worst 5.77.
Gary Sanchez put the Yankees on the board first, launching a 448-foot homer in the first inning, the longest home run of his career. He bookended that blast with a game-ending double-play in the ninth inning, drilling a 110.2 mph line drive into the glove of Reds third baseman Eugenio Suarez.
He's now just 2-for-6 (.333) when hitting a ball with an exit velocity of at least 110 mph (league batting average is .743). His four outs on batted balls with an exit velocity of 110-plus mph match the total number that the rest of the Yankees have produced this season.
Brett Gardner extended his hit streak to a career-best 12 games with a fifth-inning single. That's the second-longest hit streak by a Yankee left fielder over the past decade, behind only a 13-gamer by Ichiro in 2012.
Dellin Betances walked the first two guys he faced in the seventh inning but then — unsurprisingly — recovered to strike out the side and end the threat. His third strikeout lowered his career batting average allowed with runners in scoring position (RISP) and two outs to .137 (21-for-153), breaking a tie with Dodgers closer Kenley Jansen for the lowest mark among active pitchers (min. 100 at-bats).