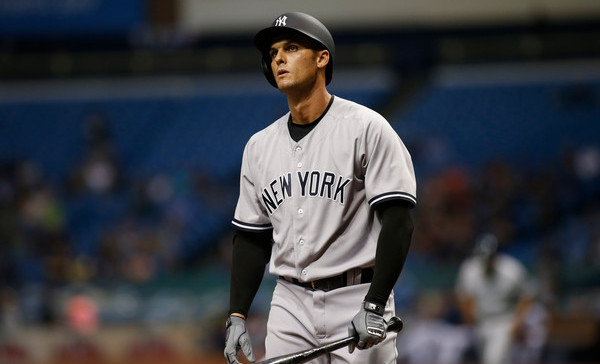 Greg Bird will finally get a chance to rest his achy ankle. Earlier today the Yankees announced they have placed their young first baseman on the 10-day disabled list with a bruised right ankle. Joe Girardi said Bird had an MRI a few weeks ago and another one today, and both showed a bone bruise that is healing slowly. Rob Refsnyder has been called up from Triple-A Scranton to fill the roster spot.
"In watching him yesterday, and talking to (hitting coach Alan Cockrell) about his work yesterday, I just didn't feel like there was a lot of explosion in his lower half," said Girardi. "We talked after the game. We felt that we just need to give this some time … He just felt like his ankle wasn't working properly. Yesterday was the first day I really, really noticed it."
Bird, who missed all of last season with shoulder surgery, has been playing through soreness since fouling a pitch off the ankle at the end of Spring Training. He sat out a few games early in the season to rest the ankle and also get over an illness. Girardi said Bird will be shut down completely for 7-10 days — he won't make the road trip with the Yankees — and they'll reevaluate him after that.
"I know what I am capable of and those guys know, too. It's frustrating but you got to deal with it," said Bird to George King yesterday. "I have been open to them and I am playing and giving my all … (The ankle) is slowly getting better. When I am playing I am playing."
Bird had a monster Spring Training and is off to a dreadful start to the regular season, hitting .100/.250/.200 (35 wRC+) with 30.6% strikeout rate in 72 plate appearances. His timing seems completely off at the plate — the bone bruise is in his right ankle, his front ankle when hitting, so it could have an effect on his leg kick — and he hasn't looked 100% when running either.
Letting Bird play through the ankle soreness perhaps wasn't the team's best idea, especially given what happened with Mark Teixeira and his bone bruise two years ago. Hopefully this disabled list stint does the trick. The ankle gets to heal, Bird gets a bit of a mental break, then he can go rake in a few minor league rehab games before rejoining the Yankees.