Now that's how you start a series. The Yankees rebounded from a disappointing series in Camden Yards to hammer the Blue Jays in the series opener at Rogers Centre on Thursday night. Bit of a statement game. Toronto had been playing well and were surely looking to gain a lot of ground in the standings this weekend. The Yankees put them in their place. The final score was 12-2 good guys.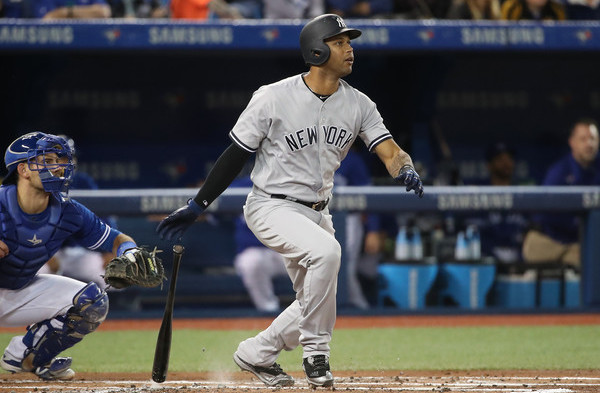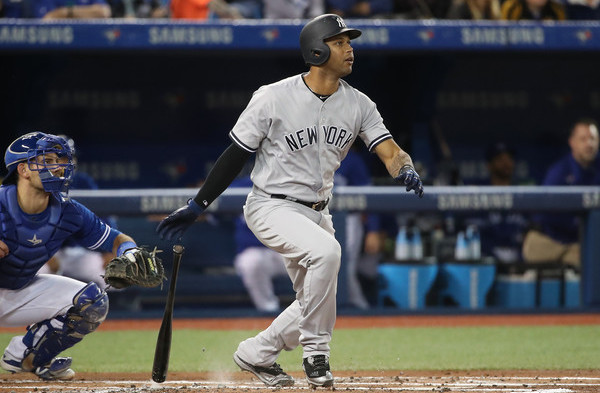 A Four-Run First
Remember the other day when I said I love getting a first inning run on the road? It's so great. You force the other team to play catch-up before they even come to the plate. The Yankees did exactly that Thursday night, though instead of scoring one run, they scored four. Love it. A double by Brett Gardner and a single by new No. 3 hitter Aaron Judge scored the first run. Nice and quick.
After the Judge single, Matt Holliday picked up a one-bagger of his own, then Starlin Castro drew a walk to load the bases with one out. It looked like the Yankees were going to waste the opportunity after Didi Gregorius struck out and Aaron Hicks swung through a Marco Estrada changeup, but thankfully Hicks connected with the 1-1 pitch from Estrada for a booming bases-clearing double to right. It was LOUD. I thought it was way gone off the bat. Instead, it sailed over Jose Bautista's head and went to the wall. Works for me. Seven batters into the game, the Yankees led 4-0.
You Can't Spell Kraken Without Rake
The last week or so has been kinda weird for Gary Sanchez. He's been a bit jumpy at the plate and it felt like he was slumping, yet he went 4-for-13 (.308) in Baltimore. There won't be any talk about a slump now. Sanchez smacked two home runs against Estrada on Thursday, the first a solo shot and the second a two-run job. He made obscure Statcast history in the process:
.@ElGarySanchez joins @Giancarlo818 as only players in '17 to hit TWO HR at 110+ mph, 430+ ft in one game. https://t.co/Y7INWiaKkn #Statcast pic.twitter.com/xhyvHEoQFv

— #Statcast (@statcast) June 2, 2017
Sanchez is now 4-for-8 with four home runs against Estrada in his career. The one time he faced him in this game and didn't hit a home run, he hit a line drive right to center fielder Kevin Pillar. Some guys just throw your speed, you know? Sanchez now has six homers in 26 games this year. That's a 37-homer pace across 162 games. Some slump, huh?
Another Strong Start For Sabathia
Nice 4-0 lead after the top of the first? A veteran pitcher knows what to do with that. CC Sabathia has been there, done that. His biggest jam came in the second inning, which Kendrys Morales and Justin Smoak started with back-to-back singles. Two fly balls and a strikeout later, the inning was over. CC threw 23 pitches that inning and never more than 15 pitches in any of his other five complete innings.
After the Smoak single Sabathia retired 15 of the final 18 batters he faced, and one of the three baserunners was an infield single. It wasn't until the seventh inning, when the Yankees were up 9-0, that Sabathia allowed a run. It was a Morales solo homer on a pitch that can best be described as a "we're up 9-0 and the leadoff hitter in the seventh inning has a full count" fastball. A get-me-over I'm not walking you heater, you know? Even then it only barely cleared the wall.
The final line: 6.1 IP, 5 H, 1 R, 1 ER, 0 BB, 7 K. Sabathia threw 102 pitches and is sporting a 4.12 ERA (4.44 FIP) on the season. He's allowed no more than two earned runs in seven of his eleven starts. Outside that miserable four-start stretch a few weeks ago — and it was truly awful (22 runs in 20.2 innings) — Sabathia has been rock solid this year. He's given the Yankees exactly what they need. Pretty awesome the big man has figured out how to make it worth with reduced stuff.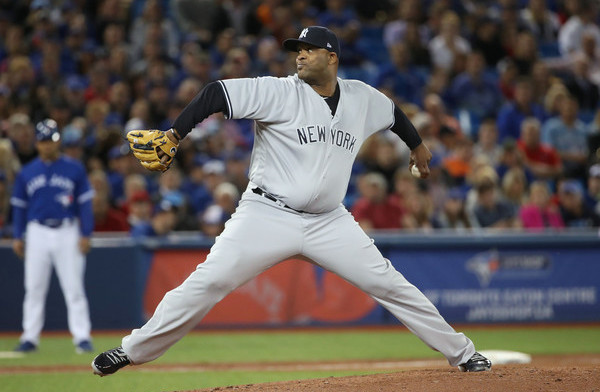 Leftovers
The Yankees were nice enough to tack on insurance runs in the late innings. A Hicks double and a Chase Headley single drove in two runs in the seventh to stretch the lead to 9-0. Gregorius was nearly thrown out at the plate on the Hicks double, but replay confirmed he was safe. Then, in the ninth, Hicks doubled in two runs and Headley singled in another. Four runs in the first, one in the second, two in the fourth, two in the seventh, and three in the ninth.
Big night for Hicks, obviously. He went 4-for-5 with three doubles and drove in six of the team's dozen runs. The second best Aaron is now hitting .317/.437/.579 (173 wRC+) on the season. That'll do, Hicksie. That'll do. The 1-2-3-4 hitters went a combined 8-for-20 (.400) with two homers, both by Sanchez. Castro and Chris Carter were the only starters without a hit, and they both drew walks.
Chad Green came out of the bullpen to replace Sabathia and took it the rest of the way. He allowed a solo home run to Ezequiel Carrera in the eighth inning and, well, who cares? Solo home runs in the eighth when you're up 9-1 are no big deal. Just throw strikes and get outs. Green allowed that one run and two hits in his 2.2 innings of work. He struck out two. His fastball topped out at 97.6 mph.
And finally, congrats to Gardner for joining the 1,000-hit club. The longest tenured Yankee reached the milestone with a clean single back up the middle in the fourth inning. Gardner went from college walk-on to reaching 1,000 hits in the big leagues. He picked up a World Series ring and a $52M contract along the way. Pretty cool.
Box Score, WPA Graph & Standings
For the box score and updated standings, head over to ESPN. MLB.com has the video highlights and we have a Bullpen Workload page. Here's the win probability graph:

Source: FanGraphs
Up Next
Game two of this four-game series. Michael Pineda and Francisco Liriano are the scheduled starters Friday night. So basically the right-handed and left-handed versions of the same enigmatic pitcher.