A pretty terrible loss, that was. Luis Severino gave the Yankees another marvelous outing, though a battle of the bullpens was lost as New York's best reliever sat and watched. The Blue Jays won Sunday's series finale 3-2. The Yankees went 3-4 on the seven-game road trip through Baltimore and Toronto.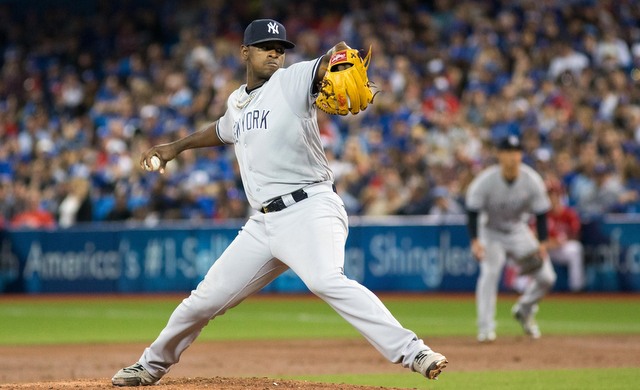 Dominant Sevy
Sunday's game promised to be a pitcher's duel, and both starters delivered. Severino came out pumping 98 mph fastballs and 93 mph sliders (!), and it wasn't until the third inning that the Blue Jays managed to hit the ball out of the infield. He pitched around a leadoff walk in the first, a two-out single in the third, a one-out double in the fourth, and a leadoff single in the fifth. Toronto had some baserunners, no doubt, but Severino escaped nearly every jam.
The one jam he did not escape came in the sixth inning. Severino got two quick ground outs from Josh Donaldson and Jose Bautista before Kendrys Morales lined a single to left field. Morales had three lines drives against Severino. I'm pretty sure the rest of the Blue Jays had three line drives combined. With Morales at first and two outs, Severino hung a first pitch slider to Justin Smoak …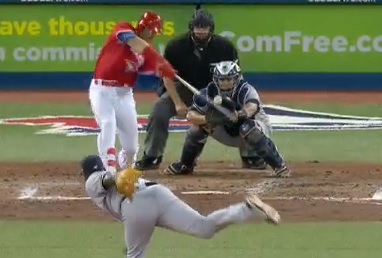 … who promptly deposited it into the center field seats for a game-tying two-run home run. Smoak being good now is incredibly annoying. It's bad enough he cost the Yankees Cliff Lee back in 2010, you know? Now he's hitting game-tying dingers in 2017 after being awful from 2010-16? The nerve of that guy, man.
Anyway, Severino made an awful pitch, easily his worst of the game, and Smoak made him pay. He was able to pitch around a leadoff hit batsmen and a sac bunt in the seventh inning to finish his start with just those two runs allowed on six hits and one walk. Sevy struck out seven and got eleven ground ball outs compared to only three in the air. Smoak home run aside, Severino pitched very well again. He's down to a 2.90 ERA (3.13 FIP) in eleven starts and 68.1 innings this year.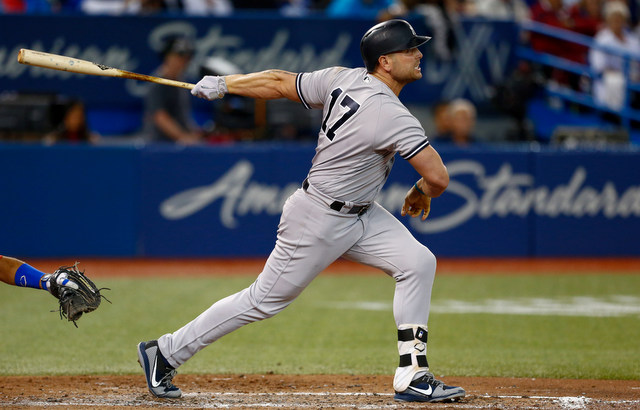 Manufacture Two Runs
Unfortunately Marcus Stroman held up his end of the pitcher's duel bargain too. He retired ten of the first eleven batters he faced before the Yankees were able to build a run in the fourth. It was almost all Aaron Judge too. He stroked a single to right, stole second, then went to third when catcher Luke Maile's throw sailed into center field. I could you could say he air-Maile-d it. (Sorry. So sorry.)
With Judge on third and one out, all Matt Holliday had to do to get the run in was lift a ball into the outfield. He did that and then some, hammering a double over Kevin Pillar's head and off the wall in center field. Can you call it manufacturing a run when it involved crushing a ball off the wall? Sure, why not. Holliday doubled in Judge and the Yankees took a nice little 1-0 lead in the fourth inning.
It was in the sixth that they scored an insurance run, an insurance run that ultimately wasn't enough. A Brett Gardner single and a Gary Sanchez walk put runners on first and second with no outs against a tiring Stroman. Judge's fly ball to center was deep enough to allow Gardner to get to third, which was pretty huge. Holliday followed with what looked like a tailor-made 5-4-3 double play ball, though he was able to beat out the return throw to first, allowing Gardner to score. Holliday gave it all he had. He busted it down the line.
After the Sanchez walk, only one of the final dozen batters the Yankees sent to the plate reached base safely. That was Aaron Hicks, who filleted a leadoff single in the eighth. He was immediately erased on a Didi Gregorius double play ball. The final five Yankees to bat struck out. There would be no Fighting Spirit in this one. At least not from the road team.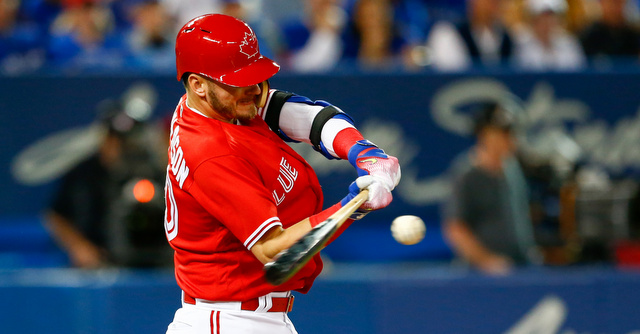 Blown By The Bullpen
Joe Girardi's paint by numbers bullpen management meant that, in a tie game, eighth inning guy Tyler Clippard faced Donaldson, Bautista, and Morales in the eighth inning. I imagine most folks can take a step back, look at that situation, and determine you should use your best reliever. Right? A tie game in the eighth with the other club's three best hitters due up is a more dire situation than having a lead of no more than three runs in the ninth.
Alas, Dellin Betances remained in the bullpen and ultimately did not pitch, because extreme fly ball pitcher Tyler Clippard allowed a fly ball to extreme power hitter Josh Donaldson. What are the odds? Clippard tried to sneak a 92 mph fastball by the former MVP upstairs and the former MVP did what former MVPs do to pitches like that. I dunno, man. If there was ever a time to reverse roles and let Betances face the meat of the order in the eighth and let Clippard potentially protect a lead (against the bottom of the lineup) in the ninth, that was it.
And who knows, maybe Betances blows it. But don't you have to get your best relievers into the game in the most important situations? Dellin has pitched once in the last week (Saturday) and there's an off-day Monday. Really, really annoying. It's 2017. I don't think it's too much to ask that a manager be more flexible with his bullpen than "you're the ninth inning guy, you're the eighth inning guy," and so on. The Yankees had a 2-0 lead with seven outs to go, and they lost without one of the best relievers in the world even warming up. Shrugs.
Leftovers
The Yankees only had six hits on the afternoon. The double by Holliday and singles by Gardner, Judge, Hicks, Gregorius, and Chase Headley. Sanchez drew the only walk. The Yankees were pretty aggressive on the bases too. Judge and Headley stole bases, and Gregorius was thrown out. They tried to make some things happen. Only the two runs though.
And finally … that's it? Not much more to add to this game. Did I mention the Yankees were up 2-0 with seven outs to go and lost without Dellin Betances even warming up? Because the Yankees were up 2-0 with seven outs to go and lost without Dellin Betances even warming up.
Box Score, WPA Graph & Standings
Go to ESPN for the box score, MLB.com for the video highlights, then back to ESPN for the updated standings. We have a Bullpen Workload page, so check that out too. Here's the loss probability graph:

Source: FanGraphs
Up Next
The Yankees are heading back to New York for a six-game homestand against the Red Sox and Orioles. More AL East rivals. But first, an off-day. There's no game Monday. Masahiro Tanaka and Drew Pomeranz are the scheduled starters for Tuesday night's series opener against the BoSox. RAB Tickets can get you into the ballpark for any of the six games on the homestand.