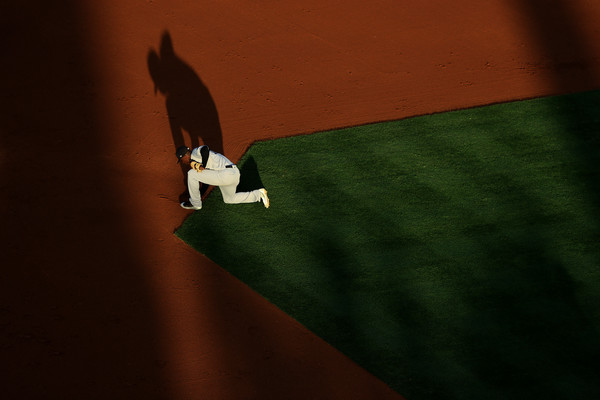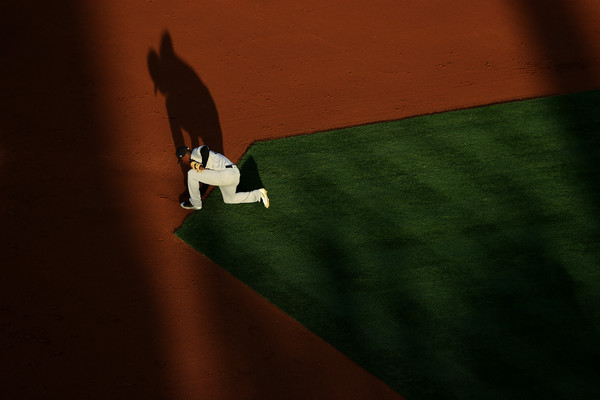 In the weeks leading up to Opening Day, our expectations surrounding the infield were fairly high. Greg Bird was raking in Spring Training, and it seemed as though he hadn't missed a beat; and, in the event that he did, Chris Carter was around as an overqualified back-up. Starlin Castro had shown flashes of brilliance in 2016, and had been hyped-up by some as a potential breakout player. Chase Headley … well, his defense had improved, and he was better after a calamitous first month. And Didi Gregorius was coming off of a great all-around season. What could possibly go wrong?
The First Basemen
Expectation: Bird and Carter would form a more than competent platoon, of sorts, with Carter playing first against tougher LHP, and allowing Bird to rest a bit more often than a normal team composition would dictate. ZiPS projected a .234/.307/.449 line for Bird, and .223/.316/.509 for Carter.
Reality: Bird is on the disabled list for the second time in his career, as the result of an ankle injury. He's played just 19 games, and is hitting on a .100/.250/.200 slash line. And Carter has earned himself two DFA's by hitting .201/.284/.370 and absolutely brutal defense at first. The starter is currently Ji-Man Choi.
I almost don't want to write more about first base, as it's rather depressing. Bird's injury (and the resulting fallout from the front office) has cast a shadow over the team's season, and it has only grown darker as the team struggled over the last few weeks. His return is still up in the air, and surgery is a distinct possibility. And it is that uncertainty that is most frustrating.
And Carter – the should-have-been safety net – failed catastrophically. We always knew that he was a feast or famine hitter, but that had still resulted in a .221/.318/.474 slash line (116 wRC+) in five seasons as a regular. There was some sentiment that he was struggling as he adjusted to playing part time, but that excuse went out the window once he became the full-time first baseman. His 73 wRC+ ranks dead last among first basemen.
Choi is the starter for the time being, and he has made a decent impression in a four games. He's hitting .182/.308/.727 in 13 PA, with 2 HR and 2 BB, and there's no real challenger for his position in the organization right now. And, for what it's worth, he does have a career .853 OPS in 851 PA at Triple-A.
Second-Half Forecast: The Yankees will acquire a first baseman via trade, and shut Bird down sooner rather than later.
The Second Basemen
Expectation: Castro would continue to be a competent yet frustrating presence at the keystone. ZiPS projected a .272/.305/.419 slash line, which isn't too far off from his career norms (in 4000-plus PA).
Reality: Castro is currently on the disabled list with a hamstring injury, which was a major blow to the team's lineup. He's currently slashing .313/.348/.486 (121 wRC+) with 12 HR in 313 PA.
The 27-year-old Castro absolutely raked in April, batting .352/.362/.549 (154 wRC+) with 5 home runs. He also had a 7.1% walk rate, which is impressive for the free-swinger. His performance dipped in May (97 wRC+, 3.4 BB%), but he showed improvements in June (117 wRC+, 4.2 BB%) prior to hitting the DL. Castro earned an All-Star nod for his first-half, but had to be replaced due to that injury.
Tyler Wade and Ronald Torreyes have filled-in since the injury. I'll have more on them in a bit.
Second-Half Forecast: Castro will be back soon, and his numbers will continue to fluctuate. With so much strong production in the bank, however, we may end up seeing a career year.
The Third Basemen
Expectation: Headley would be a warm body at the hot corner, with competent defense. And maybe, just maybe, he'd be a bit better with the bat. ZiPS had him at .247/.324/.376.
Reality: Headley has been a warm body at the hot corner, but his defense has regressed. His offense (91 wRC+) is right in-line with 2015 (92 wRC+) and 2016 (92 wRC+), even with a blistering hot start.
This is who Headley is at this point. He's batting .254/.329/.373 (92 wRC+) since Opening Day of 2015, and his highs (142 wRC+ in April) are always met with ridiculous lows (15 wRC+ in May). That's fine when he's playing strong defense, as he did in 2016, but he has been a borderline disaster out there in 2017. DRS has him at -5 runs already, and he has already surpassed last year's error total.
Second-Half Forecast: More of the same, unfortunately. Though, I could see a Miguel Andujar cup of coffee happening down the stretch.
The Shortstops
Expectation: Gregorius would continue to win our hearts with his surprising power, slick defense, and top-notch Twitter game. ZiPS was bearish on the power spike, projecting a .262/.308/.404 line.
Reality: Pretty darn close, albeit with nearly a month lost to a shoulder injury suffered at the World Baseball Classic. He's hitting .291/.321/.458 with 10 HR (104 wRC+) on the year, and nearly made the All-Star team.
Gregorius is one of the most likable players in baseball, as evidenced by the fun he had trying to garner that final vote. The fact that he has proven that last season wasn't a fluke helps, too, and he is currently a top-10 shortstop by both WAR (7th in MLB) and wRC+ (9th). And keep in mind that WAR is a counting stat, so the fact that he's 26th among shortstop in PA helps to bring that number down. He may not be a Hall of Fame talent, but that's perfectly acceptable – he's still really, really good.
Second-Half Forecast: Gregorius will keep it up. He's the safest bet among the infielders to be an above-average player for the remainder of the season, and I'm confident that he will.
The Reserves
Expectation: Ronald Torreyes and Co. would be perfectly adequate bench players.
Reality: Torreyes and Co. have been perfectly adequate – but they've had too play more often than anyone would have wanted.
Torreyes spent most of April as the team's starting shortstop, and he was surprisingly competent. He posted a .313/.313/.433 slash line (95 wRC+) while Gregorius was on the mend, and his defense was more than passable. He has been overextended and a bit exposed since then, though, as he has already surpassed last year's PA mark, and stands to play more as the season wears on. He's another fun player, but he shouldn't be counted on for much more than what he's done already.
Wade was called upon to shore up the bench when Castro landed on the DL, and he has picked up five starts at second in those two weeks. He has yet to get on-track (.107/.219/.179 in 32 PA), but his versatility and speed should earn him more opportunities in the coming months. Wade hit .313/.390/.444 (134 wRC+) with 5 HR and 24 SB at Triple-A this year, and he might just be the best reserve the team has right now.
Rob Refsnyder is still around, too, but the Yankees seem to have decided that he's a 1B/LF/RF. He's batting .135/.200/.216 in 40 PA, and he hasn't played since July 2.
Second-Half Forecast: This may be optimistic, but I'm hoping that we'll see more of Wade, and less of Torreyes (and Refsnyder, if such a thing is even possible). The Yankees have been grooming him for this exact role for some time now; it's his time to shine.