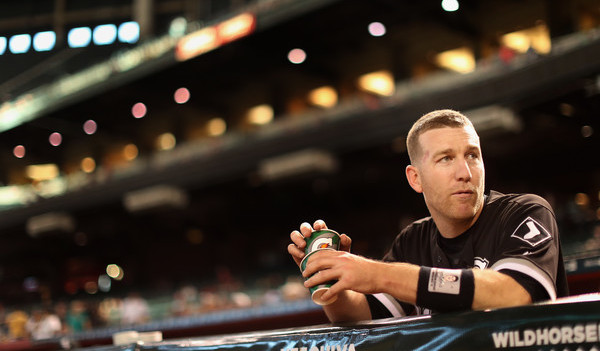 Are the Yankees buyers or sellers? That question was answered definitively last night. The Yankees completed a big seven-player trade with the White Sox that brings Todd Frazier, David Robertson, and Tommy Kahnle to New York. Going the other way are Blake Rutherford, Tyler Clippard, Ian Clarkin, and Tito Polo. There's a lot going on here and I have some thoughts, so let's get to it.
1. For all intents and purposes this trade is Rutherford for Frazier, Robertson, and Kahnle. The Yankees aren't going to miss Clippard at all. He was included in the trade to offset salary. Clarkin is a former first rounder, but his stock has been slipping since his 2015 elbow injury and he's fallen behind several other pitching prospects in the system. Polo has a classic fourth outfielder's profile in a system loaded with outfielders. Also, both Clarkin and Polo will be Rule 5 Draft eligible after the season and I thought it was unlikely the Yankees would add either to the 40-man roster. They could have lost both guys for nothing in the offseason — I absolutely could see Polo sticking in the big leagues as an extra outfielder next year — and instead they turned them into big league help. The Yankees gave up one very good prospect plus stuff for three players who represent significant upgrades to their MLB roster. No one wants to see Rutherford go, but man, getting two high-end relievers for one top prospect is a hell of thing these days.
2. I don't think the Yankees soured on Rutherford. I think this was simply a matter of having to give up a top prospect to get the deal done, and getting it done without giving up an MLB or near MLB piece. Rutherford's really good! He's also in Low-A ball and the Yankees have Aaron Judge and Clint Frazier in the big leagues with Dustin Fowler waiting once healthy. Don't forget Tyler Wade and Jorge Mateo either. And even Aaron Hicks. He's pretty cool too. There's also Estevan Florial at Low-A as well. The Yankees have more quality outfielders than they could ever possibly roster. If they were going to dip into their system and trade one of their top prospects, the outfielder several years away from the big leagues is the one to give up. The Yankees kept all their close to MLB prospects and the kids who play positions of greater need. Rutherford was probably my favorite prospect in the system, so in that sense I'm bummed to see him go. I totally get it though.
3. My biggest qualm with giving up Rutherford in this trade is the opportunity cost. What else could they have gotten for him? Could the Yankees have used Rutherford as the centerpiece in a package for a controllable starting pitcher? Joel Sherman says the Yankees offered Rutherford to the White Sox for Jose Quintana, so they tried. I guess it wasn't happening though. It's only natural to wonder what else was out there. The Yankees do know what else was out there though. They didn't decide on a whim yesterday to include Rutherford in this trade. They looked around the league, weighed their options, and decided this was the best way to maximize him as an asset. The Yankees haven't gotten taken to the cleaners in a trade in a long time. Brian Cashman and his staff do their due diligence and there's no reason to think they didn't here. I trust that they explored the rotation trade market before agreeing to this deal with Rutherford.
4. One component of this trade you can't quantify is the message it sends to the players. The guys already on the team. The Yankees just told everyone in the clubhouse we believe in you. We believe you're good enough to win and we're going to get you the help you need. Last year the message was the complete opposite. You guys aren't good enough, so we're going to trade some of our best players and hope for better days ahead. Now, just a year later, the Yankees are buying. I'm certain the guys in the clubhouse are fired up by this, especially everyone who sat through the trade deadline sale last year. How much will it translate to production on the field? I have no idea. I don't think this is negligible though. The Yankees sent a message to their players with this trade and that message is we believe in you and we're going to give you whatever support you need. How could anyone not be excited by that?
5. As for things we can quantify, holy smokes is this bullpen going to miss a lot of bats now. The lowest strikeout rate among the regular relievers belongs to Adam Warren at 25.7%. There are currently 152 relievers in the big leagues who have thrown at least 30 innings this season. Four of the top 15 strikeout rates now belong to Yankees:
3. Tommy Kahnle: 42.6%
4. Dellin Betances: 42.5%
8. Chad Green: 37.4%
15. David Robertson: 35.6%
Aroldis Chapman hasn't thrown 30 innings because he spent all the time on the disabled list, but he has a healthy 32.7% strikeout rate this year as well. Bring me a bullpen full of guys who can miss bats and get outs without allowing a ball in play. To hell with ground balls and weak pop outs and all that. Give me big strikeout totals in the late innings. The Yankees have that now. Well, they have more of it now. Adding Robertson and Kahnle to Betances and Chapman and Green gives Joe Girardi plenty of options when he needs a strikeout. I love it.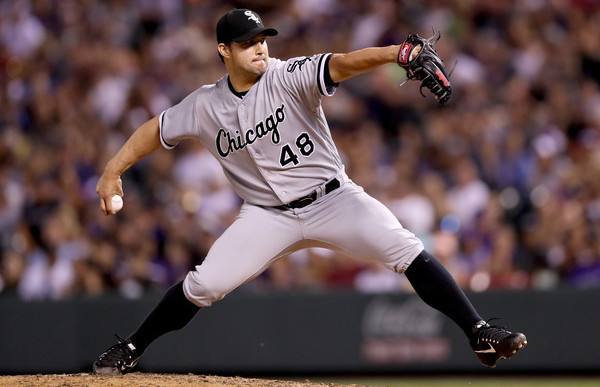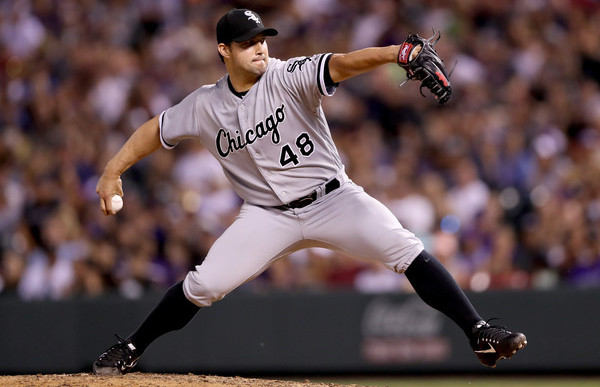 6. Kahnle is the main piece in this trade. Not Frazier or Robertson. Frazier is the former All-Star and Home Run Derby champ, and Robertson is a Proven Closer™, but Kahnle is the reason the Yankees had to give up Rutherford. He's been unreal this season — he has a 2.50 ERA (1.47 FIP) with 42.6% strikeouts and 5.0% walks in 36 innings — and he's also only 27 with three full years of team control beyond 2017. And his arbitration salaries won't be significant because he doesn't have many career saves (only three). The Yankees believe they just acquired three and a half years of an elite reliever in his prime. Of course, Kahnle has never pitched this well before, mostly because he never threw this many strikes. His career walk rate prior to this season was 14.1%. It was 13.0% in the minors. What changed? Here's what Kahnle told Colleen Kane back in April:
"It's just a few changes, one with the leg kick and keeping my head on a straight line," Kahnle said. "That's basically keeping me going toward home plate and keeping my fastball command right there. (I'm) just a little more focused as well. (The leg kick) is basically just modified so I don't sway back or take too long with my arm action. That way I'm opening up. But now I'm more closed with a direct line to the catcher."
And there you have it. Kahnle streamlined his delivery and is now more on-line with the plate. That's pretty big for the whole "throw strikes" thing. Will it last? Who knows. I wouldn't blame you for being skeptical. Heck, I am a little. I mean, Kahnle probably won't be this good forever. He certainly wouldn't be the first live-armed reliever to figure out how to throw strikes in his mid-to-late-20s though. Robertson did it. Andrew Miller did it. Lots of guys do it. The Yankees believe in Kahnle's newfound control and that's why they traded for him. He's the main piece here. Frazier and Robertson are the big names and they're pretty awesome in their own right. Kahnle's the most impactful player the Yankees acquired in this trade.
7. As for bullpen roles, my guess is Girardi will bump Betances back to the seventh inning and use Robertson as the eighth inning guy ahead of Chapman. That's fine. Dellin's walk issues and general inability to hold runners mean he is no longer a great option to bring into the middle of an inning to put out a fire. He's best off starting an inning fresh, at least until he starts throwing strikes again. The best option for that fireman role is Kahnle. He's got the huge strikeout rate and he won't beat himself with walks. That's the guy Girardi should use in the highest of high-leverage spots, when he needs to escape a jam in a close game. Let Betances, Robertson, and Chapman have the assigned innings — you know Girardi is going to assign innings — and let Kahnle be the fireman. This really is a hell of a bullpen now. The Yankees have the three-headed monster in the late innings, Kahnle available to put out fires, and Warren and Green for whatever other situations arise.
8. Speaking of Green, I've already seen some speculation that this trade could tempt the Yankees to move him back into the rotation, and I am completely against that. The bullpen is the place for him. Green still doesn't have a changeup and he's an extreme fly ball pitcher (29.0% grounders this year). He's not equipped to turn over a lineup multiple times. I absolutely believe learning how to get outs in the bullpen can help a pitcher when he transitions back to the rotation — I've said this before, but I don't think Luis Severino turns into the pitcher he is today without that stint in the bullpen last year — but with Green, I don't see the tools to start. He's found a home in the bullpen and there's no shame in carving out a career as a reliever. Not these days. Let him continue to air it out in one and two-inning stints. If anything, Warren is the guy the Yankee should move into the rotation, not Green. Warren definitely has the repertoire and command to start. (I say that as the world's biggest Adam Warren fan, so I'm biased.)
9. This trade felt like the start of a series of moves for the Yankees prior to the trade deadline, not the move. I think they're going to look high and low for rotation help. They'd love a controllable guy, we all know that, but if they have to settle for a rental, they'll do it. You don't make a trade like this only to stick with Luis Cessa or Bryan Mitchell every fifth day, you know? A starter is the top priority now and that's understandable. I could also see the Yankees pursuing a true matchup left-on-left reliever. Someone better at neutralizing lefties than Chasen Shreve. I suppose a bullpen southpaw isn't all that important since the Yankees have several righty relievers who can get out lefties (Warren, Betances, Robertson), but it would be nice to have. Rotation help is far and away the priority right now. If the Yankees happen to find a lefty reliever too, great. Point is, I think there's something else coming. The Yankees didn't make this trade with the intentional of calling it a deadline and hoping for the best.
10. As for Frazier, he's going to play everyday and I expect him to spend most of his time at first base. I could see a convoluted platoon in which Frazier (first base) and Chase Headley (third base) play against righties while Frazier (third) and Garrett Cooper (first) play against lefties. Something like that. First base has been an absolute disaster this season — the Yankees have gotten a .183/.272/.355 (66 wRC+) batting line from the position this year, which gave me a headache just typing it out — even when factoring Cooper's and Ji-Man Choi's recent heroics. Frazier, as flawed a hitter as he is, will be a big upgrade. He could be worth as much as +2 WAR to the Yankees the rest of the way relative to the guys he's replacing. Hopefully he comes in, is energized by being in a postseason race for the first time in several years, and goes all 2000 David Justice in the second half.