What a garbage game. Many losses are just losses. They happen. That one felt like a game the Yankees gave away. Gave away with mistakes and gave away with poor decisions. The final score was 4-2 Twins. The Yankees are 9-21 in their last 30 games and their lead for the second wildcard spot is a half-game.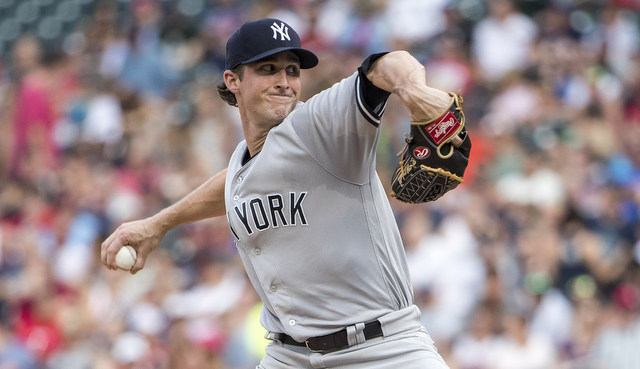 Mitchell Gets Through Five
All things considered, not a bad spot start for Bryan Mitchell. He got through five innings and allowed only two runs (one earned) on six hits and two walks. The first run gave the Twins a 1-0 lead in the second inning. Mitchell walked Kennys Vargas and Eddie Rosario split the gap with a double. It's a big outfield at Target Field and everyone can run on Jacoby Ellsbury's arm, so Vargas was able to chug all the way around to score from first.
The second run scored on Mitchell's own error in the third inning. The Twins loaded the bases with no outs on two singles (Brian Dozier and Zack Granite) and a walk (Joe Mauer), which brought Miguel Sano to the plate. Not ideal. Sano hit a line drive at Aaron Judge, the guy who beat him in the Home Run Derby, and Judge threw Dozier out at the plate for the double play. Here's the video:
Statcast measured that throw at 97.7 mph and there's no way Judge put all he had into it. That throw was at what, maybe 60% effort? It almost looked like Judge was surprised Dozier decided to go home, so he reacted and flipped it in. Flipped it in at 97.7 mph. Judge is in his first extended slump of the season but he's still doing some mighty fine things in the field. The big man is still doing what he can to help win games.
Anyway, the double play gave Mitchell a chance to escape that bases loaded, no outs jam unscathed, and he got the ground ball from Max Kepler. First baseman Garrett Cooper flipped it to Mitchell at first base with plenty of time to spare and … Mitchell dropped it. He just dropped it. Clanked right off his glove. That would have been the final out. Instead, a run scored. Sigh. The Yankees have been making too many careless mistakes like that lately. Mitchell was fine otherwise.
Coop There It Is
So Cooper seems to be finding his way at the big league level. The new first baseman went 3-for-4 with two doubles Monday night. The first double came with two outs in the fifth inning and Austin Romine followed it up with a double of his own, getting the Yankees on the board and cutting the deficit to 2-1. The second double came in the seventh inning. Chase Headley doubled as the previous batter, so he crossed the plate to tie the game 2-2.
Nice game by Cooper. Not by the rest of the offense. The game was lost when the Yankees wasted leadoff hustle doubles from Clint Frazier in the sixth and eighth innings. Those were two prime run scoring opportunities and the Yankees could not capitalize. Frazier doubled to start the sixth, got to third with one out on Judge's long fly ball, then was stranded there when Matt Holliday hit a grounder at shortstop Ehire Adrianza and Starlin Castro struck out. Adrianza made a great play on Holliday's hard-hit grounder.
The eighth inning was as annoying as it gets. Frazier really hustled that single into a double — that kid plays the game with the dial turned to eleven at all times, how can you not love it? — and the Twins intentionally walked Judge to set up the double play, which Holliday provided. In a 3-1 count no less. He got the 3-1 fastball from lefty Taylor Rogers and hit it right to the shortstop. An intentional walk to Castro followed, then Didi Gregorius ended the inning by bunting the ball here …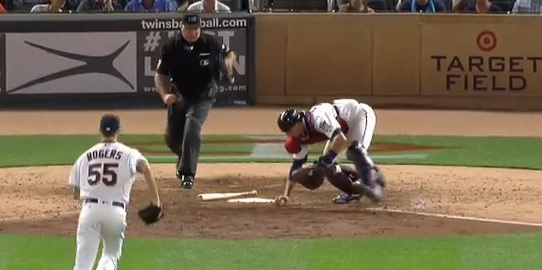 … and getting thrown out at first. I don't know what to say. Gregorius said he tried to bunt for a hit because he noticed Sano was back at third. Good idea if it works. It didn't come close to working. Can the Yankees just swing the bat please? Whenever a team struggles they start trying weird crap like bunts and squeeze plays and all that, and it only exacerbates the problem. They're not bunting their way out of this month-long slump. Swing the bat. That was New York's last chance to get on the board.
Hunt Out To Dry
Welcome to the big leagues Caleb Smith. He retired the first six batters he faced, three with strikeouts and three with ground balls. His fastball averaged 93.7 mph and topped out at 97.1 mph. Pretty nice velocity from the left side, though I'm sure there was some adrenaline behind those heaters. Smith has been mostly 92-95 mph down in Triple-A this year, not touching 97 mph.
Anyway, with the score tied 2-2, Joe Girardi sent Smith back out for the eighth inning, and he just left him out there. Mauer and Sano singled to start the frame, and after Smith fanned Kepler, pinch-hitter Eduardo Escobar came through with a go-ahead single to right. I can kinda sorta understand leaving the left-handed Smith in to face the left-handed Kepler, but after that? Eh.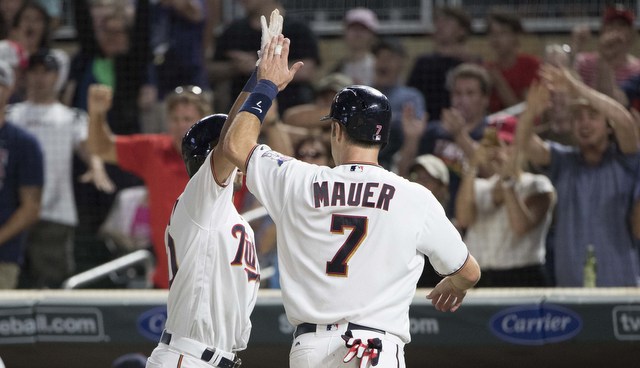 Smith remained in the game and allowed a double Rosario to plate an insurance run, giving the Twins a 4-2. And Smith continued to stay in the game. Girardi left him in to finish the inning. No one warmed at all. Girardi said afterward he was planning to bring in Adam Warren had the Yankees taken the lead following Frazier's leadoff double in the eighth, so it's not like no one else was available.
I'm not the only who realizes that, in the late innings, a tie game is more a dire situation than having the lead, right? Please tell me I'm not alone. You have a cushion with a lead. There's no such cushion in a tie game. You'd think you'd want to use your best relievers with the score tied, but no, they were being saved for a lead. I can't. I can't anymore. This very much felt like a "lose the battle, win the war" game, which would be fine if the Yankees weren't losing the war too. All those lost battles add up.
Leftovers
Two doubles for Frazier, two doubles and a single for Cooper, and three hits total for the rest of the Yankees. Holliday had a single and Headley and Romine had doubles. Six doubles and two runs is hard to do. In fact, I looked it up. First time all season a team had at least six doubles and scored no more than two runs in a nine-inning game. The last team to do it was the Royals in September 2014. True story. The Royals went to the World Series that year. Good sign?
And finally … I guess that's it? Not much to add here. Clean it up, guys. Too many sloppy mistakes lately.
Box Score, WPA Graph & Standings
ESPN has both the box score and updated standings, and MLB.com has the video highlights. We have a Bullpen Workload page. Here is the loss probability graph:

Source: FanGraphs
Up Next
This three-game series continues Tuesday night with the middle game. Luis Cessa and Bartolo Colon will be starting that one. Colon is making his first start with the Twins after being released by the Braves a few weeks back.