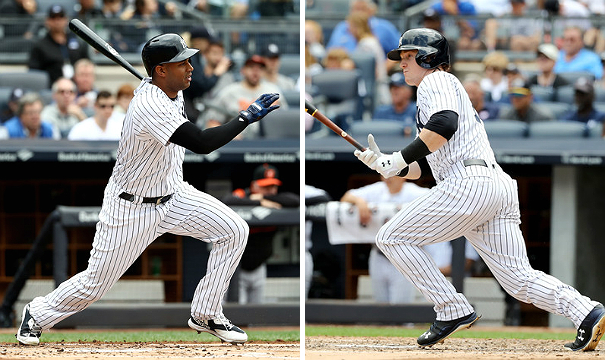 For a few weeks this summer, it seemed like the Yankees had a great problem on their hands: Too many outfielders.
Clint Frazier was lining extra-base hit after extra-base hit, Aaron Judge was, well, Aaron Judge, Brett Gardner was hitting home runs and Aaron Hicks was on his way back to the majors. That's four guys for three spots, not to mention the presence of Jacoby Ellsbury, but with Ellsbury and Matt Holliday's respective struggles, playing time wouldn't have been an issue.
With Frazier's oblique injury, the Yankees' outfield was cemented for the time being with Hicks, Gardner and Judge and a few too many Ellsbury starts. Oblique injuries take a while to heal, as evidenced by Hicks' time away from the team, so the outfield overload is an issue the team can deal with when it actually comes to pass.
But the oblique injuries to Hicks and Frazier should be a warning to the front office not to deplete its outfield depth going into 2018.
It seems logical for the Yankees to pursue a trade for Ellsbury, who will have three years and about $68.5 million left on his deal after this season. The team would have to absorb some of that money and/or take back a bad contract, but it'd leave the Yankees with four outfielders for three spots. In theory, that can be an issue. But that's only at the surface.
Yes, the team would have four men for three spots, but that's assuming perfect health. Hicks has missed time with injuries each of the last two years. Frazier's out now. Judge lost time in 2016 with a knee and oblique injury, respectively. While Gardner has placed at least 145 games each year since 2013, he's been banged up plenty and the ability to give him days off in his age-34 season is important.
Performance-wise, there are concerns with each. Hicks and Judge each look like entirely different hitters from last season and how they can sustain their improvements will help define the 2018 OF. Gardner is getting older and has been off and on all season. Frazier is only 22 and didn't exactly light the world on fire with a 92 wRC+ in 117 PAs.
That right there is enough of a reason to keep all four guys with concerns across the board, but the team will also have the ability to start all four plenty with the open DH role. Holliday is a free agent after this season and hasn't hit his weight while dealing with injuries. He'll be 38 come spring training next year and it looks unlikely he'll be back in pinstripes.
The Yankees will surely seek out another veteran either via free agency or trade (Carlos Santana please!) that can take DH bats or act as Greg Bird/Gleyber Torres insurance. However, the team is also trying to get under the $197 million luxury tax threshold next season so they can be even more competitive in the 2018-19 offseason. Adding a high priced veteran shouldn't be in the cards, even if it means taking a chance on a cheaper option like Chris Carter was this year.
The counterargument to giving DH ABs to the four-man outfield (and Gary Sanchez, among others) would be the ability to flip one of the OFs at their peak value for another piece to the roster puzzle, whether a starter or infielder or otherwise. Only Gardner is close to free agency, but his one year of value is likely more valuable to the 2018 Yankees than the players he could get in return.
With Judge staying in place, that leaves Hicks and Frazier as potential trade chips. Maybe if the Yankees still had Dustin Fowler set to return for 2018 it would make sense to deal from this position of strength this winter. But the Yankees OF depth close to the majors is down to Jake Cave and Billy McKinney, neither of whom you can count on for significant contributions as rookies next year.
And if you want to win a championship, you need both depth and talent. Keeping the outfield together minus Ellsbury for 2018 is the best way to go about building a contender. If they need to acquire controllable starters via trade, they have plenty of prospects still in the minors to deal. But the current outfield is worth keeping together for another season.