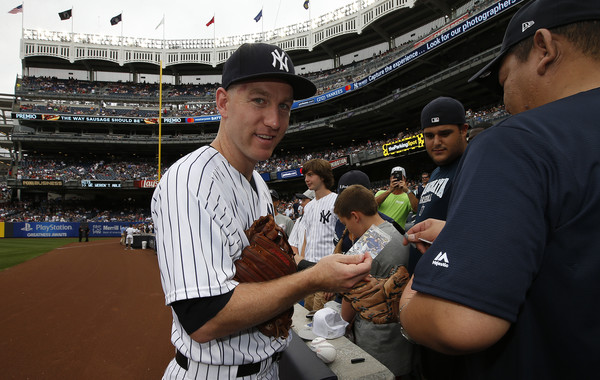 Last night the Yankees routed the Tigers for the second straight night — they've outscored Detroit 23-6 in the two games — and one player who didn't get in on the fun was Todd Frazier. He went 0-for-4 with a walk and two strikeouts. There always seems to be that one guy who gets left out in a blowout win, you know? Frazier did go 3-for-5 with a triple in Tuesday's game though, so that's good.
It has now been five weeks since the Yankees acquired Frazier (and David Robertson and Tommy Kahnle) from the White Sox, and those five weeks have been eventful. Both for the Yankees and Frazier. The Yankees have gone 20-13 since the trade (for real) and Frazier has hit .231/.356/.404 (106 wRC+) with five home runs in 32 games. That's … okay. Not great, not awful. League average-ish.
Frazier's production has gone through some peaks and valleys since the trade. Few good games followed by a few bad games. He was on an extended hot streak prior to the trade then bam, it stopped right after the deal. So much for getting a player while he's hot, huh? A graph: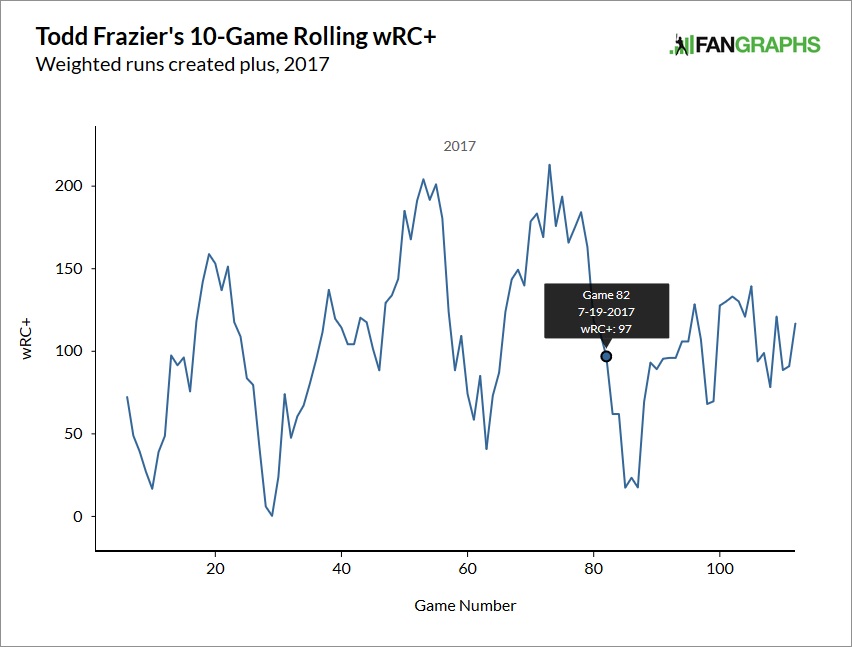 Game 82 was Frazier's first game with the Yankees. Remember when he took a pitch to the hand in his first game in pinstripes? That gave everyone a good little scare. Fortunately Frazier was okay. Didn't even miss a game.
Anyway, as you can see in the graph, Frazier's production really cratered immediately after the trade, though it's crept back up over the last few weeks, so much so that he's been a legitimate weapon near the bottom of the lineup. Check it out:
First 16 games as a Yankee: .196/.328/.314 (80 wRC+) with two homers (24.6 K% and 11.5 BB%)
Last 16 games as a Yankee: .264/.375/.481 (144 wRC+) with three homers (21.9 K% and 10.9 BB%)
Even with the 0-fer last night, Frazier has reached base nine times in his last five games, including hitting two home runs against the Red Sox over the week. There is probably 100% confirmation bias, but Frazier does seem to have a knack for digging in and putting together quality at-bats in big situations. The numbers don't really bare that out — he has a 90 wRC+ with runners in scoring position and a 73 wRC+ in high-leverage spots — so I'm probably wrong. That doesn't take away from the fact Frazier has been pretty great the last 16 games.
Since the trade Frazier has done pretty much exactly what the Yankees hoped he would: improve the offense and defense. Remember how little production the Yankees got from first base this year? That's the bat in the lineup Frazier effectively replaced. Even though his overall numbers with New York are okay at best, he's been a heck of a lot better than the guys they were running out there at first base. I'd seen enough Chris Carter and Austin Romine for one season. I think we all did.
Frazier is a solid defender at third base with a knack for flashy scoops on short hops, and Chase Headley has looked surprisingly nimble at first base. That's pretty great. Carter was a butcher over there. Frazier pushed Headley to first with little (if any) defensive downgrade at the hot corner, and Headley has been an improvement over Carter et al at first. Maybe Headley deserves the credit for that and not Frazier. Either way, it happened. The Yankees added Frazier and now they're a better defensive (and offensive) team.
Because he's always had an all-or-nothing element to his swing, I'm not sure Frazier is ever going to hit for decent average over an extended period of time. He was miscast as a middle of the order guy with the Reds and White Sox. With the Yankees, Frazier has hit toward the bottom of the lineup and been a complementary player, not a center piece, and it suits him well. His offense is starting to tick up lately, which adds that much more depth to the lineup. Frazier's first few weeks with the Yankees were disappointing. Late though, he's really helped solidify things on both sides of the ball.